This week I am in the midst of one of my very favorite things: our parish's Confirmation Boot Camp. That means I have a full day of teaching and interacting with our Confirmation candidates and then a flurry of trying to catch up on all the OTHER things that still have to be done. Which means there probably won't be a whole lot of reading this week. THAT said, I took a lovely road trip over the weekend and since my husband loves to drive, I get to read. :)
Recent Reads
Finding Grace, by Laura Pearl (Bezalel Books, 2012, young adult fiction)
My rating: 4 out of 5 stars
I won't lie: this book was long. That said, it was REALLY well-written and the character development was stellar. It's set in the 1970s and early 80s, and the story is Catholic in a way that's both cultural and ingrained. It gave me a sense of what it's like to be raised Catholic and to have it be part of everything you do.
Did that make you feel like it's shoved down your throat? Because it's not: not at ALL. One of the things I appreciated about this book is that it doesn't seem to talk down to its audience, which is the young adult market. It's written like literature and it seems to assume that its reader has a brain. I like that. It's a book I highly recommend and one I'll be sharing.
Cracks in the Ice, by Deanna Klingel (Write Integrity Press, 2012, young adult fiction)
My rating: 4 out of 5 stars
Sometimes first-person narratives work and sometimes...they don't. This is a case where I can't decide if the point-of-view distracted or enhanced the story. The story itself, though, is rending and even compelling in many ways, and I didn't mind reading it (which means the point-of-view thing worked itself out, but it still bears mentioning). This is written for a younger YA crowd, I think (or that's how it felt to me). Not a bad story and a quick read if you're an adult. I'm guessing the teen girl in your life will like it too...and it might give her a different way to look at some of the challenges in her life (or her friends').
Current Reads
On Heaven and Earth: Pope Francis on Faith, Family, and the Church in the Twenty-First Century, by Jorge Bergoglio (Pope Francis) & Abraham Skorka (Image Books, 2013)
The more I read, the more I dog-ear and find myself respecting our new pope even more.
Anna Mei: Blessing in Disguise, by Carol Grund (Pauline Books & Media, 2011, middle grade fiction)
I've read (and enjoyed) the other two books in this series, and this is lining up to be the same sort of book. I have plans for getting it into my eight-year-old's reading pile this summer.
Youcat: Youth Prayer Book (Ignatius, 2013)
I wasn't sure what to expect from this prayer book, and I wasn't even sure how I would review it. As it turns out, the first section is a two-week prayer book. The second section is a series of prayers. And so far, I'm loving it.
Don't consider yourself youth? Well, don't let THAT stop you. Seriously, it's good.
New to My Review Shelf
A Primer for Philosophy & Education, by Samuel D. Rocha (CreateSpace, 2013) This is a thin book that I'm excited to read. It bills itself simply: "An illustrated introduction to what philosophy and education are, are not, and why that is important."
Geekpriest: Confessions of a New Media Pioneer, by Fr. Roderick Vonhögen (Servant Books, 2013) I've been a Fr. Roderick groupie for quite some time. He founded the Star Quest Production Network and his shows are highly entertaining and educational. When I heard he had a book coming out, I was thrilled. When I saw the advance copy in my mailbox, it was all I could do not to drop everything and just read.
In this engrossing collection of stories and anecdotes, Fr. Roderick shares how he became a "new media missionary." Focusing on the importance of personal connection (an essential ingredient of new media), he uncovers the exciting possibilities of using all forms of media to successfully accomplish the mission Jesus gave us: to evangelize the world. Each chapter contains illustrations of using new media as a way to reach out to others.
Teaching in Your Tiara: A Homeschooling Book for the Rest of Us, by Rebecca Frech (Scabbed Knee Press, 2013)
I met Rebecca last year in Dallas and she made quite an impact on me. I saw some of the behind-the-scenes of this book's publication, and it's so great to see the finished product. Though I'm not a homeschooler, I will be reading this book and enjoying the wisdom I know is in it for everyone (not just homeschoolers).
Do you wish that you had the chance to sit down with a seasoned homeschooling veteran over a cup of tea and ask every question that comes to mind? Mother of seven and twelve year homeschooling veteran Rebecca Frech is the common-sense voice of experience and reassurance that you've been hoping to find. Teaching in Your Tiara is a soup-to-nuts homeschooling book that walks you through the first years – deciding that home education is right for your family, choosing the right curriculum, understanding learning styles, not raising socially awkward kids, maintaining your own identity, and more. Whether you're the parent who's already committed to homeschooling or you're just dipping your toe into the pool of consideration, this book is for you! Rebecca's logic, honesty, and humor will leave you both amused and well-informed about the realities of homeschooling and what it could mean for your family.
What have YOU been reading lately?
*Are you on Goodreads? I'll see you there!
Curious about what my ratings mean? Here's an explanation of what the stars mean to me.
Be sure to check out our Book Notes archive.
Copyright 2013, Sarah Reinhard
About the Author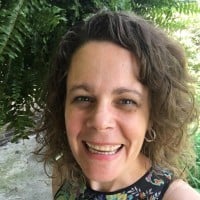 When she's not chasing kids, chugging coffee, or juggling work, Sarah Reinhard's usually trying to stay up read just one…more…chapter. She writes and works in the midst of rural farm life with little ones underfoot. She is part of the team for the award-winning Catholic Mom's Prayer Companion, as well as the author of a number of books. You can join her for a weekday take on Catholic life by subscribing to Three Shots and follow her writing at Snoring Scholar.