The fields surrounding our house are filled with corn this year. It's my favorite farm setting. Right now, the corn is a vibrant green and you can almost hear it growing. When the storms roll in, the corn whispers and waves in a sea of leaves and green.
As far as I'm concerned, it's the perfect setting for the fabulous piles of books I have to read!
Do you have favorite summer reads or recommendations? I'd love to hear about them in the comments. Not that I have time for much more than the review books hemming me in, but I'm always curious what keeps other people's reading attention.
Is summer a time for light reading or no reading or something altogether different for you? Again, I'd love to hear. I'm not working on an article or anything (I suppose if I was a "real" writer, I would be, but that's a different discussion.) I tend to want to read more in the summer and if we take a trip, the long drive (if I'm the copilot, anyway) gives me lots of time to devour books. But I'm less focused on what I'm reading than the fact that I get to do a bunch of reading.
Now, without further ado, this week's book talk...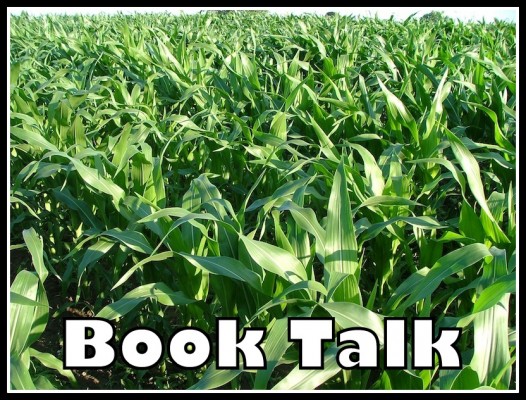 Recent Reads
Rapunzel Let Down: A Fairy Tale Retold (Book 6), by Regina Doman (Chesterton Press, 2013, fiction)
My Rating: 5 out of 5 stars
Doman says this is the end of the Fairy Tale Novels, but I am hoping it isn't true. I sooooo love them. This one, unlike the others in the series, is adult fiction through and through. (Honestly, I've read worse in the YA section, but she maintains it's adult, and the topics are...adult. I think older teens--16 and up--could definitely read it with guidance, though. Or maybe I'm delusional. Hard telling. Your call as the parent, and I respect that.)
This is based on the Rapunzel story, and, once again, I found myself learning about a fairy tale it turns out I didn't really know at all. It's engaging and awesome, well-told and very relevant. I walked away from it changed. Highly, highly, HIGHLY recommended.
Anna Mei: Blessing in Disguise, by Carol Grund (Pauline Books & Media, 2011, middle grade fiction)
My Rating: 5 out of 5 stars
I've loved Anna Mei since I first "met" her a few years ago in the first of Carol Grund's books, Anna Mei: Cartoon Girl. This book explores Anna Mei's reaction to a new student who challenges her view of her heritage and even her world. It's well-done and I really enjoyed it, even though I'm about 25 years older than the target audience. :) I expect my eight-year-old to discover Anna Mei for herself later this summer. Highly recommended for the middle grade reader in your life.
Blinded by the Darkness: Three Short Fantasy Stories, by Karl Bjorn Erickson (Self-Published, 2013, fiction)
My Rating: 3 out of 5 stars
This is a very short and very interesting grouping of three short stories. At some points, I felt myself dangling just a bit--whether by design (they are short stories, after all) or by accident (perhaps a bit more in the plot or conclusion would have helped?), it's hard to say. They were self-published and I could tell, which doesn't mean they're not entertaining and worth your read. If you find yourself by the pool or at a beach, these would be perfect light reading that might tickle your gray matter just the right way.
A Primer for Philosophy & Education, by Samuel D. Rocha (CreateSpace, 2013)
My Rating: 5 out of 5 stars
When I agreed to read this book, I was curious more than anything. I like to think I have an interest in both philosophy AND education, and after reading this short book, I know that I do for sure. I also better understand them both and feel like maybe I should hunt down Mr. Rocha and take some of his classes. If he presents as well as he writes, I think I may have to relocate and pursue this idea... Highly, HIGHLY recommended.
Current Reads
7 Secrets of Confession, by Vinny Flynn (MercySong/Ignatius, draft copy)
I read Vinny Flynn for the first time last month, when I reviewed his latest book 21 Ways to Worship. I was surprised at how down-to-earth and engaging I found his writing. I'm about halfway through the advance copy of this book. I'm finding it touching in all the right ways and I feel funny nodding and laughing out loud when I read it in public. I'd tell you to pre-order it, but it's not available yet. Don't worry, I'll be talking about it more. Lots more. This is important stuff.
Ora et Labora et Zombies, by Ryan Charles Trussell (fiction, in letters!)
I had a stack of about 15-20 of these letters and I finally sat down and devoured them over the weekend. Now for the maddening process of waiting for the next one to come in the mail! In some ways, it's exciting. And in some ways, I JUST WANT THE WHOLE BOOK! Yeah, I know. My life is sooooo tough, isn't it?
My recommendation for this book only gets stronger the more of it I read. It's orthodox, yes, and that's nice. But really, it's a GOOD STORY, which is critical and refreshing. It's well-written and edited (call me a snob, I know), and I'm on the edge of my seat waiting to see if the mail truck has been here yet...
New to My Review Shelf
I Thirst, by Gina Marinello-Sweeney (Rivershore Books, 2013, fiction)
I hesitated. I waffled. And in the end, I said yes to getting this book. The title reminds me of how Mother Teresa had these words inscribed by the crucifix in each of her order's chapels. We'll see how the book is. I'm intrigued, to say the least. Here's what the publisher has to say:
When Rebecca receives a mysterious note from an unknown source, she has no idea how it will change her life. Twenty-year-old Rebecca Veritas is used to being different, but has never felt extraordinary. She is a Dreamer, living in a world of poetry intermixed with the antics of her unique family and eccentric best friend Adriana. When she meets Peter, a young student from Canada who seems somehow to understand her from the start, her perception changes. With "Intermission", the single word in that mysterious note, as inspiration, the two writers embark on an incredible journey to a new world in the form of a story that will ultimately parallel their own lives. Yet, as the story progresses, events remain ever more shrouded in mystery. When unexpected circumstances in the real world throw their lives in disarray, it will be up to Rebecca to find the true meaning of "Intermission" before the curtain closes on the final act.
Totus Tuus: A Consecration to Jesus through Mary with Blessed John Paul II, by Fr. Brian McMaster (Our Sunday Visitor, 2013)
Two of my favorite saints, Mama Mary and JPII, with a devotion I haven't quite gotten my head around (despite trying it over and over and over). Yeah, this book is going to be a must-read for me. From the publisher:
Amidst the Nazi occupation of Poland and long days in forced labor at a quarry and chemical plant, young Karol Wojtyla - the man who would become Pope John Paul II - made a discovery that would change his life. He read the 18th century spiritual writings of St. Louis-Marie Grignion de Montfort and prayed St. Louis' thirty-three days of preparation for total consecration to Jesus through Mary. He understood anew that the purpose of a true devotion to Mary is to be directed into a deeper relationship with Jesus and the Holy Trinity. The consecration so marked his life that he would adopt St. Louis' phrase Totus Tuus (Latin for "Totally Yours") as his motto as bishop and later as pope.

Blessed John Paul II's adoption of this radical commitment to Jesus through Mary ignited a new flame in the hearts of countless Catholics all over the world.

This fresh look at Marian consecration takes the themes and structures of St. Louis de Montfort's preparation for total consecration and incorporates the teachings and insight of Blessed John Paul II, including prayer, contemplation, and resolutions that will open your heart to the life of the Holy Trinity. Through these thirty-three days of spiritual exercises you will discover how you can grow closer to Jesus through the heart of Mary, while becoming the very best version of yourself in a life of consecration.
31 Days to Becoming a Better Religious Educator, by Jared Dees (Ave Maria Press, 2013)
I am intensely interested in this little book, in part because Jared Dees rocks the house on this topic and in part because I'm an educator at heart. I'm a mom and a catechist, yes, but...well, it's a topic I love. Here's the scoopola from the synopsis:
Jared Dees shares practical, easy-to-use teaching strategies and exercises for spiritual growth. These components are designed to improve the effectiveness of any busy religious educator.

Volunteer catechists and professional religion teachers are responsible for two unique and challenging tasks: sharing (and assessing) information and the spiritual formation of their students. This succinct, practical resource helps busy catechists and religion teachers with both tasks and is designed for use either over consecutive days in one month, or by specific themes that encourage personal improvement in areas of discipleship, service, leadership, and overall teaching. Each of the thirty-one days includes a clear title that gives the lesson theme, a quotation from Scripture, an introduction to the exercise, step-by-step actions to take for the day, and spiritual enrichment ideas for the educator. A free leader's guide will be available at avemariapress.com/31days.
Yes, I would love your comments. :)
*Are you on Goodreads? I'll see you there!
Curious about what my ratings mean? Here's an explanation of what the stars mean to me.
Be sure to check out our Book Notes archive.
Copyright 2013, Sarah Reinhard
About the Author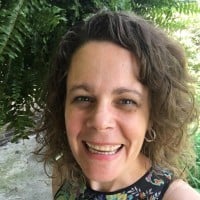 When she's not chasing kids, chugging coffee, or juggling work, Sarah Reinhard's usually trying to stay up read just one…more…chapter. She writes and works in the midst of rural farm life with little ones underfoot. She is part of the team for the award-winning Catholic Mom's Prayer Companion, as well as the author of a number of books. You can join her for a weekday take on Catholic life by subscribing to Three Shots and follow her writing at Snoring Scholar.