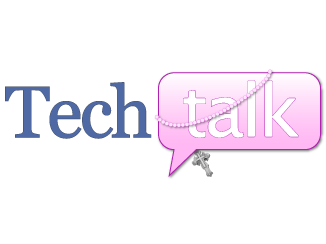 Today's Catholic Techie is proof that you can be a techie and not develop websites.
(Ahem.)
She's a woman I've come to know and love in the last few years, and it's an honor to share this interview.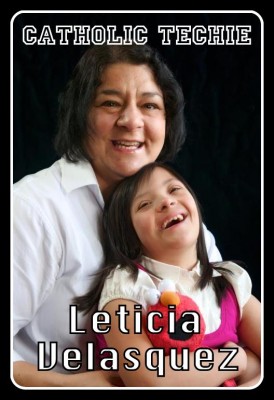 Leticia Velasquez is, first and foremost, a wife and mom. She founded KIDS (Keep Infants with Down Syndrome) and has been blogging at Cause of Our Joy since...well, maybe since the Catholic blogosphere started!
She's passionate and wonderful and full of words. She's written extensively for many publications and websites, including the National Catholic Register and the Patheos Catholic Channel. AND (yes, there's MORE!), she has a great book, A Special Mother Is Born: Parents Share How God Called Them to Extraordinary Vocation of Parenting a Special Needs Child.
But what makes Leticia a Catholic Techie? Call it the fact that she's as wired as anyone I know. Call it the propensity to share via social media. Call it the fact that she calls HERSELF one.
Tell us about yourself in five words or less.
Writing Catholic mom of three girls.
Of your pursuits, what's your favorite?
I love speaking live on a call-in radio show. People have such moving stories of their loved ones with special needs, and I make new friends.
When you think of the New Evangelization from your approach as a "Catholic Techie," what excites you?
Accessibility. We can circumvent the mainstream journalism which, to be frank, is no friend of our Faith, and communicate directly with the faithful Catholics, not only in our country, but around the world. I see Church events like Corpus Christi processions played out in many contexts from Guatemala to Rome. It gives me a sense of speaking to the universal Church when I post on Blogger, Facebook , Pinterest, and Twitter. It was especially moving as we said good-bye to Pope Emeritus Benedict and hello to Pope Francis and social media was lit up with joy like Catholic fireworks.
What makes you want to continue?
Before social media, I was feeling very helpless in the pro-life movement, like the deck was stacked against us. I knew about tragedies like Kermit Gosnell but we could do little to get the word out and influence the mainstream media. Social media has changed all this, making a level playing field for those who want to help spread the Gospel of Life.

We did a Twitter fest about the media's ignoring the Gosnell story, and, within 24 hours we had the New York Times, CNN, and Planned Parenthood chiming in on a story they would much rather have ignored.

It's very encouraging to see the grassroots power of social media. Anyone can be an activist today, from the comfort of home. As mom of a special needs daughter, I have to be ready to drop my work at any second and social media is perfect for that.
What's the most rewarding aspect of your work?
The feedback I get from what I post is utterly amazing. When I had eye surgery recently, hundreds of people posted of their offers to pray for me, others posted for me requesting prayer, and I had priests in three continents offering Mass for me during my surgery. I was encircled in a cloud of prayer. It really helped me weather the storm.
In your spare time, what are we likely to find you doing? Do you have a gadget in hand or do you go native and screenless?
I am fortunate to live in the woods of Connecticut, so I love to go for walks with my girls down our quiet country lane, and no, I don't bring an iPod. But I have been known to bring my iPad to bed where I catch up on social media, tweet during a major political or religious event., or just join some friends praying the Rosary.
Read more of our Tech Talk columns.
Copyright 2013 Sarah Reinhard