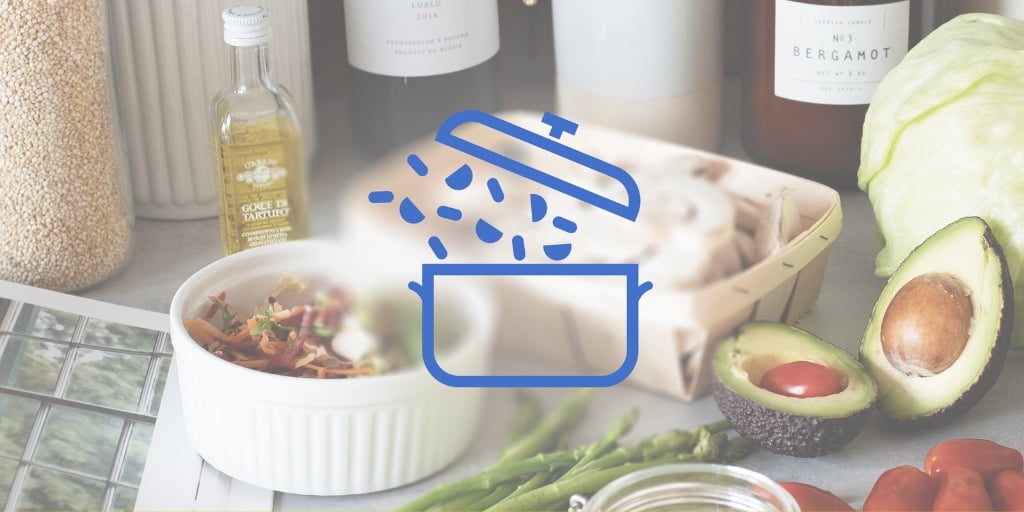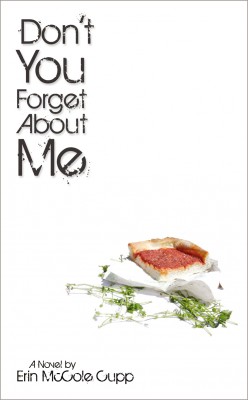 I have to admit, I had hoped to get out of the Don't You Forget About Me promotion marathon without making a tomato pie. Why, if it's something I love so much that practically wrote a book about it?
Let's put it this way. Say Jacques Pepin came to your house and made a meal for you that your family adored.
"Hey, Mom," the kids ask, "can you make that stuff that M. Pepin made when he visited?"
"Um, non," you'd answer, "probably not."
Once I've had something phenomenal made by people who know what they're doing, I'm loath to aim for making it at home—aim and miss the mark, leaving my tastebuds screaming at me, "You call this cuisine? Bah!"
But I got so many requests from DYFAM reviewers for a recipe for tomato pie at home, that I had to face my own kitchen demons. We gave Philly-style tomato pie a shot in the comfort of our own kitchen. Our recipe is a hybrid of our family's recipe for pizza crust, the tomato pie recipe from Stephanie Hua at Bay Area Bites, and another from Serious Eats.
Warning: For those of you who are familiar with me as Mrs. Mackerelsnapper, OP over at my Meatless Friday Blog, you will know that my trademark is cheap ingredients paired with quick cooking times. There are very few recipes there that require you to stay home all day cooking them.
This, however, is an all-day-cooking recipe. You'll need to alternate your work between making the sauce and making the crust. I suggest starting on the sauce first. Also, I resisted the temptation to Crock Pot this, because I wanted the wider pot opening on the stovetop to get that sauce boiled down as much as possible. See, you're supposed to eat tomato pie at room temperature, and the sauce is supposed to be so thick that it stands up at about ¼-1/2" high, even after you cut it with a knife.
The right texture and the right taste? That's a tall order. Let's see if we fill it.
PHILLY TOMATO PIE AT HOME
Tomato Sauce Topping:
Approx. 2 1/2 pounds tomatoes
1 large sweet onion
2 T olive oil
2 t Kosher salt
1 29 oz can of tomato puree (3 cups of puree, if you're using homegrown)
3 T tomato paste
2 T minced garlic
3 T sugar
1 T apple cider vinegar
1 T butter
1 tsp dried basil
¼ tsp dried oregano
¼ teaspoon ground black pepper
Preheat oven to 400F degrees. Slice the tomatoes in half. Peel onion and slice in half crosswise. Place tomato and onion halves face up in a baking pan with a lip of some sort (there will be a bit of juicing out on the part of the veggies as they roast, and you don't want it spilling onto your oven floor at 400F degrees). Drizzle with olive oil, sprinkle with salt and pepper…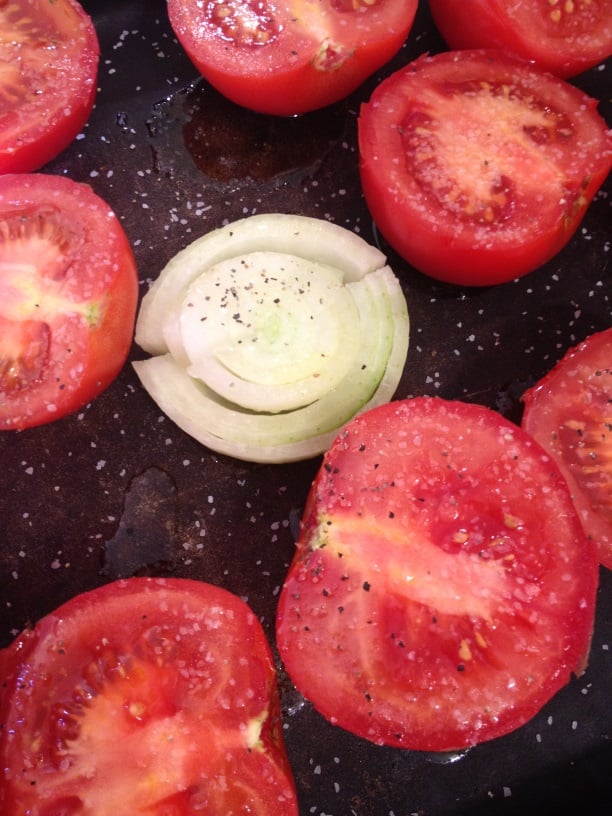 …and roast in the oven for 40 minutes. While that roasts, combine the rest of the ingredients in a large stock pot and let simmer. Remove roasted tomatoes and onions from the oven and slide them into the pot. DO NOT BLEND YET. Let it all simmer on low another hour. Now go ahead and attack the pot with your stick blender and blend until smooth. Continue to simmer until soft peaks form. What, you think I'm kidding?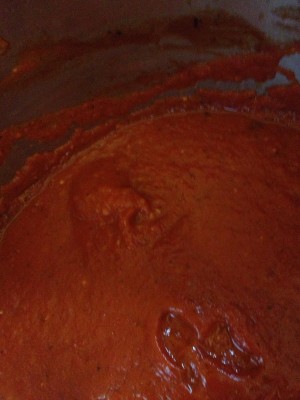 See? Soft peaks. I think I left ours on there about 2 hours total. Remove from heat and set aside while you work on the....
Tomato Pie Crust
2 tsp instant yeast
1 C warm water (the temperature of a hot bath after a long day)
2 T white sugar
1 lb 2 oz (about 3 1/2 C if you don't have a kitchen scale) high gluten bread flour
2 teaspoons kosher salt + 2 T hot, hot water
1/4 cup olive more
More olive oil and grated Parmesan, as needed (see directions)
In a mixer bowl, combine the yeast with the warm water and sugar. Let stand for 5 minutes. Meanwhile, dissolve your salt in the 2 T of hot water (brilliant idea, BTW, Stephanie Hua!).
With the dough hook on "stir" speed, add the flour to the bowl one large spoonful at a time. Once that's all in but before it's incorporated, add the salt water and 1/4 cup olive oil. Increase the mixer speed slightly and mix until the dough is smooth and elastic and starts "cleaning" the sides of the bowl (7-10 minutes, depending on your mixer). Roll the dough into a ball and drizzle some olive oil in there to coat it. Cover bowl with plastic wrap and let rise in a warm place for about 90 minutes.
Rub a large baking stone or cookie sheet with a generous helping of olive oil (Stephanie, above, recommends 2 T and the insurance of parchment paper for the cookie sheet, but my large stone baking pan with just the oil worked perfectly). Stretch dough out toward edges of pan until the whole pan is covered with the dough. "Dock" the surface of the dough inside the edges by poking all over with a fork. Let this rest for 20 minutes, then start your oven heating to 500F with your oven rack just above the middle position.
And now it comes together.
As soon as the oven hits temperature, REDUCE temperature to 425F and place UNTOPPED crust in there to bake for 10 minutes. Now spread your tomato sauce thickly on parbaked crust, leaving about ½" around edges (you will probably have some sauce left over). Bake for another 10 minutes. Transfer pan to wire rack and let cool for 5 minutes. As carefully as you can, slide pie out of pan back onto the wire rack (crust SHOULD be sturdy enough to survive the trip at this point). Allow pie to come to room temperature before serving. Seriously, don't eat this hot. Hot tomato pie is tantamount to sacrilege. Sprinkle your room temperature pie with olive oil and grated (grated, I said, not the snooty shredded stuff you see in the Wegman's "Fromages" island) parmesan cheese. Slice into squares and serve. Ideally the sauce will be so thick that it will just stand there like it's waiting for a bus.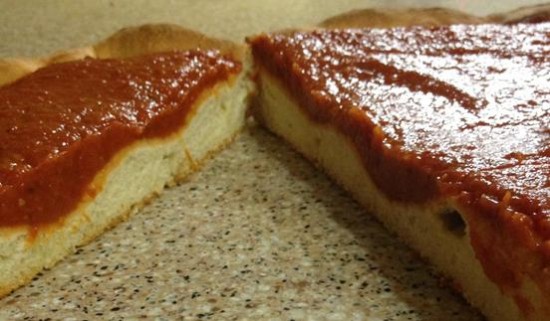 The Verdict
This was … good. It was not great. The kids raved, the husband was pleased, and there was nothing left over.
However, the crust came out way browner than I'm used to on my tomato pie, and while I was impressed that the sauce did indeed stand up after cooling, it did not have the same savory salty sweetness that I expect from bakery tomato pie.
Do I add more salt? More sugar? Find better quality tomatoes? Sneak into the kitchen of my favorite Italian bakery, yell, "LOOK! DINOSAURS!" and then sneak into their pantry while they're distracted?
I'm not sure. However, in the event we ever find ourselves living even farther away than one hour from a real Philly Italian bakery, I have this recipe in my arsenal. It may take some tweaking, but it's quite serviceable.
Just like Cate, from my latest novel Don't You Forget About Me, no matter where I may end up, I will always have a hankering for real tomato pie.
What do you think about the idea of Philly-style tomato pie? What are the variations on the pizza theme most common to your area of the world? Let us know in the comments below!
Copyright 2013 Erin McCole-Cupp
About the Author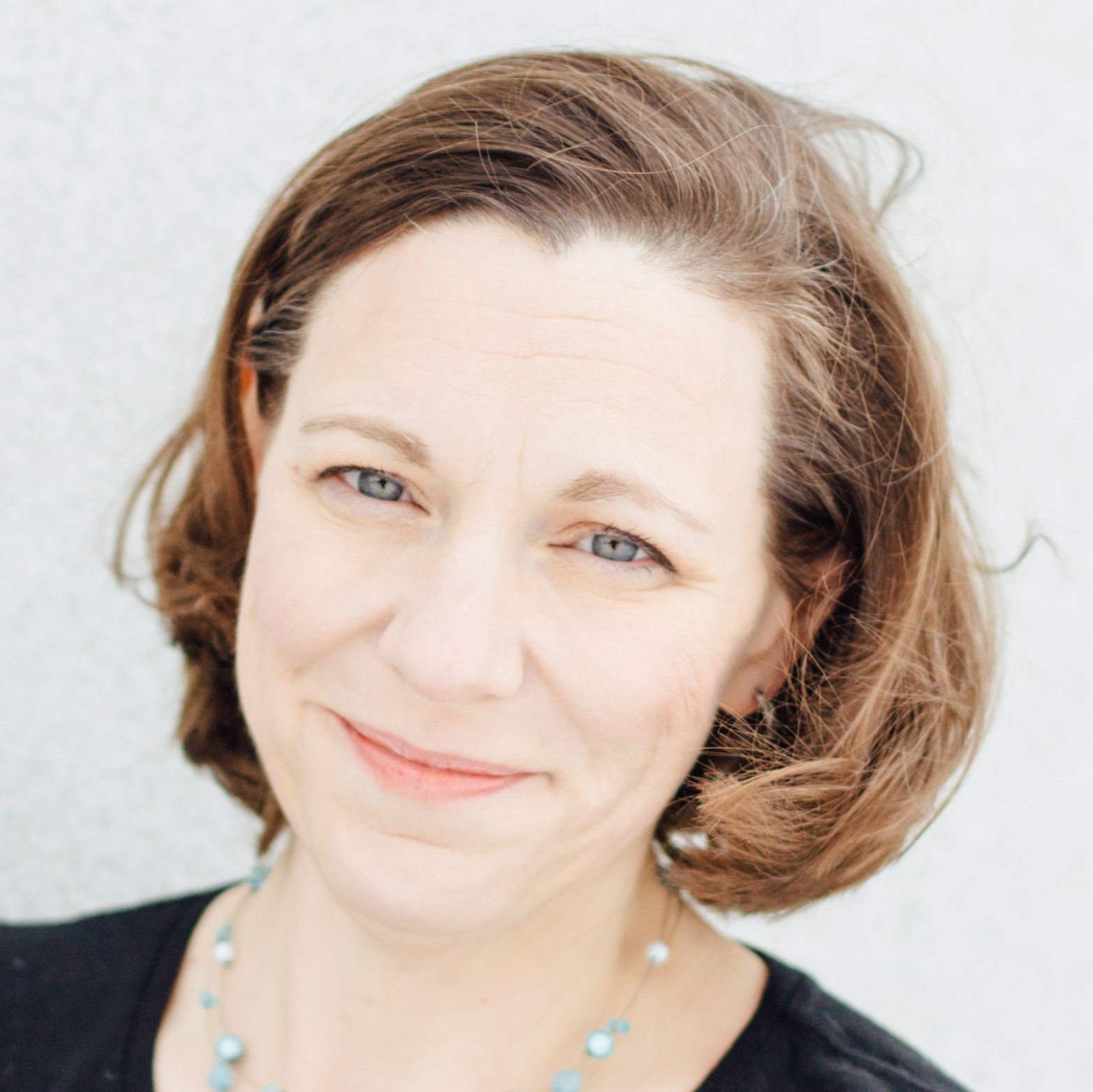 Erin McCole Cupp is the author of All Things New: Breaking the Cycle and Raising a Joyful Family from Our Sunday Visitor. Get to know her and take the quiz to find your rut-busting Beatitude at her website at ErinMcColeCupp.com.