Editor's note: This Advent season, we are blessed to have a series of beautiful reflections by our own Marge Fenelon. For more spiritual support and encouragement, please check out Marge's beautiful book Imitating Mary as the perfect gift for yourself or a loved one this holiday season! LMH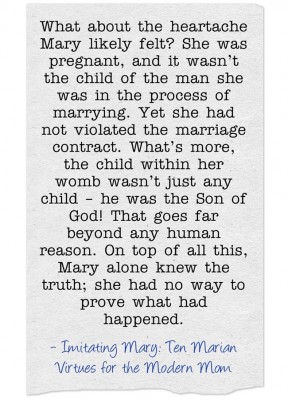 Have you ever wondered what it was like for Mary to have to tell Joseph that she was pregnant, but that it wasn't his child? We know that the conversation took place, because in St. Matthew's gospel we read about Joseph's decision to divorce her quietly:
Now, this is how the birth of Jesus Christ came about. When his mother Mary had been betrothed to Joseph, but before they lived together, she was found with child through the Holy Spirit. Joseph her husband, since he was a righteous man, yet unwilling to expose her to shame, decided to divorce her quietly. (Mt. 1:18-19)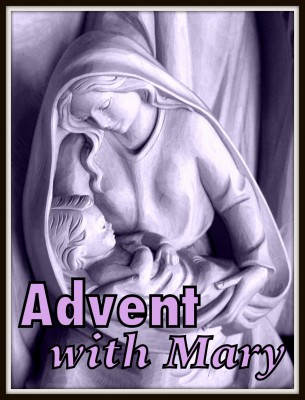 In Israel during Mary's time, marriages were pre-arranged and required a two-stage process. The first stage was the betrothal, which was a formal exchange of the couple's consent before witnesses that included payment and was legally binding. The bride-to-be remained with her family, yet her husband-to-be had legal rights over her. Any sexual relations outside of this union was considered adulterous. After one year, the couple entered fully into marriage, at which point the woman moved from her family home into her husband's family home with a special ceremony and grand celebration. Mary's pregnancy occurred in between the two stages, and therefore was considered adulterous.
Our Blessed Mother, an adultress? Impossible! And yet, looking from the outside in, that appeared to be the case. Mary knew the truth, and, we could assume that she at least tried to explain that to Joseph. It seems, though, that even he didn't understand. In fact, he seemed to believe that she had cheated on him. He'd lost trust in her. It was time to cut her lose and go their separate ways.
God knew the truth, Mary knew the truth, and all she could do was to wait for God to reveal the truth to her beloved and save her reputation, her marriage, and her life. I don't know about you, but for me, waiting for a misunderstanding to be cleared up is one of the worst kinds of waiting of all. There's nothing that can be done save for stepping back and praying that God will speak to the heart of the other and to open your heart for any messages God may have for you in the situation.
We can do the same this Advent. Perhaps we're embroiled in a misunderstanding, separated from loved ones, mistrusted, or feel we've been misjudged by someone else. Or maybe we're just overwrought, overworked, and overstimulated by the chaos around us.
Whatever it is, we can wait through it by opening our hearts to God's Word and the message he has for us. He will reveal the truth, but we must trust like Mary and wait for him to do it in his own time and in his own way. With Mary's intercession and God's grace, the heartache will pass.
Copyright 2013 Marge Fenelon
About the Author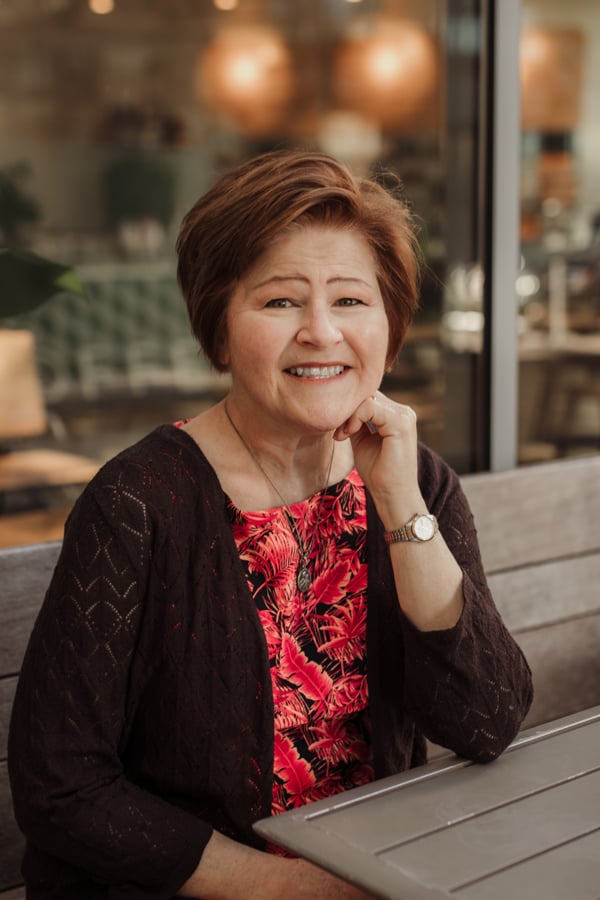 Marge Steinhage Fenelon is an award-winning author, international speaker, life coach, and retreat leader. She has written several books on Marian devotion and Catholic spirituality. As a life coach, she is passionate about helping others grow personally and spiritually. Her podcast, Simply Holy, airs on many popular podcast platforms. Learn more about Marge at at MargeFenelon.com.