All those people saying it's going to be a rough winter? That it's been "quite a while" since we've had a "good snow winter"? Who insert that Tone of Voice when the subject of weather comes up?
Well, I think they might be onto something.
My kids are loving the snow (and so's the dog). I'm wearing wool socks at a frequency I haven't in years. And it's only December. Here in Ohio, our cold and snow is usually a January and February thing.
But you know, curling up with a book...that's right up my alley.
Recent Reads
Prayer and You: Wit and Wisdom from a Crabby Mystic, by Mary Lea Hill, FSP (advance copy, Pauline Books & Media, expected publication 2014)
My rating: 5 out of 5 stars
Keep your eyes out for this book, due out in 2014. It is a gem. It's maybe the most accessible book on prayer I have ever read, and not only did I learn a lot, but I think my prayer life improved. Hill writes from experience and I'm pretty sure she is a normal person. Don't worry: I'll be writing more about it after it's out.

Totus Tuus: A Consecration to Jesus through Mary with Blessed John Paul II, by Fr. Brian McMaster (Our Sunday Visitor, 2013)
My rating: 5 out of 5 stars
I am SO GLAD I took the time to use this book for Total Consecration (though in the interest of full disclosure, I bombed it at the end). Fr. McMaster has done a masterful job of integrating John Paul II's writings in a way that doesn't require a theology degree to understand and benefit from them. I'll be rereading this book for sure!
Current Reads

Yes, God!: What Ordinary Families Can Learn about Parenting from Today's Vocation Stories, by Susie Lloyd (Ave Maria Press, 2013)
On the cover of this book, there's an endorsement from Lisa Hendey: "Compelling, lively, and filled with life lessons." And, three chapters in, that pretty much sums up what I've found to be true. I picked it up because I'm a Susie Lloyd fangirl. I'm still reading because it's a good read, hands down.
Up Next

Chesterton Is Everywhere, by David Fagerberg (Emmaus Road Publishing, 2013)
I want to read more Chesterton. In fact, I think this is a common "thing" among certain people, myself included. And while this book isn't technically "reading Chesterton," it does have my curiosity roused:
With the wit and style of G. K. Chesterton, D. W. Fagerberg serves a series of perceptive and entertaining essays organized around themes intrinsic to daily life: happiness, the ordinary home, social reform, Catholicism, and transcendent truths.
What have YOU been reading lately?
*Are you on Goodreads? I'll see you there!
Curious about what my ratings mean? Here's an explanation of what the stars mean to me.
Be sure to check out our Book Notes archive.
Copyright 2013, Sarah Reinhard
About the Author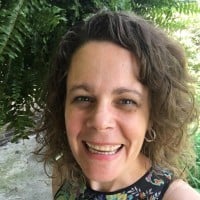 When she's not chasing kids, chugging coffee, or juggling work, Sarah Reinhard's usually trying to stay up read just one…more…chapter. She writes and works in the midst of rural farm life with little ones underfoot. She is part of the team for the award-winning Catholic Mom's Prayer Companion, as well as the author of a number of books. You can join her for a weekday take on Catholic life by subscribing to Three Shots and follow her writing at Snoring Scholar.