It was a banner reading year, oh yes it was. According to my records, I clocked 114 books last year, which is a record for me. (I don't think I'll beat it for a while. But that's a different post.)
Given all the reading I did, I thought I'd share the ones I marked "favorite" on Goodreads (if you want to see all of my favorite reads, here's a link). There are quite a few, and they're listed here in the order I read them, with links to my review or comments if you want more (and if I wrote about them).
I realized a few things, looking back over this list. One is that I need more good to-be-marked-favorite fiction. Another is that this kind of listing may not be helpful for anyone. (And if it's not, just skim it and smile at my silliness, and move along.)
Fiction:
The Book Thief, by Markus Zusak
Love Among the Chickens, by P.G. Wodehouse
Rapunzel Let Down: A Fairy Tale Retold (Book #6), by Regina Doman (review)
Do No Harm: A Novel, by Fiorella de Maria (review)
A Hero for the People: Stories of the Brazilian Backlands, by Arthur Powers (fiction) (review)
The Spear, by Louis de Wohl (fiction) (review)
Mind Over Psyche, by Karina Fabian (fiction) (review)
A Rich Young Man: A Novel Based on the Life of Saint Anthony of Padua, by John Edward Beahn
Nonfiction:
Blessed, Beautiful, and Bodacioius: Celebrating the Gift of Catholic Womanhood, by Pat Gohn (review)
Cultivating God's Garden through Lent, by Margaret Rose Realy (review & another review)
Love & Salt: A Spiritual Friendship Shared in Letters, by Amy Andrews & Jessica Mesman Griffith (review)
Quiet: The Power of Introverts in a World that Can't Stop Talking, by Susan Cain (review)
Living the Beatitudes: A Journey to Life in Christ, by J. Brian Bransfield (review)
Refuse to Do Nothing: Finding Your Power to Abolish Modern-Day Slavery, by Shayne Moore and Kimberly McOwen Yim (review)
My Sisters the Saints: A Spiritual Memoir, by Colleen Carroll Campbell (review)
The New Evangelization and You: Be Not Afraid, by Greg Willits (review)
Jesus of Nazareth: From the Baptism in the Jordan to to the Transfiguration, by Pope Benedict XVI
Francis, Pope of a New World, by Andrea Tornielli
Recipe for Joy: A Stepmom's Story of Finding Faith, Following Love, and Feeding a Family, by Robin Davis (review)
Random MOMents of Grace: Experiencing God in the Adventures of Motherhood, by Ginny Kubitz Moyer (review)
Evangelical Catholicism: Deep Reform in the 21st Century, by George Weigel
The Everyday Catholic's Guide to the Liturgy of the Hours, by Daria Sockey (review)
Consoling the Heart of Jesus: A Do-It-Yourself Retreat, by Fr. Michael E. Gaitley, MIC
21 Ways to Worship: A Guide to Eucharistic Adoration, by Vinny Flynn (review and another review)
Strange Gods: Unmasking the Idols in Everyday Life, by Elizabeth Scalia (review)
7 Secrets of Confession, by Vinny Flynn (advance copy) (review)
Breaking Through: Catholic Women Speak for Themselves, edited by Helen M. Alvaré (review)
Theology of the Body for Every Body, by Leah Perrault (review)
Forming Intentional Disciples: The Path to Knowing and Following Jesus, by Sherry Weddell (as part of the Lawn Chair Catechism study at CatholicMom.com) (review)
Rebuilt: The Story of a Catholic Parish: Awakening the Faithful, Reaching the Lost, and Making Church Matter, by Michael White & Tom Corcoran
Walking with Mary: A Biblical Journey from Nazareth to the Cross, by Edward Sri (review)
Saint: Why I Should Be Canonized Right Away, by Lino Rulli (review)
The Sinner's Guide to Natural Family Planning, by Simcha Fisher (review)
Under the Mantle: Marian Thoughts from a 21st Century Priest, by Donald H. Calloway, MIC
These Beautiful Bones: An Everyday Theology of the Body, by Emily Stimpson
When Faith Feels Fragile: Help for the Wary, Weary, and Wandering, by R. Scott Hurd
Totus Tuus: A Consecration to Jesus through Mary with Blessed John Paul II, by Fr. Brian McMaster
Yes, God! What Ordinary Families Can Learn about Parenting from Today's Vocation Stories, by Susie Lloyd
Chesterton Is Everywhere, by David Fagerberg
Your turn:
What did you read and "favorite" during 2013?
Be sure to check out our Book Notes archive.
Copyright 2014, Sarah Reinhard
About the Author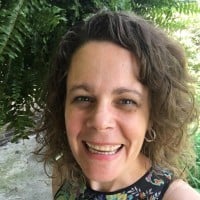 When she's not chasing kids, chugging coffee, or juggling work, Sarah Reinhard's usually trying to stay up read just one … more … chapter. She writes and works in the midst of rural farm life with little ones underfoot. She is part of the team for the award-winning Catholic Mom's Prayer Companion, as well as the author of a number of books. Follow her writing at Snoring Scholar.