Editor's Note: We're continuing our journey through the rosary with Jesus as our guide.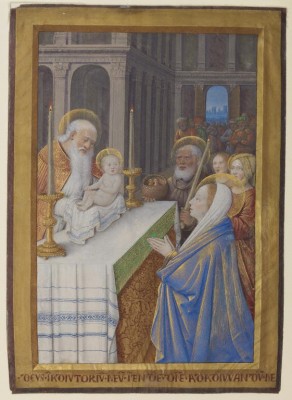 Today we are taking a look at the fourth Joyful Mystery, The Presentation, to help guide us on our journey through the New Year through the Rosary.
"When the day came to purify them according to the law of Moses, the couple brought Him up to Jerusalem so that He could be presented to the Lord, for it is written in the law of the Lord, 'Every first-born male shall be consecrated to the Lord.' " (Luke 2:22-23)
The Fruit of the Mystery is Obedience. Obedience can be a difficult goal to achieve. However, obedience definitely plays a role in Jesus' Guide to the New Year through the Rosary. Again, Mary and Joseph illustrate the importance of obedience. When we are obedient to God's will and follow him along our life path we will certainly find we are on the right path.
Let's take our first four fruits of the Joyful Mysteries and continue moving forward on our journey of the New Year through the Rosary.
Read all the reflections in the "Jesus' Guide to the New Year through the Rosary" series.
Copyright 2014 Lorrie Lane Dyer
The Presentation in the Temple, 1498 - 1499, Tempera and gold on parchment
Jean Bourdichon, illuminator (French, 1457 - 1521, active Tours, France, early 1480s - 1521)
Leaf: 24 x 17 cm (9 7/16 x 6 11/16 in.)
The J. Paul Getty Museum, Los Angeles, Ms. 79b, verso
Digital image courtesy of the Getty's Open Content Program
About the Author

Lorrie Lane Dyer is a facilitator for the Virtual Learning Community for Faith Formation with the University of Dayton as well as religious education and parish coordinator. She is working on her Masters of Leadership Development, with a focus in Military Chapel programs at St. Mary of the Woods College. Her faith provides her with inspiration for many of her poetry collections, columns and short stories.