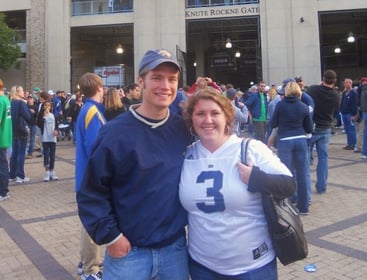 When my husband and I were preparing for marriage, friends warned us that while we might think the first year of marriage is the most difficult, for many couples, it's actually the second. I'm beginning to think there is some truth to this theory, as I've noticed that this year, things that were once so new and exciting are becoming ordinary, and the things we once found charming about the other…are no longer quite as charming.
At the new year I took some time in prayer to reflect on the ways that I've shown my husband how much I love and treasure him, and realized that while I am trying to be consistent in my everyday love and care for our family, there haven't been very many little, random acts of love and affection in our house lately. Because life is a little crazy, romance will need to have some planning; not just spontaneous acts of love, but thoughtful, planned and prepared wooing so that it does not get forgotten or pushed to the side. Something to get excited about, to put time and thought into to show him that even in the ordinary, our love is extraordinary.
I know that my husband - who is so generous with his love and so patient and understanding when I prepare him (yet another) frozen pizza – does not ask for, or even need, those little acts of romance, but I DO! I need to show him that in the midst of work and motherhood, he still comes first.
So I hatched a plan. He's never been into Valentine's Day (too commercial), so that wouldn't be the right time to knock his socks off. But February also plays host to a significant event for my college-football-loving, Go-Irish!-yelling man. That's right, National Signing Day. For the football lover, National Signing Day (February 5th this year) is the day when high school recruits can officially commit to the college team of their choice by signing a letter of intent. Then we can really start to speculate about the coming seasons, our offensive and defensive game, and our shot at the national title. I couldn't think of a better day to help him celebrate his passion and to make romance a little manly.
I took a few weeks to make my plan, scouring Pinterest, and doing secret grocery shopping. I knew he'd never expect that I'd turn National Signing Day into a romantic holiday, which made it all the more fun. And he was certainly surprised! The day was filled with decorations, good Irish food, a romantic dinner and a letter – my letter of intent.
It was a good day. By the end I was tired, but the good kind of tired, the kind when you know that the work you've done is good, and that it mattered. I think that National Signing Day may become an annual holiday in our household, celebrating the things my husband loves and loving him by loving them alongside him.
Of course, I want to continue to woo him this year, keeping our marriage full of love and excitement and surprises, so it's back to the drawing board for the next act of romance!
What are some creative ways you've shown love to your husband?
Copyright 2014 Megan Swaim
About the Author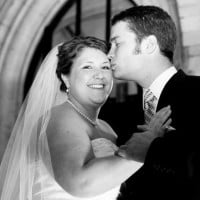 Megan Swaim is an Indiana girl on an east coast adventure. A former high school youth minister, she now gets to minister full-time to her three young daughters and her husband Josh. Megan spends her days homeschooling at the kitchen table, drinking iced coffee, and exploring coastal Virginia.