Editor's Note: We're continuing our journey through the rosary with Jesus as our guide.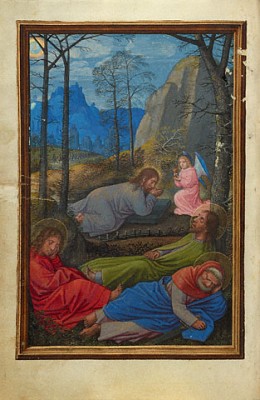 As we continue our series of Jesus' Guide to the New Year we embark upon the Sorrowful Mysteries. Now you might wonder how the Sorrowful Mysteries fit into our Guide to the New Year. Let us move along and find out!
The First Sorrowful Mystery is the Agony in the Garden.
"In His anguish He prayed with all the greater intensity, and His sweat became like drops of blood falling to the ground. Then He rose from prayer and came to His disciples, only to find them asleep, exhausted with grief." (Luke 22:44-45)
The First Sorrowful Mystery brings to us one of the greatest fruits…Sorrow for Sin. Jesus loved us so much that he was willing to endure suffering and death for our sins. Because of the sacrifices Jesus made for us I feel we are obligated to take a look at our own lives and decisions. What better way to start off the New Year than to spend some time reflecting on our decisions and those that have lead us to sin?
Reflecting on the First Sorrowful Mystery and its' fruit gives us the opportunity to evaluate our lives and decisions, determine our sins and to be truly sorry for our sins. Sorrow for sin allows us the chance to make amends for our sins. This may mean apologizing to someone, apologizing to God and making a commitment not to recommit that sin. Together we can take the fruit of the First Sorrowful Mystery, apply it to our lives and make a difference in the person we are, the person we want to be and everyone we interact with. This step not only helps us mend our relationships with others, but with ourselves and with God.
Read all the reflections in the "Jesus' Guide to the New Year through the Rosary" series.
Copyright 2014 Lorrie Lane Dyer
Simon Bening, illuminator (Flemish, about 1483 - 1561)
The Agony in the Garden, about 1525 - 1530, Tempera colors, gold paint, and gold leaf on parchment
Leaf: 16.8 x 11.4 cm (6 5/8 x 4 1/2 in.)
The J. Paul Getty Museum, Los Angeles, Ms. Ludwig IX 19, fol. 98v
Digital image courtesy of the Getty's Open Content Program
About the Author

Lorrie Lane Dyer is a facilitator for the Virtual Learning Community for Faith Formation with the University of Dayton as well as religious education and parish coordinator. She is working on her Masters of Leadership Development, with a focus in Military Chapel programs at St. Mary of the Woods College. Her faith provides her with inspiration for many of her poetry collections, columns and short stories.