Editor's Note: We're continuing our journey through the rosary with Jesus as our guide.
Today we take a look at the Second Sorrowful Mystery, The Scourging at the Pillar.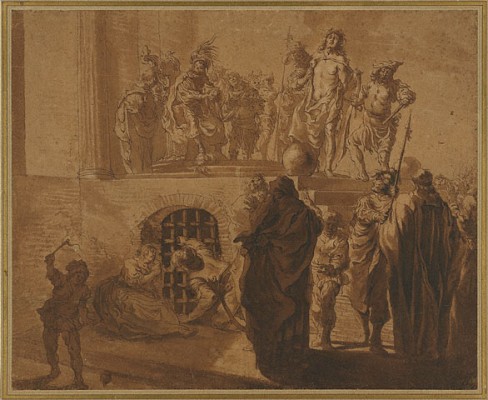 "Pilate's next move was to take Jesus and have Him scourged." (John 19:1)
The Fruit of the Mystery is Purity. Jesus endured an incredible amount of pain on our behalf. He endured the scourging at the pillar so we would not have to.
When I think about what Jesus endured on my behalf, I feel an array of feelings. These feelings range from a deep sorrow and shame…shame because my sins are why he had to suffer, to feelings of great appreciation and love. These feelings led me to a longing and a desire to live a life of purity.
As we start today off, let us consciously keep in mind the Second Sorrowful Mystery, striving towards purity in all the decisions we make. Together, by making conscious decisions, we can follow Christ, and embrace a life of purity.
Read all the reflections in the "Jesus' Guide to the New Year through the Rosary" series.
Copyright 2014 Lorrie Lane Dyer
Nikolaus Knüpfer (Dutch, about 1603 - 1655)
Christ Before Pilate, about 1640 - 1650, Brush and brown ink and brown wash, heightened with white gouache, on light brown paper
51.1 x 62.9 cm (20 1/8 x 24 3/4 in.)
The J. Paul Getty Museum, Los Angeles
Digital image courtesy of the Getty's Open Content Program
About the Author

Lorrie Lane Dyer is a facilitator for the Virtual Learning Community for Faith Formation with the University of Dayton as well as religious education and parish coordinator. She is working on her Masters of Leadership Development, with a focus in Military Chapel programs at St. Mary of the Woods College. Her faith provides her with inspiration for many of her poetry collections, columns and short stories.