Editor's Note: We're continuing our journey through the rosary with Jesus as our guide.
Carrying of the Cross is our Fourth Sorrowful Mystery. "... carrying the cross by Himself, He went out to what is called the Place of the Skull (in Hebrew, Golgotha)." (John 19:17)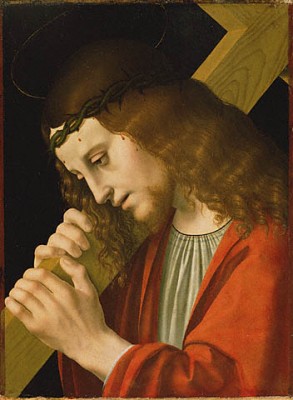 The Fruit of today's mystery is Patience. Ah, what a beautiful fruit we've been offered. If your life is like mine, you find yourself in situations were patience is needed but often lacking.
Jesus knew he was carrying the cross he'd hang on and that he was carrying it to his place of death. He fell three times on this journey and yet still provided love to others and somehow carried patience along with him on his journey. I am always amazed at, how, regardless of the situation or circumstance, Jesus provides us with the perfect examples of how to be a better person. The patience Jesus shared as he carried his cross reminds me that nothing I face can compare to what he faced for me. This reminder helps me put things in perspective and calls me to be more patient.
As we go out into the world today, when we find ourselves in situations where we are losing our patience, let us take a step back, reflect on this mystery and move forward with the patience of Jesus.
Read all the reflections in the "Jesus' Guide to the New Year through the Rosary" series.
Copyright 2014 Lorrie Lane Dyer
Attributed to Marco d' Oggiono (Italian, about 1467 - 1524)
Christ Carrying the Cross, about 1495 - 1500, Oil on panel
Unframed: 36.8 x 27.3 cm (14 1/2 x 10 3/4 in.)
Framed: 51.4 x 41.3 x 5.1 cm (20 1/4 x 16 1/4 x 2 in.)
The J. Paul Getty Museum, Los Angeles
Digital image courtesy of the Getty's Open Content Program
About the Author

Lorrie Lane Dyer is a facilitator for the Virtual Learning Community for Faith Formation with the University of Dayton as well as religious education and parish coordinator. She is working on her Masters of Leadership Development, with a focus in Military Chapel programs at St. Mary of the Woods College. Her faith provides her with inspiration for many of her poetry collections, columns and short stories.