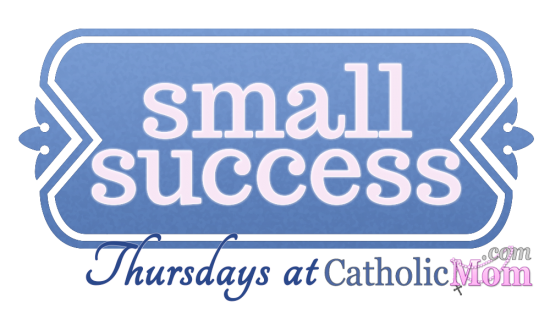 "So how did it go?" my friend asked me in the hallway as I tried to rush my kids out the door because I had to get home, get dressed, help my 16 year old with dinner and then be out on the road to attend my senior daughter's special IB pinning ceremony at 6:30. My brain froze at her simple question. So much has happened in the past seven days I didn't know what the "it" was she asked about.
Her question related to Saturday, I'd gone to a teacher job fair, just to check out the possibilities and practice interviews, get my feet wet in the job market waters. This past week we'd celebrated a 12 year old's birthday, had one teen be part of a show for three days, and another teen need to pull an all weekend of studying for papers and exams this week. The car had been in the shop for a time and I'd squeezed in a haircut. On Sunday, we took two cars to mass because we had multiple errands on the schedule including a Mother Daughter tea at her high school. We held a "race" by taking different routes to Church. It was a tie but the great moment was all of us laughing as we came in from the icy rain, into the atrium area of the parish hall. Mass felt like a respite from the schedule despite being part of what made Sunday busy.
How did it go? We got a lot done, we went to bed tired, hit the morning running, and that is how every day this week could be described up to now. Ultimately, the week was made by my 3 year old falling asleep in the car. I carried her sleeping self into the local church that has 24-7 adoration and stole an hour I hadn't thought possible. How'd it go? It was a week of business, but also, a week of real prayer, the kind that reveals the true joy of family life.
So this week I:
1) Got a haircut. My 3 year old said, "Mommy your hair looks weird." But she came over and petted my hair anyway.
2) Celebrated my 12 year old's birthday, she was born on Easter Monday after a hard Holy Week, stuck at the hospital.
3) Spent time in adoration thanks to 3 year old napping.
4) Continued reading Watership Down to my 10 year old, and Little House to the 8 and 6 year old.
Next week, looks just as busy, as we'll be making college decisions, celebrating the 6 year old turning 7, and I'm not sure what else, but probably something that will make for next week's Small Success Thursday. Now it's your turn to tell "How did it go?"
[inlinkz_linkup id=390731 mode=1]
About the Author

Sherry Antonetti is a mother of ten children, published author of The Book of Helen and a freelance writer of humor and family life columns. You can read additional pieces from her blog, http://sherryantonettiwrites.blogspot.com.