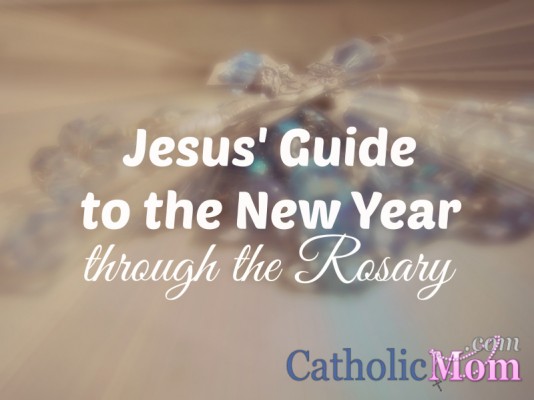 Editor's Note: We're continuing our journey through the rosary with Jesus as our guide.
The Fourth Glorious Mystery provides us with the Fruit of the Mystery of the Grace of a Happy Death.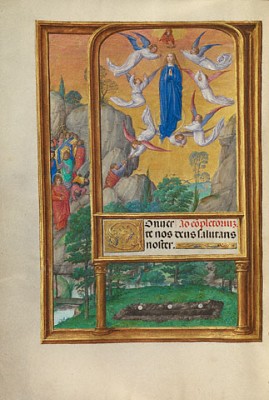 The Assumption reminds us how Mary is the perfect example of how to be a child of God. Mary set aside her own fears and accepted God's calling without hesitation. She lived her life obedient to God in every way and was entrusted with the care of Jesus.
Reflect on the Fourth Glorious Mystery: "You are the glory of Jerusalem … you are the splendid boast of our people … God is pleased with what you have wrought. May you be blessed by the Lord Almighty forever and ever." (Judith 15:9-10)
May we call to mind the goodness of Mary and how her life of God led her to the Grace of a Happy Death.
This year let us follow Mary's example, live a life obedient to God's calling so that we too may be blessed with the Grace of a Happy Death.
Read all the reflections in the "Jesus' Guide to the New Year through the Rosary" series.
Copyright 2014 Lorrie Lane Dyer
Master of James IV of Scotland, illuminator (Flemish, before 1465 - about 1541)
The Assumption of the Virgin, about 1510 - 1520, Tempera colors, gold, and ink on parchment
Leaf: 23.2 x 16.7 cm (9 1/8 x 6 9/16 in.) Justification: 10.9 x 7.4 cm (4 5/16 x 2 15/16 in.)
The J. Paul Getty Museum, Los Angeles, Ms. Ludwig IX 18, fol. 148v
About the Author

Lorrie Lane Dyer is a facilitator for the Virtual Learning Community for Faith Formation with the University of Dayton as well as religious education and parish coordinator. She is working on her Masters of Leadership Development, with a focus in Military Chapel programs at St. Mary of the Woods College. Her faith provides her with inspiration for many of her poetry collections, columns and short stories.