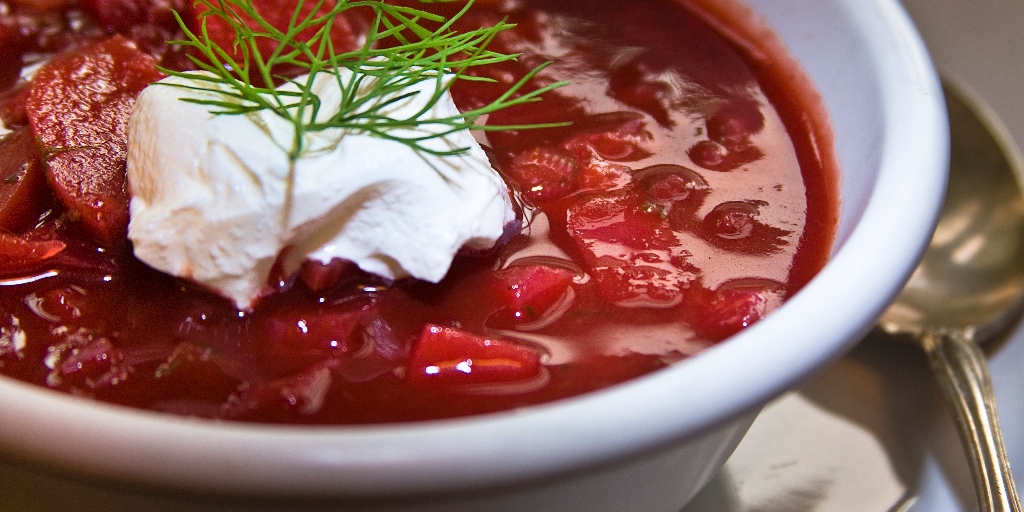 The story behind Margaret Rose Realy's borscht recipe is as captivating as the idea of a chilled soup on a hot, muggy day. This meatless soup is perfect for summer!
I am not of Slavic descent, being more like the Irish than the Italians in my family. The first time I tasted borscht was in college.
I entered college in my late twenties and quickly found I was beyond the mentality of the recently emancipated teenagers that surrounded me. Their frenetic activity to study, socialize and eat at random was far too demanding for my more "mature" constitution.
Like many self-supporting students on financial aid, which paid only tuition, money was an issue. Without parents funding my college days, I had to be creative with how I managed what little income I could earn. As a full-time student on a work-study program, I bought the bruised produce and two-day-old breads from the large chain stores in the area. Rarely did I eat out.
It was late summer and too hot to carry groceries home or to cook when I got there. I wandered off campus in search of a restaurant serving foods inconsistent with what my much younger classmates preferred. I was not into the fad of pure vegan meals lacking butter, or the chop sticks in back packs. I wasn't sure what I wanted, but knew the meal I was about to enjoy had to be inexpensive.
There was a section of ethnic restaurants in the plaza across from campus. The plaza was about a mile walk from my last class, and halfway home to my two-room apartment in the converted upstairs of a 1930s four-square house.
I walked past the grocery store to the line of storefronts under the eaves. In addition to the gift store and insurance company, there were four restaurants along the way: Chinese, Mesopotamian, Polish, and Italian. I read the menus, and more importantly their prices, that were taped on the inside of the plate glass windows next to their respective doors. I noticed that the patrons of the Polish restaurant had fairly large portions, and decided to follow my frugal intuition: leftovers for the next few days.
As I walked in the opened door the thick aromas of cabbage and vinegars assaulted my sense of smell and I wondered if I had made the right decision. The woman behind the wooden counter was quite round and rosy cheeked with the top of her apron safety-pinned over her ample bosom. I smiled to myself at her navy-blue calico dress and red floral babushka tied behind her head. The scene was complete when she asked in a thick European accent if I was ready to order. This was indeed a Polish Mama.
The special of the day, and back then there was only one, was a soup. I asked her what B-A-R-S-Z-C-Z was. She smiled and said something like it was "gooder soup of beets that cooler you on hot day … and it pretty." Well, it was hot, August usually is, and I like pretty food. I ordered some along with a side of golabki (cabbage rolls) and sat down to wait at a small table opposite the fan.
I was not prepared for what was set before me. In a deep white bowl the most beautiful carmine color I had ever seen seemed to be glowing. I had eaten beets before, and their dark red juices often stained my hands when peeled. But this was more than just pretty! Dark ruby ribbons of beets nestled in bright carmine broth, were topped with a creamy white cheese and little green sprinkles of onion tops. I was so taken by the simple elegance of the cold soup that I barely noticed the mountain of cabbage rolls being set beside it.
The soup was surprisingly rich and cooled my senses as I ate. It was somewhat earthy and sweet, and the dollop of thick cheese on top added an acidic edge that enhanced the flavor as well as the color. When I looked and up our eyes met, the Polish Mama smiled satisfactorily from behind the counter, seeing the delight on my face. That same soft smile greeted me over the next few years whenever I came to enjoy another bowl.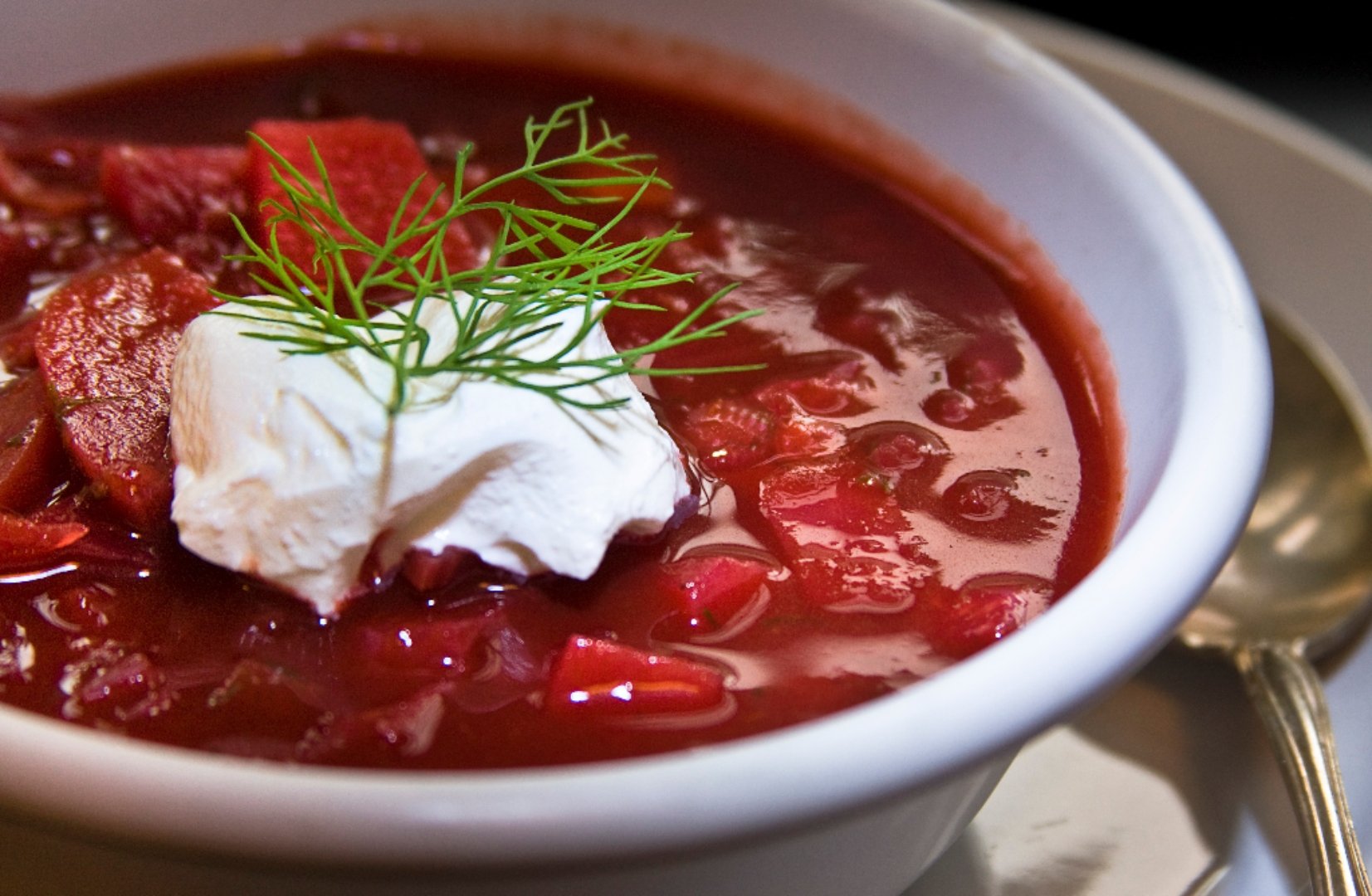 Cold Summer Borscht
6-8 fresh beets, not too big
¼-½ tsp. salt
¼-½ tsp. sugar
4 sprigs fresh flat leaved parsley, tied together
½ tsp. dried dill weed (or 1 sprig fresh)
1 lemon, juiced
¼ scant cup diced sweet onion (or one scallion)
½ English seedless cucumber, about 1 cup, peeled and diced
1 large clove garlic, diced
1 16-oz. container plain yogurt, Greek style is particularly nice but lacks the tartness of regular yogurt
Sour cream as garnish, or save a portion of the yogurt
Trim off tops and root tip, thoroughly wash and then peel beets, leaving them whole. In about five cups of water, cook beets until tender, about 40-50 minutes. Remove beets from cooking liquid to cool, and keep the liquid…this is the 'stock' of the soup.
When beets are cool enough to handle, grate them and return to pot of liquid. Add salt, sugar, and tied parsley sprigs.
Bring to a simmer and cook for another 10 minutes. Remove parsley. Add dill, lemon juice, stir and chill.
When cold, add chopped onion, cucumber, garlic and yogurt. Mix well. Garnish with a large spoonful of sour cream, or yogurt, sprinkled with fresh diced parsley.
This recipe modifies easily. If you want it richer, use Greek yogurt, sweeter, less lemon. I like the taste of dill and tend to use fresh on top of the sour cream. Use a regular cucumber but seed it, and if the cukes come from your own garden, don't bother to peel them, just dice them a little finer. Be careful about the sugar … too much throws off the earthy taste of beets.
---
Copyright 2014 Margaret Rose Realy, Obl OSB
image credit: Wikipedia
About the Author