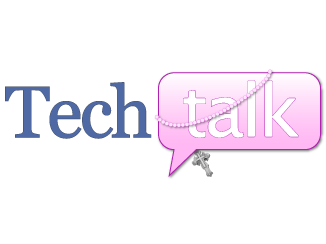 Yes, I can say I knew Karee Santos when...when she was debating whether she should blog, determining how to build a platform, and, most critically, discerning whether blogging and writing fit into her vocation as a wife and mom.
I've long admired Karee's ability to say no and her enthusiasm for saying yes. Her blog, Can We Cana?, is designed to support marriage and family. She and her husband began teaching marriage prep 11 years ago, and she's hosted marriage retreats and her book proposal's been accepted by one of my favorite Catholic publishers.
Karee also writes here at CatholicMom.com and she has contributed to the National Catholic Register, Faith & Family Magazine, Catholic Lane, and Amazing Catechists. Karee's passion shines through, and it's a light to those around her. Enjoy our interview!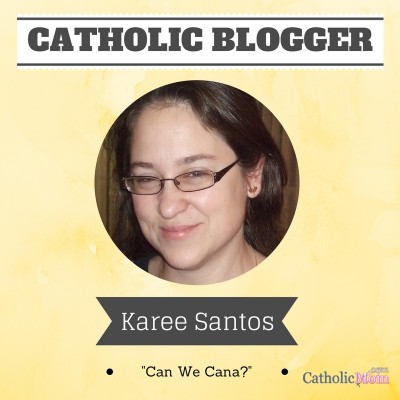 Tell us about your blog in five words or less.
Support for Catholic husbands and wives.
Why did you start blogging?
Normally I'm a meticulous planner, but I started the Can We Cana? blog mainly on impulse. My dream is to publish a book on Catholic marriage, and somebody told me that book authors need a blog. So I literally sat in front of the computer one day, and decided let's do this.
Why do you keep blogging? What's your inspiration to continue?
Writing about God in a way that touches people's hearts is difficult. I wonder sometimes if anyone hears what I say. But then I get visitors like the person who searched Google for the answer to "if I lost my virginity can I still be Catholic?" My blogpost answered yes and explained in detail the second chances we receive through confession. I just broke down in tears for that person who seemed so confused and in need of clarity. I was grateful to provide some.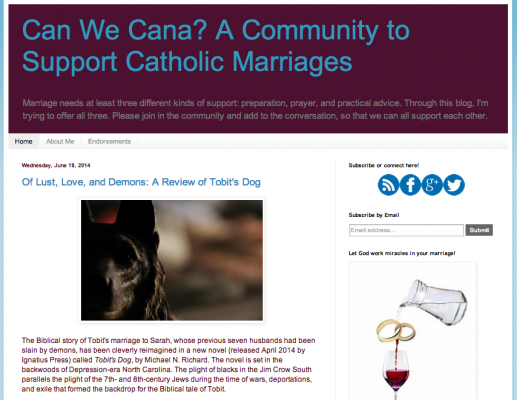 When you think of the New Evangelization as a Catholic blogger, what excites you? What makes you want to continue?
I converted to Catholicism in the heyday of Pope John Paul II. New York City was filled with brilliant young Catholic intellectuals who were gobbling up papal encyclicals like candy and who were reading the documents of Vatican II to find out what they really said about the Church and the world. Love & Responsibility groups and Theology of the Body groups were springing up all over the place. When my husband and I moved out of the city, we didn't find as many Catholics with that passion and that drive to soak up all the knowledge the Church had to offer. Somebody called me a Catholic geek recently, and it's so true! But there just aren't enough geeks where I live now. Fortunately, the Internet provides a community for Catholic geeks to congregate and inspire one another to keep fighting the good fight.
What's the most rewarding aspect of your blogging?
Meeting other super-talented Catholic bloggers has definitely been the most rewarding aspect of entering the blogosphere. You and Lisa Hendey here at CatholicMom, Lisa Mladinich of AmazingCatechists and Robyn Lee of Catholic Match Institute -- you've all been so supportive, giving me advice and helping me out when I needed it most.
In your spare time, what are we likely to find you doing?
In my spare time, I blog! My real job is staying home to take care of my six kids, ages three through twelve. Singing sacred music, particularly Gregorian chant and Renaissance polyphony, is a big hobby of mine. I also just went back to work as a part-time intellectual property lawyer.
Want more Catholic Blogger interviews? Here you go.
Read more of our Tech Talk columns.
Copyright 2014 Sarah Reinhard
About the Author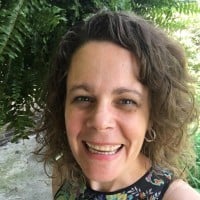 When she's not chasing kids, chugging coffee, or juggling work, Sarah Reinhard's usually trying to stay up read just one…more…chapter. She writes and works in the midst of rural farm life with little ones underfoot. She is part of the team for the award-winning Catholic Mom's Prayer Companion, as well as the author of a number of books. You can join her for a weekday take on Catholic life by subscribing to Three Shots and follow her writing at Snoring Scholar.