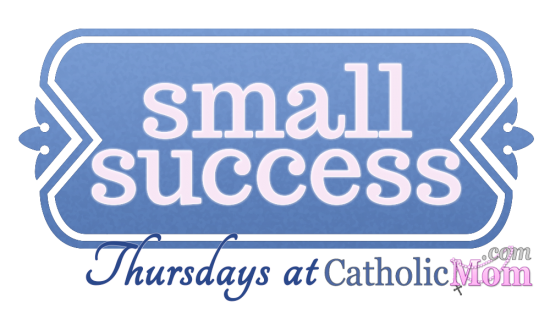 As long time followers of this Small Success Thursday meme, you probably know I'm attracted to systems that promise to teach you a process whereby through it, good habits replace bad ones. I've tried things like 40 bags in 40 days, writing a book in a month, reading a book a week, writing 500 words a day, a rosary a day, and Flylady, and I've kept a hand full of residual practices from each.
My life reveals the hodge podge approach of trying to do just enough from each, to make progress without ever really actually growing the good habit. So when my brother asked me to consider exercising every day, I knew I wanted to, but the flesh is weak.
I've not consistently exercised in five years. I make goals. I don't live up to them. I know I need to do better at this in all things. But he asked me because this year, he's lost two people he loved to heart disease and my 48th birthday is on the third of July. So I said "Yes," but privately worried about how I would fulfill this request, given my less than stellar track record with prior attempts to foist a daily regimen onto my scattered life.
Being Sunday, I needed to get my crew to Mass. After the Eucharist, the chorus led the congregation in "The Servant Song." I don't sing well but I love singing, and Mass gives me the excuse to warble along without fear of some Simon Cowell type commentary. The words of the song told me, yes, you are going to do this, you promised. I both love and hate when the Holy Spirit is this direct with me.
"We are pilgrims on a journey, we are travelers on the road.
We are here to help each other WALK THE MILE and bear the load."
I called my brother when I got home, "God is on your side." I told him, and walked with my second oldest daughter ten times up and down our driveway which equals a mile. Last night, my oldest daughter walked three of the laps, and my husband another three. But it grew late, so I finished the ten the next morning on my own.
Thinking I might falter, God loaded for bear to keep me moving. Now I subscribe to the Magnificat and barring losing it for weeks at a time, I read it religiously. The day I didn't want to do this, I read the reflections for the day:
"Come now, my brothers and sister, we're Christians; we all want to make the journey; even if we don't want to, we're still making it. Nobody is permitted to stay here, all who come into this life are forced by the turning wheel of time to pass on. There's no place for sluggards; walk, or you will be dragged along."
And this was written by Saint Augustine!
God is always telling us something, something more, not as one more burden, but as one more calling, one more courting of our lives, to make it better. So today, listen and look and discover, what is it God wants you to know, to discover, and to accept. You'd think I'd have become more pliable as I aged, but no, I still need God to do overkill to talk to me and get the message through.
Have a great week! I'll be walking and praying for all of you that this week is full of Small Successes.
[inlinkz_linkup id=422431 mode=1]
Copyright 2014 Sherry Antonetti
About the Author

Sherry Antonetti is a mother of ten children, published author of The Book of Helen and a freelance writer of humor and family life columns. You can read additional pieces from her blog, http://sherryantonettiwrites.blogspot.com.