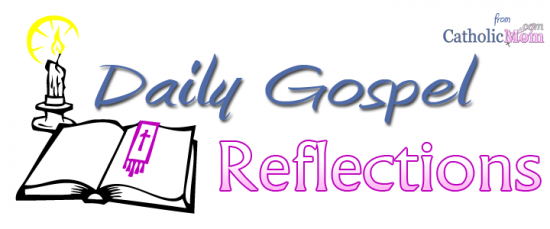 Today's Gospel: Matthew 17:22-27
Jesus has just told his disciples that He is going to be handed over to evil men and killed. It seems they had no idea what He meant about being raised on the third day, for their focus stays on His being killed.
"And they were greatly distressed."
How often we choose to focus only on the negative, and miss the blessings.
We have an obligation as mothers to teach, correct, instruct and guide. We feel the great weight of responsibility, so much so that at times it can consume all our thoughts. Before we think of all the things are kids are doing wrong, can we name 20 things about them that are beautiful?
Can we remember that Jesus has a plan in mind for raising them on the third day?
Each day as mothers, we can experience the goodness of the vocation of raising children. We rejoice in their accomplishments, praise their virtues, and thank God for the ways He has blessed them, and therefore us.
Ponder:
I believe God might want us to be in a state of rest in regard to His ultimate care for our children instead of "dis-rested" (i.e. distressed)! Let's not miss the promise and the blessing of the "third day."
Pray:
Dear Jesus, You have shown me that there will be evil in this life, and it will affect us all- myself, my husband, my children. But let me be at rest. Let me know that as long as I am faithful to You and my vocation, You have promised to raise us all to new life.
Copyright 2014 Cynthia Ann Costello
About the Author

Cindy Costello is a praying wife and mom who is settling into her empty nest. More than fall trees and caramel lattes, she loves a pen hitting paper to create something unique and beautiful for God. Cindy is challenging herself intellectually and getting ready for Career #2 by pursuing a MA in Theology. And on the side she gives parish talks and retreats , specializing in Theology of the Body and all things Catholic! Visit her website at CindyACostello.com.