An interview with writing partners, Fr. Joseph Marquis and Chris Stepien.
"Follow me, I know the way," said Fr. Joe as he headed in the wrong direction. Chris just smiled and chuckled as I suggested the "right way" was in the other direction.
Fr. Joseph Marquis and Chris Stepien are the masterminds (even if they don't know how to find their way out of our large Boston kitchen) of the new DVD Saint to Santa: How St. Nicholas Became Santa Claus.
I sat down at the table with them to get the "scoop" on how this dynamic duo are able to breathe life into what has become a secular holiday, taking the "Ho, ho, ho" of Santa and translating it into "Ho, ho, holy!"
It all began, they tell me, in 1986. They met in Detroit, that year deemed the International Year of Peace by the United Nations, on the set of WXYZ-TV. As a young artist, Marquis had joined the crew of Detroit's famed Thanksgiving Day Parade for three years working on the floats for the big "holiday" event at the J.L. Hudson department store (right up there with the Macy's Parade in its time). When a new "Santa" was needed for the televised parade, Marquis auditioned and won the official role as the jolly old elf aboard the sleigh-topped float. He continued that annual performance right up until his call to ordained ministry.
Stepien was the special projects producer-director assigned to the parade and to produce a 60th Anniversary pre-parade extravaganza. It was big! Marquis and Stepien began reminiscing at the table so I sat back to listen. Their adventure during this pre-parade show was a successful production that took viewers through a guided historical tour with Santa as the headliner.
Fr. Joe has been on a lifetime quest to keep the spirit of St. Nicholas alive, and move him out of Santa's shadow. To that end, he first partnered with The Daughters of St. Paul back in 1993, producing a St. Nicholas video that featured the legendary bishop visiting a classroom of little ones.
As an Emmy Award winning actor, Marquis also studied ventriloquism and learned how to create puppets. He designed his own characters to entertain children while working as a hospital chaplain. Wiggles, Smitty, Troll-Hozz, Terry, Sherry, and Lady Trollene. Since Wiggles was a misfit elf, Marquis wrote the song "I am special, so are you," explaining to kids that in the North Pole everything is in reverse—misfits really fit, awkward elves are normal. Chris and Joe rekindled their partnership to "reclaim one of our boys," St. Nicholas. "We were tired of the secularization of this amazing saint and the Christmas season." After recording a video of their idea they sent it to producers. The Daughters of St. Paul were the first to respond! The first DVD was released in 1993.
I have to pause here to let you know how this interview is going. A Laurel and Hardy episode is happening across from me as Chris and Fr. Joe joke about their collaboration: "You...you sheep in wolves clothing you!" "Don't call me a ewe!" "This is a fine mess we've gotten into."
After this episode (one of many) I am laughing like St. Nick! As we continue our conversation I find that the puppets are ventriloquial figures (meaning a ventriloquist can speak through them). Fr. Joe is a fantastic ventriloquist. Each puppet has a personality. For example Smitty, sporting a gravely voice, has "been around." Troll-Hozz says whatever comes to his mind. Trollene, his girlfriend, is a make-up artist who brings facts about St. Nicholas to the show, "Nice guy who went to Nicea!"
Chris, thinking like the award winning director and producer he is, envisioned the DVD Saint to Santa as a "Muppets meet Laugh-In for a sit down with Santa who fulfilled Jesus' request to give his wealth to the poor." The video also talks about St. Nicholas' extreme make-over, how his crosier became the candy-cane, and his Miter, representing the Holy Spirit, became Santa's red-floppy hat.
While Chris may think like a director, in the video Troll-Hozz holds that title and reminds everyone that he is really in charge. Not. Troll-Hozz is usually eating on the set so everyone else has to cover for him. Trollene gets the point of the story. She wants to be a saint, too.
From start to finish a talented group of sisters were involved in this DVD in surprising ways. Sr. Maria Teresa was the project manager. Sr Madonna created pizza and turkey leg props for the puppets that still look so fresh someone recently tried to nibble on one during a party. Sr. Bridget recorded two original songs by Fr. Joseph.
"Here it comes! Wait for it! Wait for it!"
This is a pause for Fr. Joseph's spiritual reflection during the interview. He compares the collaboration of everyone as Trinitarian, including The Catholic Television Network (First air date Dec. 6th) providing professional filming with a blue-screen that allowed St. Nicholas to share the stage alongside Santa, and "travel" to Turkey, Holland, and everywhere else in the film. Children act on the set as the studio crew creating the film Saint to Santa. They are also the backup singers for Fr. Joseph. Everyone finds out about St. Nicholas in the process of making the film—that is the originality of it.
What is the great take-away in this DVD? Wrapping up the interview Chris and Fr. Joseph tell me that the singular truth exposed is "love one another." When the Santa bubble pops for a child there is Nicholas the saint who can be celebrated all year long as a patron of giving, joy, and love. The secular Santa comes at night and doesn't stay around. St. Nicholas is always there showing us the Christ-child, the life of Christ, and the passion and death of Christ through his own Christian living.
The feast of St. Nicholas is celebrated December 6th in the Eastern and Western church. Tradition has December 5th as the day to take up a collection for the poor and distribute it as Nicholas did. Kimberly Burke, hearing about this DVD, tells me that her parish in Danville, PA asks the school children to bring in a shoe before December 5th. The children's shoes are filled with gold-chocolate coins and a holy card of St. Nicholas. In her home she began the tradition of asking St. Nicholas for help with the Christmas shopping. She said St. Nicholas really helps her family pick out the best gifts since he has an interest in faith formation especially of children and teens.
 What is your St. Nicholas tradition?
 How will you share the story of Saint to Santa this season?
Order your copy of the DVD here.
The Basilica of St. Nicholas with a photo gallery.
The "Go to place" for everything St. Nicholas.
[youtube_sc url="http://www.youtube.com/watch?v=zD22xaVZJy8&feature=youtu.be" playlist="Saint to Santa"]
Included in this DVD are activities, catechetical notes, outtakes, and more!
Fr. Joseph Marquis is the founder and executive director of the newly established St. Nicholas Institute. He has over 40 years of professional Santa Claus and St. Nicholas experience, is an Emmy Award winning Santa, and member of the Santa Claus Hall of Fame—Class of 2011, Santa Claus, Indiana.
Chris Stepien has worked as a television producer-director and writer for the American Broadcasting Company (ABC). From 1979 to 1987, while at WXYZ-TV, Detroit, he won six EMMY awards for documentaries, sports and celebrity specials, and children's programming, as well as many other honors. Stepien left broadcasting to co-found Adventure, Inc., a successful Detroit-based video/film production company. He currently owns and operates Stepien Creative Services, Inc., providing writing and creative direction to clients. Stepien is also the author of the biblical novel, "Three Days: The Search for the Boy Messiah."
Copyright 2014, Sr. Margaret Kerry, fsp
About the Author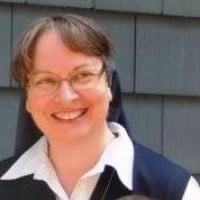 A Daughter of St. Paul for 40 years Sr. Margaret continues to pursue new ways to proclaim the Gospel: sharing the Pauline Charism with the laity, writing books (St. Anthony of Padua: Fire & Light; Strength in Darkness: John of the Cross; Prayers for the New Evangelization), & through direct evangelization. She is available for workshops on the Vocation & Mission of the Laity, Media Literacy, and The New Evangelization. mkerry@paulinemedia.com