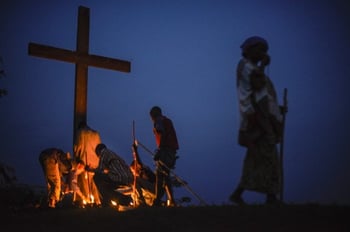 During the Second Sunday of Advent, our pastor mentioned how harried the Advent Season can be. Lots of changes come about. This year, as with many others, there was a quick switch from Thanksgiving decorations and perhaps the onslaught of Black Friday and other shopping days the previous week to the quieter, more meditative and reflective rhythms of this week of Advent. The quote from his homily was, "For me, it isn't until we hear John the Baptist speak that I truly feel like I am in Advent."
The thought of the "voice of one crying in the desert" emanating from a wildman who "ate locust and honey" and was "dressed in camel skins" is quite an image and event to behold. It isn't present in the typical Advent wreath. Nor is John the Baptist represented in a typical Nativity Scene, though we do hear about him in the Annunciation and Visitation of Luke's Gospel. But in the starkness of Mark's Gospel, we do not hear about the Infancy Narratives. Instead, like a journalist on deadline and in dramatic fashion, John forcefully appears with his message of repentance. "One mightier than I is coming after me", he cries out to us in our spiritual desert.
It is hard for me to escape at this time of year from the national ache of children and families, whether over issues of immigration reform, devastating chronic poverty, gun violence and aggressive police militarization, or the slow beat of our own prejudices knitted deeply in our nation's cultural history. It is still a dangerous and difficult life for the lowly and downtrodden. And the Mystery of the Incarnation, while bringing us comfort and joy and offering us hope, also is a reminder of these very real difficulties for very real people.
Within the biblical narrative, we have an unconventional Holy Family uprooted from their dwellings and made to journey afar to Joseph's hometown of Bethlehem. It is quite a journey for a young, pregnant Mary complete with all the exceptional circumstances, risks and dangers they are exposed to along the way. On a deeper level, there is also the specter of a militarized occupying force as well as collusion between local governments and oligarchies working to keep coffers full at the expense of the laborers and the lower classes. Though race is not outwardly an issue, there is certainly a distinction between Romans and Jews, between royalty and the peasant. This "Holy Family" is a marked family on the margins marching between God's promise and the maze of entrenched systematic sufferings set up by this culture and society.
Today, we often turn away from, or perhaps during this season of generosity, we turn toward the darkened doorsteps and the people in the shadows. We go out of our way to provide food, clothing and shelter to the poor through donations and drives. We try to provide for Thanksgiving needs and Christmas comforts for the less fortunate in our communities locally and globally. And for some of us, we not only offer charitable services but enter into relationships of solidarity with these other "Holy Families." We dare to ask "Why are they suffering?" along with "What can I do?"
The familiar Christmas Story deepens as well. Children will be lost alongside the birth of Jesus. Jesus will be lost to his family for a time in Jersualem as a child.Ultimately, he will die before his mother's eyes as a convicted state criminal in a public execution after being dragged through the riotous streets to taunts and uprisings.
I think of the number of children, whether it is the group of Mexican students ransomed off and killed by a drug gang, or the wrongful shooting of 12 year old Tamir Rice by a policeman in Cleavland, who experienced the joys of being birthed and a very real share in Christ's suffering and death. And I think of Advent, that quickening of Emmanuel, as the period of time Michael Brown's dead body lay on the ground in Ferguson or Eric Garner's lay dead or dying in Staten Island with no emergency aide.
And I can't breathe...as they await The Coming.
We are waiting. We are waiting to overcome this blight, this darkness we refuse to embrace.
We want to sing about that Holy Night, but need to spend time acknowledging that for these and others their Advent journey is ended. And we are called out by the likes of John the Baptist who reminds us that He Appears! And the soul felt its worth.
This is a weary world.
This is the Season of Light.
And in that Light as always #blacklivesmatter.
O Holy Night (Final Verse)
Truly He taught us to love one another
His law is love and His gospel is peace
Chains shall He break for the slave is our brother
And in His name all oppression shall cease
Sweet hymns of joy in grateful chorus raise we,
Let all within us praise His holy name
Copyright 2014 Jay Cuasay
About the Author

Jay Cuasay is a freelance writer on religion, interfaith relations, and culture. A post-Vatican II Catholic father with a Jewish spouse, he is deeply influenced by Christian mysticism and Zen Buddhism. He was a regular columnist on Catholicism for examiner.com and a moderator and contributor to several groups on LinkedIn. His LTEs on film and Jewish Catholic relations have been published in America and Commonweal. Jay ministered to English and Spanish families at a Franciscan parish for 13 years. He can be reached at TribePlatypus.com.