So many weeks off from writing you'd think there were multiple topics in my head begging to be released. Not so, my friends, not so. They are all swirling around too quickly to catch it seems.
Some suggestions appeared in my inbox courtesy of our editors, but most of them were not my areas of expertise. I did think about attempting the children and winter one, but quickly realized I'd gain no friends recounting tips for my winters with children since we've always lived in South Florida. I haven't always lived here, but all I recall is driving my mother crazy when it was too cold to go out and play and hating walking to school.
I'm one of those people who love New Year's Eve. I'm married to a man who would be fine with paying no more attention to it than any other night. For me, it speaks of possibilities, new adventures, fresh beginnings, notebooks with blank pages, and calendars waiting to be filled. Back in the day when I used a paper planner setting up the new year was such fun. It's not quite the same when it is all on my phone.
In the spirit of new beginnings I've joined in with Lisa Hendey for Your Yes for 2015: 15 Day Challenge. It has been quite helpful in clarifying and fine tuning my goals for the year.
One goal is increasing my dedicated prayer time. I had become a person who prays while ______ -- fill in the blank with driving, cooking, falling asleep or whatever else was going on. Multitasking my prayer life instead of making it a primary focus at some point in my day.
This year I have begun praying every morning. I have a nice little routine which includes a cup of tea and a focus on God. Specifics include: Morning Prayer from Liturgy of the Hours; reading the daily readings from Abide in My Word from Word Among Us Press; As Morning Breaks from CatholicMom.com; Sermon in a Sentence, quotes of St. Catherine of Siena by John P. McClernon, a journal, and a pen. Morning Prayer and As Morning Breaks are read on a tablet, the rest on paper.
I found that going on my computer to pray resulted in being distracted, while using the tablet with dedicated apps and book downloads means I am less distracted by email and Facebook and Twitter, and…
I also have a new saint for the year, Catherine of Siena! She has been a favorite of mine for a few years now. I have a few books about her that I will read again and I will use the Sermon in a Sentence book to read from start to finish, instead of just bits of it. Maybe I will have to plan on going to Siena since we missed it last summer; one can dream, right?
How many times have I set lofty and numerous goals, only to reach but a few? This year, my goals are fewer, but more meaningful and well-thought out. In fact, some are still whirling about my head. All in good time they will be discovered.
How are you doing with your goals for the year?
Copyright 2015 Deanna Bartalini
Image: St. Catherine of Siena tomb in St. Mary Minerva, Photo Credit: D Bartalini
About the Author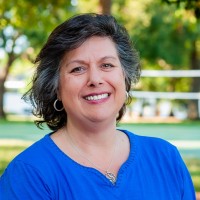 Deanna G. Bartalini, MEd, MPS, is a Catholic writer, speaker, and educator. Her Bible study, invite the Holy Spirit into Your Life, is published by Our Sunday Visitor. Her website, DeannaBartalini.com, is for the Every Day Catholic. There you can find Deanna's writing, free webinars on Catholicism, her podcast and social media services, and invite her to speak to your group, in person or virtually.