Today's Gospel: John 6:22-29
It is the day after the multiplication of the loaves. Jesus satisfied the crowd's physical hunger, so the crowd comes back looking for him. He tells them to work for the food that endures, that satisfies the spiritual hunger, the food that does not perish.
What are we searching for? Do we search for what will temporarily satisfy? Or do we search for the bread of life, the bread that satisfies our hunger for God, the bread that endures?
I have heard stories of villages in South America where they only see a priest maybe once a year. When that day comes, everything shuts down for the day, and the whole village comes out to attend Mass and to receive the Eucharist. The Mass lasts for hours as the people never want it to end. The priest preaches, and the people sing and dance as they celebrate the gift that they have received.
Talk about hunger.
Long before I had a personal relationship with Jesus, I was hungry. I was searching. And then I met Jesus. That emptiness inside was gone, and I was filled.
I had heard about Jesus before, but this Jesus I had come to know in the breaking of the bread was real. This Jesus was nourishment and filled me.
This Jesus gave me life.
Ponder:
Reflect on the difference between physical and spiritual hunger. What have we used to try to fill that empty space that can only be satisfied by God?
Pray:
Lord, thank you for satisfying my hungry heart. Please fill my empty places with your love and your peace. Amen.
We thank our friends at The Word Among Us for providing our gospel reflection team with copies of Abide In My Word 2015: Mass Readings at Your Fingertips. To pray the daily gospels with this wonderful resource, visit The Word Among Us.
Copyright 2015 Colleen Spiro
About the Author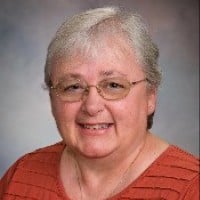 Colleen Spiro is a Catholic mother, grandmother and a deacon's wife. A certified spiritual director, Colleen loves to share her faith and encourage others through her retreats and writings. You can read her reflections at her website, Catholic Prayer Life and read or listen to her podcast at Finding God in the Everyday.