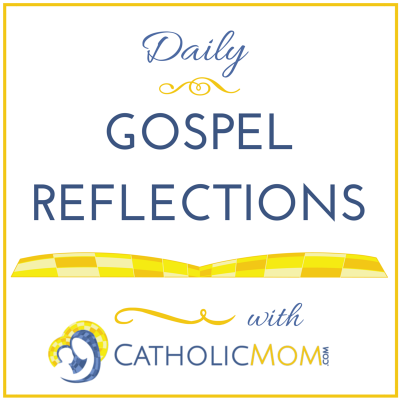 Today's Gospel: Luke 1:39-56
Solemnity of the Assumption of the Blessed Virgin Mary
This Gospel touches my heart…as a mother and a servant of Christ. Even the unborn John the Baptist, growing in Elizabeth's womb, realizes the significance of Mary's unborn child. Elizabeth recognized this as well and felt so blessed that Mary, the mother of our Lord, would be in her presence.
When I ponder this Gospel, my heart is warmed and flooded with the feelings of God's love. I am reminded just how much God loves each one of us. He loved us so much that, even knowing what was to come, He came to us. Jesus experienced all the ups and downs of life each of us experiences. He knows what it is to hunger, to be poor, to feel joy, and to feel sadness. He understands and can relate to the full range of emotions we feel and to be human. Granted, he was much better at living up to his potential than each of us is. Yet, we are all blessed to be created in the image and likeness of God and can strive to be more Christ-like in our everyday lives. Jesus offers us the perfect example to follow.
I don't want to leave Mary out either. She was someone truly unique and special. She had to be for God to choose her to carry his only Son within her womb. God entrusted His Son to Mary and Joseph. When I think of this, I am nearly brought to tears because she must have been the most holy and wonderful to ever walk upon the earth.
Mary illustrates the virtues and characteristics I long to emulate. She teaches me how to be a willing servant of God. She teaches me how to be a kind and devoted wife and mother. Somehow, Mary finds a way to find this balance within. I think she does this by always putting God first, freely and lovingly accepting God's will for her. Her complete trust in God offers her a peace and comfort I long to share in.
Ponder:
What do I need to do to let go and trust in God completely? How can I follow Mary's example of complete trust in God and His plan for me?
Pray:
Dear Father, help me to follow the example Mary offers so that I, too, may enjoy the comfort and peace of completely trusting in you and your will for me. Help me to have faith and believe you have great plans for me. Bless this day and open my heart to follow your will in all I think, do, and say.
We thank our friends at The Word Among Us for providing our gospel reflection team with copies of Abide In My Word 2015: Mass Readings at Your Fingertips. To pray the daily gospels with this wonderful resource, visit The Word Among Us.
Copyright 2015 Lorrie Lane Dyer
About the Author

Lorrie Lane Dyer is a facilitator for the Virtual Learning Community for Faith Formation with the University of Dayton as well as religious education and parish coordinator. She is working on her Masters of Leadership Development, with a focus in Military Chapel programs at St. Mary of the Woods College. Her faith provides her with inspiration for many of her poetry collections, columns and short stories.