Editor's Note: Jen Frost, along with friends Jennifer from Catholic Inspired and CatholicMom.com contributor Monica McConkey, has created a new Instagram hashtag to celebrate and share Catholic craft ideas and creations! Check out what they've already shared and remember to use hashtag #catholiccrafts next time you get creative! --Barb
So excited to share some exciting news!!! Monica at Equipping Catholic Families, Jennifer from Catholic Inspired, and I are teaming up to help make your Catholic crafting easier. If the aisles of Hobby Lobby are where you seek refuge, the only thing you've ever shot is a glue gun, and gramming is how you share your pics with the world, then this post is for you.
Instagram currently has over 300 million (million!) users. With almost 30% of the entire US population on there, it's fast becoming a social media giant. That said - it can be hard to find exactly what you're looking for amongst the 40 million photos posted each day. Our goal? We want to help make your Instagram searching of the best Catholic crafts for your family as easy as possible.
Introducing #catholiccrafts on Instagram! There are currently less than 40 photos on Instagram with this tag, and most of them are ours J We've been working behind the scenes to tag all our existing photos with #catholiccrafts, making these great ideas just a hashtag away. With All Saints Day, Advent, and so many more feast days just around the corner, you can be sure that we will be adding more every week.
We want to openly invite you, too, to share your #catholiccrafts! We're all in this together, and learning from each other, sharing inspiration, and showcasing our projects is such a wonderful way to connect. Next time your family is creating an Advent wreath, making All Saints Day dolls, or celebrating your faith in a way that is special to you, tag it on Instagram with #catholiccrafts. Looking forward to sharing in your creativity!
Give us a follow; we'd love to follow you back!
Jen grams at: @faithandfabric
Monica grams at: @monicaarmadei
Jennifer grams at: @catholicinspired
Copyright 2015 Jen Frost.
Image courtesy of Jen Frost. All rights reserved.
About the author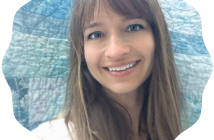 Jen Frost is a Catholic quilter and crafter who evangelizes through fabric. She's a pattern writer, quilt designer, and soon-to-be book author. When she's not in front of her sewing machine, she can be found at the beach with her husband and son, toes happily buried in the sand. She writes and quilts each week at Faith and Fabric.
About the Author