Welcome to our 33 day Marian Consecration Retreat as we prayerfully anticipate the commencement of the Year of Mercy. Join us as we share the book 33 Days to Morning Glory: A Do-It-Yourself Retreat In Preparation for Marian Consecration by Fr. Michael E. Gaitley, MIC.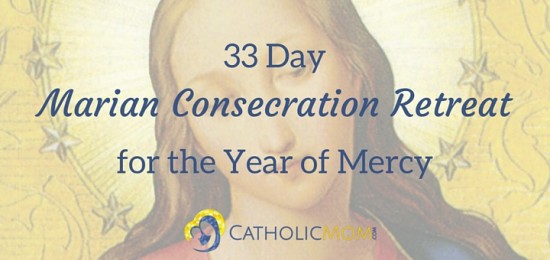 Today's Reflection:
Well into the journey of preparing to give ourselves entirely to Mary, we pause to consider how she herself prepared her heart for being one with God. As events unfold in her life, Mary wraps each one into the folds of her mantle, and draws it close to her heart. There she waits, prays, and offers herself as a gift to God.
To Ponder:
How can we imitate Mary in pondering the events of our lives?
Let Us Pray:
Dear Lord, I know my life has meaning. Please give me the patience and grace I need to ponder events and relationships so that I can know what your Will is and I can serve others as Mary did.
Copyright 2015 Cindy Costello
About the Author

Cindy Costello is a praying wife and mom who is settling into her empty nest. More than fall trees and caramel lattes, she loves a pen hitting paper to create something unique and beautiful for God. Cindy is challenging herself intellectually and getting ready for Career #2 by pursuing a MA in Theology. And on the side she gives parish talks and retreats , specializing in Theology of the Body and all things Catholic! Visit her website at CindyACostello.com.