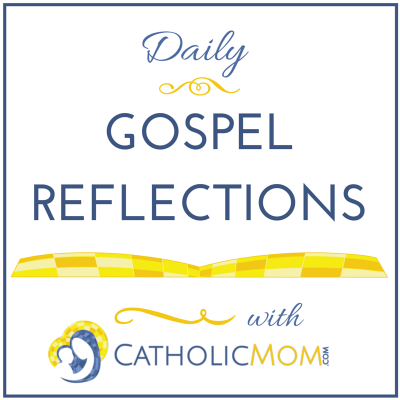 Today's Gospel: Matthew 11:11-15
In today's Gospel, Jesus praises John the Baptist in the strongest words of recognition that we can recall Jesus ever saying. And a spiritual formator that Deacon Tom had in his life used to say that there is no greater effort we could work towards than being like John the Baptist.
Was the praise given by Jesus because of John the Baptist giving up his life for Truth? No, we think not. There are many who have lost their lives in a variety of ways before and after John. Was it because he spoke the Truth, standing up against authority and society? Well, perhaps a bit—but certainly others have done likewise. So what's your thought on this question?
John the Baptist was a forerunner…a precedent-setting, fearless witness. There are so many areas seeking forerunners today. We need people willing to be a voice unconcerned about peer, family, or neighborhood pressures.
The kingdom of heaven suffers violence, and violent men take it by force. We have a lot of people—maybe a majority—who are great at complaining. The difference between John the Baptist and complainers is that no one could dispute John the Baptist. Even Herod was magnetically drawn to the Truth of John, the forerunner.
Are any of us willing to shrug off the chains of conformity? Are any of us willing to challenge and not accept being patted on the head and told to go to our corner and sit down at the back table?
Not in today's Gospel, but tied to this reflection, Scripture tells us: "For it will not be you who speak but the Spirit of your Father speaking through you." "He who has ears to hear, let him hear."
Ponder:
If we are honest, we can see so much complacency and conformity around us. Am I willing to just pray… pray that God will issue a new 'work' in the area and circumstances that I live in?
Pray:
Lord Jesus, I don't so much seek your praise, but I seek to know and to do your will. Even if it is scary or uncomfortable. I know you would never embarrass me, but like John the Baptist and Francis of Assisi, let me be willing to be a 'fool for Christ.' A forerunner for Jesus.
We thank our friends at The Word Among Us for providing our gospel reflection team with copies of Abide In My Word 2015: Mass Readings at Your Fingertips. To pray the daily gospels with this wonderful resource, visit The Word Among Us.
Copyright 2015 Deacon Tom Fox
About the Author

Deacon Tom Fox and his wife Dee are co-hosts of the CATHOLIC VITAMINS Podcast for over 6 1/2 years. Tom has also been a member of the Catholic Mom columnists team for eight years, and was a regular contributor to the Catholic Moments Podcast for three years. Most recently, Deacon Tom has been leading a project to bring Catholic radio to the north central Arizona community where he and Dee reside. Blessings!