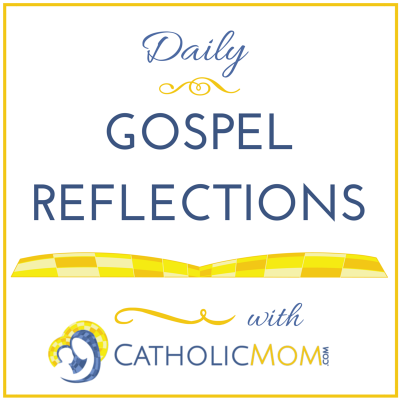 Today's Gospel: Mark 6:7-13
When I leave for the house I immediately go through a long list of questions. Will I have to feed the baby before I return? Do I have snacks in case the kids lose their minds (and their tempers?) Will I need to charge my phone? If my GPS doesn't work, do I have any chance of figuring out where I'm going? Do I have water so I stay hydrated and don't lose MY temper?
As we cling to all the luxuries that technology and living in a first world country have given us, could we leave it all behind if Jesus asked us to? Could we go on a journey without knowing where our next meal was coming from? Do we really trust Him?
Now, Jesus isn't asking most of us to leave everything behind and hop from town to town with only one tunic, but He is asking us to carry Him with us throughout the day. He's asking us to live on the love He has given us so that we project peace and kindness wherever we go. It's okay that you have an iPhone and that you use several apps to make your life easier, but if you lose your kindness when it doesn't work, you are not walking with Jesus, you are walking with your phone.
Jesus has sent each one of us into the world to tell His story. Our generation has the most amazing tools available to us to do this. But if we are more mesmerized by our technology, then how we can serve Him with it? We aren't accomplishing His mission for us. Don't let people see the light of your technology instead of His light inside you. You are His. You are loved. Let your light shine.
Ponder:
Can you spend 20 minutes each day without your phone or your computer, and use that time for prayer or bible reading instead?
Pray:
Lord help me to use technology to spread your truth and love, instead of being distracted and leaving you in the background of my life.
Copyright 2016 Sterling Jaquith
Sterling Jaquith is a Catholic convert and evangelist. She is married and lives in Boise, ID with her husband, three daughters and a wily border collie. She is the host of the Coffee & Pearls show and blogs at sterlingjaquith.com.
About the Author