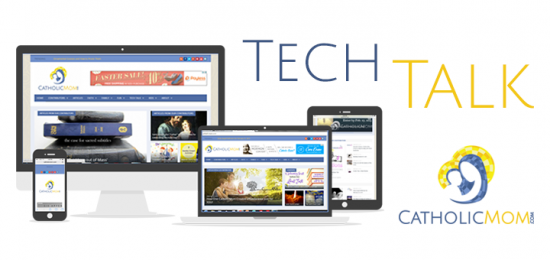 Recently, my family of eight went on vacation to Florida. As I checked items off of our list and packed them in our suitcases, there was one very essential item on the list that really couldn't be packed at all. And that was because it was tucked safely in my phone.
My Disney Experience app, which is free for iPhone, iPad and Android smartphones, is a vacation-planning tool that is absolutely essential and immensely helpful when planning and experiencing a trip to Walt Disney World.
I first discovered this app on the Walt Disney World planning website, where I created an account, purchased tickets, and selected our FastPass+ experiences—with the help of Closer to the Magic Vacations, but you can do this yourself, too. Then, my husband and I easily downloaded the My Disney Experience app onto our phones and connected it to the account I created.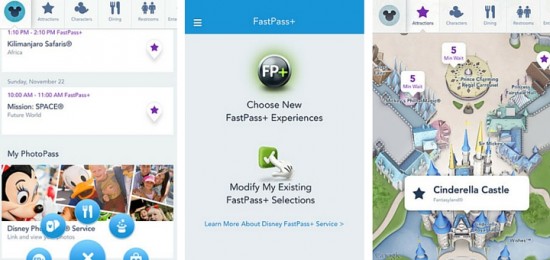 At Disney World, we visited three parks: Magic Kingdom, Epcot and Hollywood Studios. Because the app synced with our tickets, each day we visited a park, our itinerary posted on the app. This helped us remember the times for our daily FastPass+ experiences and allowed us to plan the rest of our day accordingly. Times and locations for parades and live shows are listed on the app, for convenience and planning purposes.
On the app, each theme park has its own interactive, GPS-enabled map, so you know right where you are and where you need to go, to get to your next attraction or meal.
While we did not make dining reservations through the app, which is an option, we did find our next meal or snack using the map. A list of restaurants is available in the app's main menu as well.
In addition, locations for character meet-and-greets (and the times they will be there) are on the map, and they also are available on the app in list format. This is very helpful, when meeting up with your kids' favorite pals.
One of my favorite features of the My Disney Experience app is the list of wait times for rides and attractions. These are constantly updated, so you can keep checking on certain rides you don't want to miss. One example of this working extremely well was when we were at Magic Kingdom. We watched the parade at the very beginning of the route, in Frontierland. When the parade was finished for us but still heading down Main Street, we dashed over to Pirates of the Caribbean and only had a 20-minute wait for this beloved ride. For the rest of the day, the wait time was at least 45 minutes.
At Walt Disney World, professional photographers are stationed throughout the parks to take photos of your entire family in front of iconic buildings, like Cinderella's Castle, or with favorite characters. Photos of the family on various rides also are available. On the app, you can preview, download, and share these photos. (Additional purchase is required.) Being able to see our photos almost immediately helped pass the time while waiting in line for rides.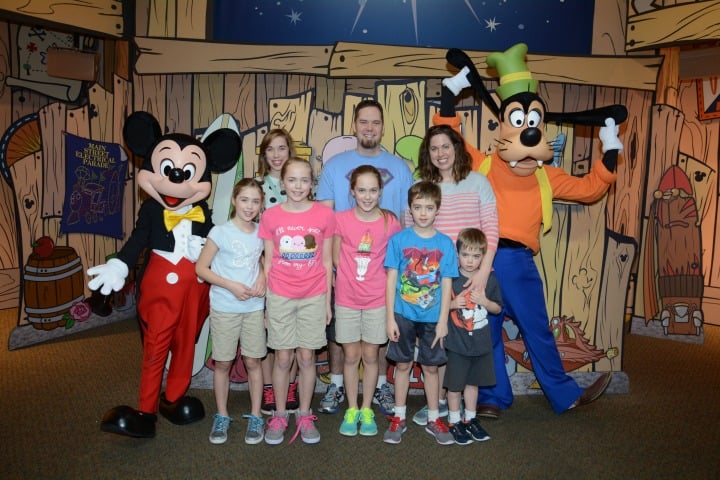 Lastly, shopping for souvenirs was a challenge for our family of eight. There was so much to see and do, and some of my children would have liked more time to search for that special treasure. The app came in handy for this, too. Shop locations are highlighted on the map as well as listed as a menu category. However, there also is an additional app, Shop Disney Parks, which allows you to browse the same merchandise that is in the souvenir shops without the crowds and pressure of finding just the right memento. Then, you can purchase it directly through the app or find the shop it is available in and go there via the map.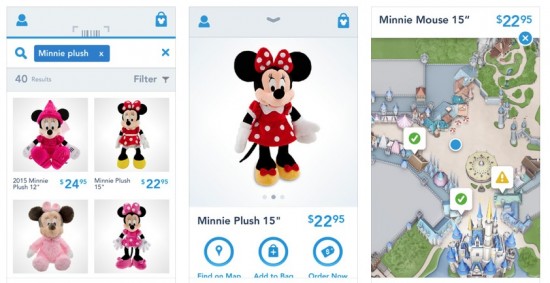 If you and your family are planning a vacation to Walt Disney World in the near future, be sure to check out the My Disney Experience app. It is a valuable tool in planning and experiencing the parks of Walt Disney World.
Read more of our Tech Talk columns.
Copyright 2016 Sarah Damm
All photos and screen shots copyright 2016 Sarah Damm. All rights reserved.
About the Author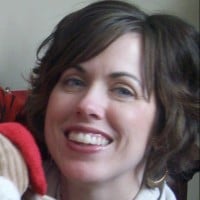 Sarah Damm is a Catholic wife and mother of six children, living in Minnesota. She spends her days running errands, helping with homework, and keeping up with laundry and the family schedule. Sarah loves her faith, coffee, and good books. You can find out more about her at SarahDamm.com.