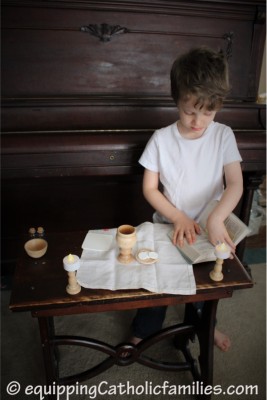 When Adam started playing Mass with things he found around the house, I decided it was time to compile my own Play Mass Kit. I found a wood company with almost all of the pieces I needed! I lightly sanded all the pieces, glued a couple together and varnished them for a nice set!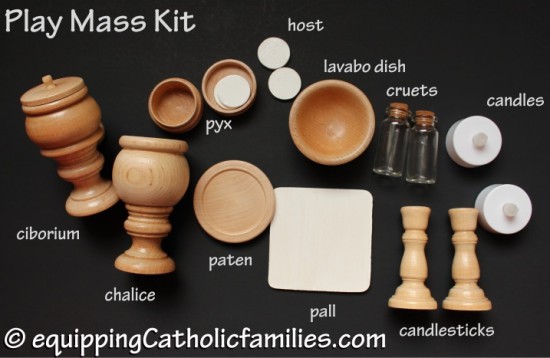 Here's the Play Mass Kit which contains itemized ordering information and special tips to create your own heirloom Play Mass set easily and cheaply. I purchased all the wood pieces for about $20, including shipping...and you can too. =)
When I posted about our son Adam playing Mass, my number one fan my Mom responded with a picture of my Dad playing Mass as a kid, over in Austria. Check out the miniature altar setup he had ...and the vestments his Oma made for him!
My Dad then surprised me with the Vintage Miniature Play Mass set that he brought with him to Canada when he was 11 years old!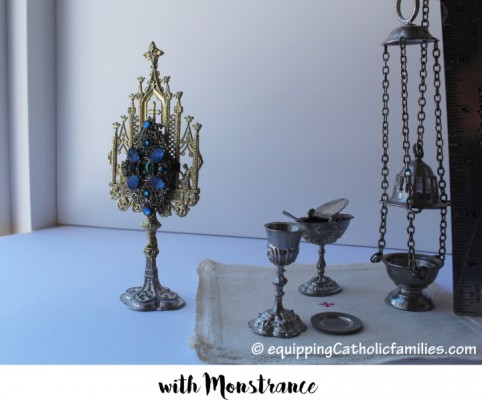 The Chalice is only 2" tall! The Thurible works with its ornate lid sliding up and down the little chains. It even has an accompanying Incense Boat with 2 hinged lids and a little spoon. The traditional Monstrance is so ornate...with or without the brooch my Dad added to it. You'll find more pictures of the set over at Equipping Catholic Families.
We have noticed Adam's behavior and attention improving slightly at Mass...especially during the Liturgy of the Eucharist, now that he has his own Play Mass set at home. It's still largely play...and by no means has he reached the level of proficiency and reverence of this awesome 4 year old playing Mass...but he has been giving some pretty awesome priestly blessings with surprising reverence and diligence!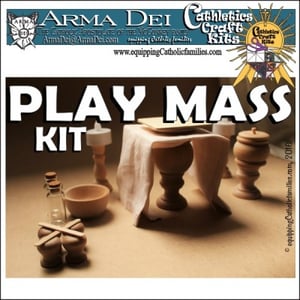 Copyright 2016 Monica McConkey.
Images copyright 2016 Monica McConkey. All rights reserved.
About the Author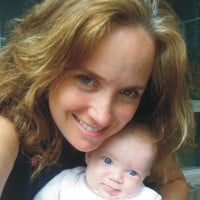 Monica, mom of 5, blogs about Catholic crafts and family traditions at EquippingCatholicfamilies.com. She is an author and creator of Super Saints quizzing cards and over 45 Saint, Sacrament, Catechism and Prayer-packed Craft Kits to help teach the Catholic Faith. The Catholic teaching tools and gifts are available through Arma Dei, the Catholic family publishing company founded with her husband Bill.