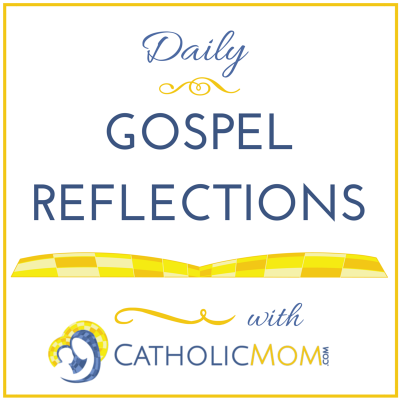 Today's Gospel: John 14, 23-29 - Sixth Sunday of Easter
When I read this passage, I think about what could have been going through the minds of Jesus' disciples. They have dropped everything – family, friends, home, and belongings – to follow Jesus. Now, He is telling them that He is leaving them and that they need to prepare for the Father. He tells them the Holy Spirit will be with them. He stands before them, but they cannot see the Father. They cannot see the Holy Spirit. He is asking them to have faith, to trust, to believe, and to have peace, knowing that what they cannot see will guide them.
Today, this is the only kind of Faith we can have. We have not met Jesus personally, but we know He is there along with the Father and the Holy Spirit. When we are spending our days working, dealing with piles of laundry, cleaning up spills on the floor, and wiping snotty noses, it is easy to forget that even though we are living this life now, we are meant to prepare for the life that we cannot see, cannot even fathom. Not only are we preparing for that life for ourselves, but we are also preparing our children and helping our spouses as well.
This is an overwhelming responsibility and it cannot be done alone. We can ask for guidance from the Holy Spirit through prayer and through the intercession of the Saints who have gone before us. We can lean on the priests who God has put in place to help guide us. We don't have to do this alone, but we must not forget that we are preparing for something beyond the here and now, and it will be glorious!
Ponder:
What can I do today to help prepare myself and my family for the Father and the life that He promises?
Pray:
Dear Father in Heaven, help me to never forget that my purpose lies not in what is before me but rather in what is with you in Heaven.
Copyright 2016 Michelle Smits
Michelle Smits works for a small consulting firm writing, researching, analyzing data and processes, and doing some administrative work. She is a graduate of the University of Notre Dame. Most importantly, she is a wife and a mother to three beautiful children whom she hopes to form into little saints.
About the Author