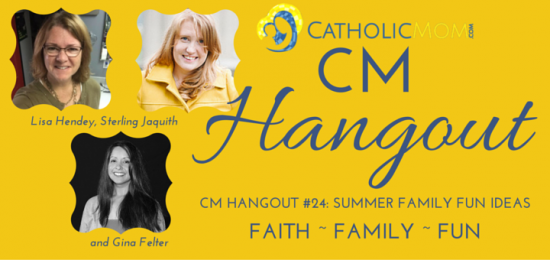 This week on CatholicMom.com's CM Hangout Podcast, CatholicMom.com contributors Lisa Hendey, Gina Felter, and Sterling Jaquith delve into the topic of Summer Family Fun - How to keep kids' brains from frizzling, road trips with kids, and a few tips on how to stay sane as moms.
We'd love to hear all about your summer plans for fun - and survival! Leave your ideas in the comments or on our CatholicMom.com Facebook page.
https://youtu.be/gbAh8MQZObo
Watch the video Hangout here | Listen to the Audio Podcast Here
Thanks to our Sponsors!
Today, we'd like to thank Catholic Word with Gifts From Our Father: A Catholic Prayer Book or Kids for supporting CatholicMom.com's CM Hangout.
Tom Wall's illustrated Catholic prayer book was created to help teach children the richness of their faith while inspiring adults to reconnect with their faith as well. This hardcover book is the perfect book for a Baptism or a gift for a God child. Find Tom Wall's prayer book for kids at Catholic Word, Amazon, or your local Catholic book store.
Connect with Catholic Word on Facebook and Twitter.
We'd also like to thank Ave Maria Press for sponsoring this episode on behalf of the new book, written by our own CatholicMom.com contributors, Dr. Manuel and Karee Santos, The Four Keys to Everlasting Love: How Your Catholic Marriage Can Bring You Joy for a Lifetime.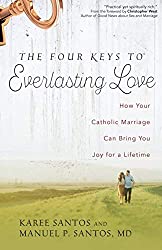 In their new book marriage columnist Karee Santos and her husband, Manuel, a psychiatrist who has been counseling couples for more than fifteen years, explore how applying the wisdom of the Catholic faith to marriage can free us to experience deep, lasting, and soul-satisfying love.
Find their book at Ave Maria Press, Amazon, or check your local Catholic book store. Connect with Ave Maria Press via Facebook, Twitter, Pinterest, and YouTube.
Notes and Mentions this week:
You're invited to be a part of this show. We invite you to the conversation:
Hiking, Camping and Road Trips with Kids - Sterling Jaquith's awesome tips for making the most of your family time this summer
Subscribe to the show at iTunes or your favorite Android Podcast App
Share this project on social media using hashtag #CMHangout – this is also a great way to send feedback, to ask a question, or to propose future conversation topics
Leave comments here on the blog each week to help us develop this as a fun and helpful project
Watch for a new episode of CM Hangout Tuesday, May 3 and please keep this project in your prayers!
See all the rest of our CM Hangouts right here!
[Support the CM Hangout through any purchases made via the Amazon Affiliate Links included in this post.]
About the Author