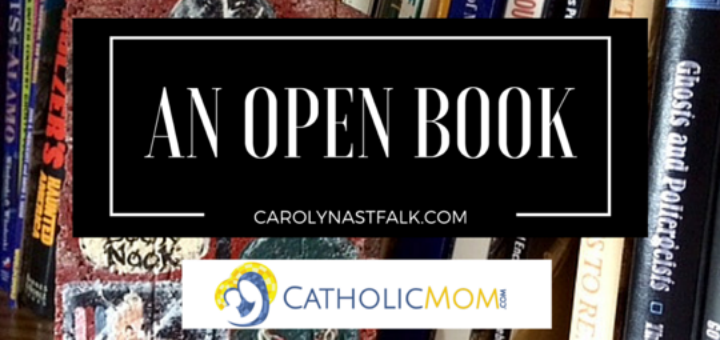 Welcome to the May 2016 edition of An Open Book, now hosted both at My Scribbler's Heart AND Catholicmom.com!
An Open Book is all about what my family is reading this month, from the adults down to the little kids. Share what you're reading by linking up your blog post below. Simply write about what you're reading. You can make it personal or, as I do, extend it to the whole family. Your post can be as simple as a few lines about the book or as in-depth as a 700-word review. That's entirely up to you. You can even forego writing all together and record a video or simply post cover photos.
No blog? No problem. Please share what you're reading in the comments.
---

While my husband read this book last summer, he's been referring to it often lately. It's The Catholic Drinkie's Guide to Home Brewed Evangelism, by Sarah Vabulas, and he's been trying out her home brewing recipes. "Where faith meets brew" is an apt description for the book, which is part history of alcohol in the Catholic Church, part home brew recipe book. My husband finds the step-by-step instructions helpful for beginners. His favorite recipe so far is for an Irish blonde ale nicknamed If St. Brigid Had a Lake of Beer . . .

I've been reading the next release from the publisher of Stay With Me, Full Quiver Publishing. Dying for Revenge by Barbara Golder, will be available on Kindle May 20 and in print on June 1. If you like mysteries, I encourage you to check this one out. The characters are distinct and well-developed and the storytelling is gritty without being vulgar. I'll be posting more about Dying for Revenge on my blog after its release.

My soon-to-be-teen son is completing his school literature requirements. He informed me that all that remained were several historical fiction novels, so I found a few books for him at the library, including The Notorious Benedict Arnold: A True Story of Adventure, Heroism & Treachery. He's really enjoyed studying colonial history this year, so I thought this would interest him, and I was correct: this is the first book that he went for of the four I brought home. Upon closer examination, I realized it's a biography, not historical fiction. Oops. Still looks like a great book; I think I'm gong to read it, too.
My husband retrieved some boxed books from storage. Unfortunately, we have more books than we have shelf space, and many are relegated to the attic. He brought down a large, bound collection of The Chronicles of Narnia by C.S. Lewis for our second-grade daughter. (Our cover depicts the White Witch as she appeared in the movie adaption.) Our daughter has seen the first of the movies and is eager to read the series. I will probably try to read it aloud to her, if possible. True confession: I never heard of the series until I was well into adulthood, and I've only read a couple of the books. (Ducking my head in shame.) I'm living proof that a shoddy literary education does not forestall enjoying classics later in life.

On a short day hike recently, I discovered a gaping hole in my youngest children's folk tale and fable knowledge. As we crossed a small bridge, I remarked on there being a troll beneath, which was met with crickets. Not literal crickets as it was only April, but metaphorical crickets since my preschoolers weren't familiar with my reference. Somehow, I'd failed to read to them the story of The Three Billy Goats Gruff, one of my childhood favorites. Conveniently, we had fed goats over the preceding weekend, and they were familiar with the goats' affinity for wildflowers. Our evenings lately are spent "trip-trapping" through bedtime prep as one or more kids act out the tale.

For good measure, I also grabbed a copy of The Boy Who Cried Wolf from the library, another of my childhood favorites. There's nothing particularly special about the edition that I checked out of the library. In fact, I'm sure other versions have more engaging illustrations. Even so, my three youngest kids were pretty attentive to the timeless story about the perils of habitual lying.
---
[inlinkz_linkup id=628004 mode=1]
---
Want more details on An Open Book? You can also sign up for An Open Book reminder email, which goes out one week before the link-up.
Copyright 2016 Carolyn Astfalk
About the Author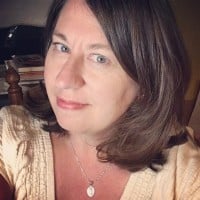 Carolyn Astfalk is a wife, mother of four young children, and a writer. Her contemporary Catholic romances are available at Amazon.com. She is a member of the Catholic Writers Guild, a Catholic Teen Books author, and blogs at My Scribbler's Heart. Visit CarolynAstfalk.com.