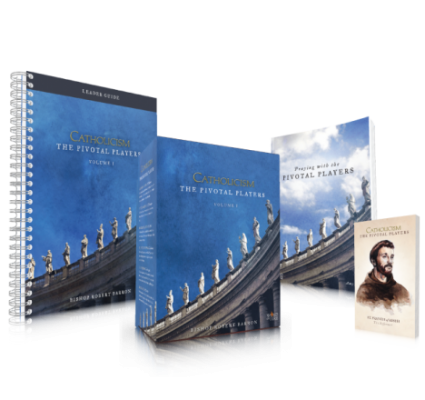 Bishop Robert Barron is what we call a "game-changer." He and his talented team at Word on Fire have brought Catholicism, more specifically evangelization, into the 21st century with the groundbreaking Catholicism series. The follow-up program, Catholicism: The New Evangelization was a smaller and more intimate documentary. The latest release in this growing umbrella is Catholicism: The Pivotal Players.
[Tweet "Learn about #Catholicism's key figures in new DVD series from @WordOnFire. Review by @StuartsStudy"]
Catholicism: The Pivotal Players is divided into two volumes, with the second volume not released yet. In the first volume, we receive individual lessons on the following figures - St. Francis of Assisi, St. Thomas Aquinas, Bl. John Henry Newman, St. Catherine of Siena, G.K. Chesterton, and Michelangelo. The second volume covers St. Irenaeus, St. Augustine, St. Benedict, St. Ignatius, and Bartolomé de Las Casas. Each person has a specific title that reflects their contribution to the Church. For example, St. Francis is the Reformer and G.K. Chesterton is the Evangelist. The study is divided into thirteen sessions with one introductory session and then two sessions for each pivotal player. See a sample lesson from the study guide on St. Catherine of Siena.
Each lesson in the book begins with an outline of the particular episode. There is then a short biography on the pivotal player as well as some context for their life. We also get a glimpse at the Church during the time this person lived, to further help set the backdrop. We are then presented with Questions for Understanding, which include references to both Sacred Scripture and the Catechism. These are followed by Questions for Application, which are meant to serve as reflection questions in our own life and spur us to be more like St. Catherine or G.K. Chesterton.
https://youtu.be/kNaRpEih4z4
As expected, the videos are masterfully done. Bishop Barron films on scene, showing you the beauty of the global Catholic Church and again providing context for the pivotal player. He does a wonderful job presenting each player in an approachable manner. Bishop Barron's brilliance is on display as always, but he presents the material in a manner that not only increases your knowledge on the subject matter, but your appreciation and, hopefully, devotion as well. Looking at the people selected for this series, I must say I am pleasantly surprised. We have clergy and laity, saints and not, and men and at least one woman. I would have liked to seen a little more representation from the Eastern Church, and perhaps at least one more woman, but when you have the wealth of pivotal players we do, I imagine it was hard to whittle it down to the number they did. If you liked the original Catholicism, then your parish will need to get Catholicism: The Pivotal Players.
This program was provided to me for free by Word on Fire in exchange for an honest review.
Copyright 2016 Stuart Dunn
About the Author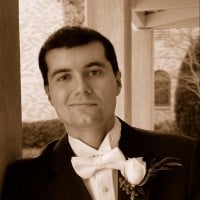 Stuart Dunn was born and raised in Mobile, AL and received a Bachelor of Arts in Psychology and a Master of Business Administration from the University of South Alabama. Stuart reviews all things Catholic including adult books, children's books, Bible Study series, Catholic Courses, CDs, and DVDs in addition to board games at his blog Stuart's Study at StuartsStudy.blogspot.com.