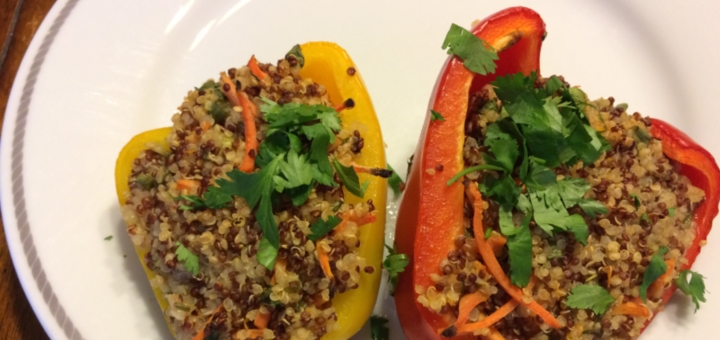 Quinoa is a delicious and healthy "superfood" alternative to rice, rich in protein, and easy to prepare.
Copyright 2018 Karen Ullo. All rights reserved.[/caption]
Quinoa Stuffed Bell Peppers
3 large bell peppers, any color Olive oil or avocado oil 2 cups cooked quinoa, prepared according to package. (You can use red, white, or both, which I did here.) 3 green onions, chopped ¼ cup chopped fresh cilantro Juice and zest of 1 large orange ¼ cup lime juice 2/3 cup matchstick carrots ¼ tsp. salt ½ tsp. chili powder ½ tsp. red pepper flakes Slice the bell peppers in half and remove the seeds. Brush the bottom of a baking pan and the insides of the bell peppers with oil, then set them in the pan. In a large bowl, mix together quinoa, onions, cilantro, orange juice and zest, lime juice, carrots, and spices. Spoon the filling into the pepper halves. Bake at 400 for about 20 minutes. Enjoy!
---
Copyright 2018 Karen Ullo
About the Author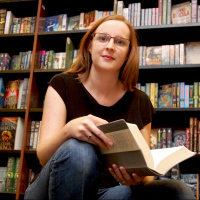 Karen Ullo is the author of two award-winning novels, Jennifer the Damned and Cinder Allia. She is one of the founding editors of Chrism Press, which is dedicated to publishing Catholic and Orthodox fiction, and the former managing editor of the Catholic literary journal Dappled Things. She's also a wife and mother of two. Find out more at KarenUllo.com.