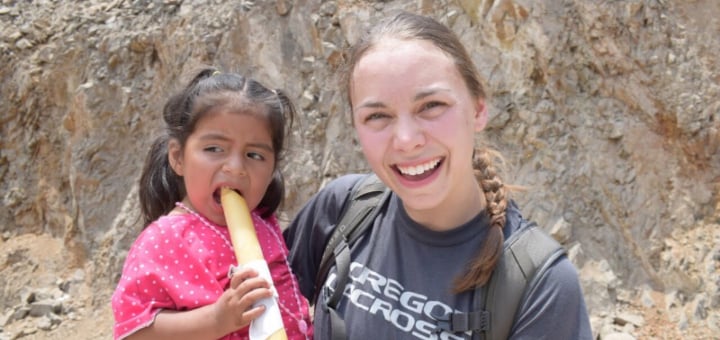 Taylor and Ashlyn on the stairs they built in Pamplona, Peru. Copyright 2019 Taylor Lupica. All rights reserved. Used with permission.[/caption]
"Since I am leaving staff, there is a lot of unknowns. We were building these stairs on this steep, dirt mountain that was hard to walk up and down. So many people talked about moms having to carry babies up and down the hills. The Father came through in a powerful way, when I was able to experience this myself. There was a little girl with her two brothers. I asked if I could carry her 2-year-old brother down the hill. There are all of these rocky, uncertain parts of our lives, and He is there to carry us." -Erin Schilmoeller
As moms, it is beneficial to consider opportunities that have greater potential for a high-impact on our children's faith development as we prioritize support over time. Recently, I had the opportunity to interview Erin Schilmoeller, a Fellowship of Catholic University Students (FOCUS) campus missionary at University of Northern Colorado, and a college sophomore that she disciples, Taylor Lupica, about their FOCUS Missions spring break trip to Peru in which they helped build much-needed stairs for a community in the mountains. FOCUS started in 1998 and now has nearly 700 missionaries on 153 college campuses. Their reflections provided me with ample reasons to see the value in FOCUS. Following are some examples.
Erin Schilmoeller with a little girl in Pamplona, Peru. Copyright 2019 Taylor Lupica. All rights reserved. Used with permission.[/caption] On-going encounters are necessary in the spiritual life. In high school, Erin experienced a service trip to Belize, while Taylor went on a pilgrimage to Italy. Both identified these events as being pivotal to nurturing their relationship with Jesus in conjunction with other layers that supported their faith. Yet, both can also identify phases in their college life where the emphasis on their faith and recognition of the need for Jesus decreased and how FOCUS missionaries were a blessing to help reconnect and reorient their lives to Jesus. Of the trip specifically, Taylor said, "I had a relationship with the Lord before I went, but since I've been back - I am so much more on fire and grateful." Part of this would be due to her ability to step out of her busy life as a college student and create additional space to recognize God's presence. She said, "It allows the Lord to just love you in the moment." Growth occurs by needing to be flexible and stepping out of the ordinary. This group had originally planned on a trip to Haiti; however, circumstances led to a shift to Peru two weeks prior, requiring everyone to be flexible. Once there, trips of this nature require additional flexibility that allow for growth. Taylor said, "While on the trip, it is so important to be fluid and flexible and let go of control and let the Lord take care of things, even though it might not be exactly how you would want it to go." Erin recommends, "Go in without expectations. Jesus wants to surprise you. Life is an adventure."
University of Northern Colorado students on a FOCUS trip. Copyright 2019 Taylor Lupica. All rights reserved. Used with permission.[/caption] Both recognized the power and potential with leaving their regular context in order to participate in this mission trip. They highlighted how it can help facilitate working on relationship with God without as many distractions. Erin said, "When we get a week away, we can see where we are at." Seeing a different context also provides avenues for gratitude for blessings in our regular lives, such as Taylor reflecting on an increased gratitude for the Eucharist and her access to it. She also talked about how the trip placed her in an uncomfortable context for a range of reasons, including removing her from the comfort of her regular routine and not getting enough time alone, something she desires as an introvert. While challenging, especially upon return, she has been reflecting on how "it helped the Lord to fill in that uncomfortableness and help me grow [...] It was good because I had to adjust and let mercy and patience and all of those virtues that come along act." Developing spiritual friendships. FOCUS is intentionally designed to foster deep, faith-filled friendships with a ripple effect based on missionaries discipling college students who then disciple peers. Taylor thinks friendships with others on the trip from her own institution and other universities will last because they are "rooted in Christ and growing towards the Lord." She also credited Erin with continuing to walk with her earlier in the academic year when she was no longer as motivated in actively investing in her relationship with God, including inviting her on the trip. Erin reflected on how the trip can be a valuable complement to the weekly one-on-one meetings, noting, "When we go to share something, we share our story. [...] To go and experience something together cements the friendship further." Clarity in purpose with intentional support. Taylor reflected that her top priority is "getting to heaven and helping others to get there." FOCUS' win, build, send approach centers on living the great commission and providing the knowledge and tools to effectively do so. In Erin's words, "We want to win them to Jesus, not to ourselves. He is the one who can change their lives. We are just here to run with them, to show tools we have learned and then send them off." Erin explained the FOCUS mission trip was carefully crafted to allow opportunities to "process with Jesus in prayer" through daily Mass with homilies intentionally linked to what they were doing and a holy hour, noting, "We have all of those elements, opportunities for the Lord to speak, for us to hear, if our ears are open." There were also daily opportunities for formation through a FOCUS curriculum that can be flexibly implemented based on what is needed for the specific group.
Stairs built in Pamplona, Peru by FOCUS missionaries. Copyright 2019 Taylor Lupica. All rights reserved. Used with permission.[/caption] "It's not really about the stairs," was a statement from the trip that stood out to Erin and Taylor. It brought to the forefront that it was more about love - being able to interact with people from the community, to witness the beauty of their daily lives, and to bring Christ to them. Taylor mentioned that it was hard to capture what the Holy Spirit worked in her life through observing both the community in Peru and the other students; however, it helped her to better appreciate the role of being present to one another and identified that she is now more conscientious about being more attentive to others around her. She said, "Everyone lived in the moment there. Sometimes back in America it is a go, go, go thing. In Peru, it was so in the moment which made the love that more real and raw. When you are there in the moment, you are just there, rather than thinking about what's the next thing I need to do." Both experienced God's love and love of neighbor while in Peru and recognized the importance of reflecting on how they will share the gospel with their daily lives. Erin highlighted that an experience like the service trips can prompt a key shift in the level of conviction. Back at college, Taylor is being intentional about "sharing the love like I experienced in Peru from the neighbors [the local community] with the kids on campus. Sometimes it is just standing by them, talking to them for three minutes having a short conversation. A small act of presence is enough to show love." Erin said, "We could see a profound joy. Even though there was a language barrier for many of us, we could still communicate in joy, love, hope, and faith. Where do those abound and how do we help them to grow in our culture and in our communities?" Taylor also reflected on the power of receiving Communion and then going out into the world as tabernacles bringing the presence of Jesus to others.
Mass in Pamplona, Peru. Copyright 2019 Taylor Lupica. All rights reserved. Used with permission.[/caption] Their interviews provided me with a glimpse into their initial impressions. Though already powerful enough to make the trip worth it, I imagine additional fruits of their mission experience to Peru will continue to emerge throughout their lives in new and unexpected ways. As parents, it is important for us to encourage access to opportunities for our children that can increase the likelihood of maintaining or re-igniting the desire for Christ while navigating different phases of life. Erin's and Taylor's experiences affirmed the value in mission trips, especially those structured as intentionally as FOCUS Missions trips.
A chapel in a cathedral in Lima, Peru. Copyright 2019 Taylor Lupica. All rights reserved. Used with permission.[/caption] The Church's wisdom of having two patron saints for missionaries brings me joy. While I have hopes for my daughters to be like St. Francis Xavier, actively participating in mission experiences, if I am unable to attend alongside them, I can be their St. Thérèse of Lisieux supporting them (and others) through prayer, encouragement, and financial support.
Loving Lord, Thank you for meeting us where we are and providing us with experiences and tools to grow closer to you and then nurture others' relationships with you. St. Francis Xavier and St. Thérèse of Lisieux, pray for us.
---
Copyright 2019 Amanda Villagómez
About the Author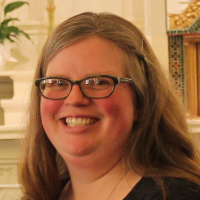 Amanda Villagómez is a wife, mom, and teacher educator. Her five girls range in age from 1 to 16. She blogs at Focusing on the Core to reflect on the journey of attempting to align her life to what matters most in different contexts.