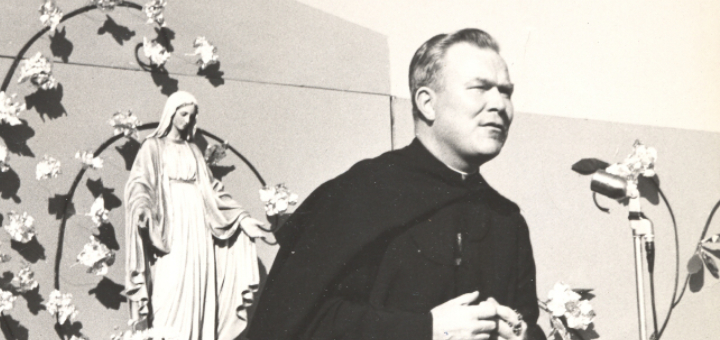 Fr. Peyton at a Rosary Rally in Kingston, New York, 1952. Copyright Holy Cross Family Ministries. All rights reserved.[/caption] The noted Hollywood actress Loretta Young once said on camera, "I never met a man who loved a woman more than Father Peyton loved Our Blessed Mother." Venerable Patrick Peyton understood profoundly that Mary knew the Lord Jesus best and loved him most on this earth. He also knew that the shortest route to Jesus is through Mary. His home in County Mayo, Ireland, was "materially poor but spiritually rich." The Congregation of Holy Cross, his second family, stretched and broadened the rich faith he received at home. In the order he received a fine education, discovered new words to express his deep faith, and embraced the tenets of Holy Cross spirituality: trust in divine providence; unity based on shared faith and love for each other modeled on the Holy Family of Nazareth; zeal for the mission; hospitality; and the Cross as our only hope. Also in this new family, Patrick came to know the special patroness of the congregation, Mary, the Lady of Sorrows. Father Patrick Peyton, C.S.C., was saved from death from advanced tuberculosis through the intercession of Mary the Mother of God and the Rosaries prayed by his two families in Mayo and at the University of Notre Dame. Given a new lease on life, he promised Mary that every moment of the rest of his life would be devoted to spreading devotion to her and the family Rosary. Consequently, his autobiography is perfectly titled All for Her.
Father Peyton's story is known to many. It includes the near-miraculous ways in which a humble, young priest inspired millions through massive Rosary rallies and many more millions through radio, television, and film in Hollywood. What are much less known and appreciated are his unique theological, spiritual, and pastoral abilities—these elements, though not unique individually, when combined, constituted and defined Father Peyton's ministry and genius as an apostle of the Rosary and family prayer. He now seems to be on his way to beatification and, God willing, to canonization as the saint for family prayer.
---
Copyright 2019 Fr. Willy Raymond, C.S.C. This excerpt from the foreword to
All for Her: The Autobiography of Father Patrick Peyton, C.S.C.
, is published with the kind permission of Ave Maria Press, the publisher.
About the Author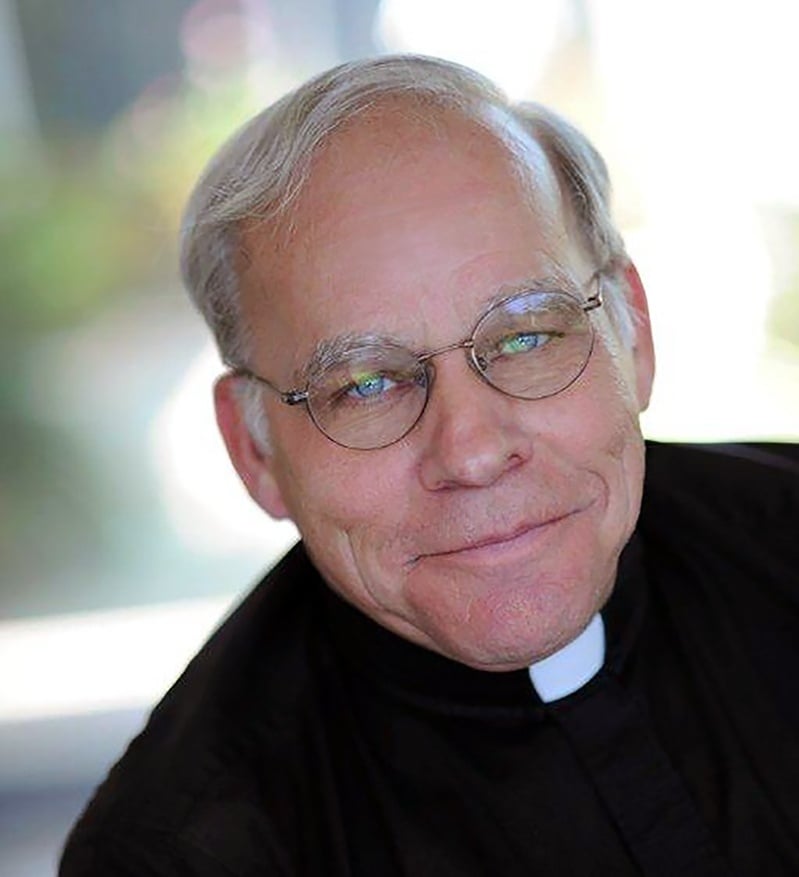 Father Wilfred J. Raymond, C.S.C. (Father Willy), a native of Old Town, Maine, is the eighth of 12 children. He joined the Congregation of Holy Cross in 1964 and was ordained to the priesthood in 1971. He earned a bachelor's degree in philosophy from Stonehill College in 1967 and a master's in Theology from the University of Notre Dame in 1971. He served in ministry at Stonehill College (1979-1992), Holy Cross leadership (1994-2000), National Director of Family Theater Productions, Hollywood (2000-2014), and President of Holy Cross Family Ministries (2014-2022). In addition to English, he is conversant in French and Spanish. He remains a diehard fan of the Boston Red Sox, even though he has served as Chaplain for the Los Angeles Dodgers.