Image: By Wes Hicks (2018), Unsplash.com, CC0/PD[/caption]
The Daily Checklist
Lately, I have too often been making time with Jesus just part of my to-do list. Feed the kids. Check. Get them dressed. Check. Get them to school. Check. Throw laundry in. Check. Prayer time. Check. It's something I rush through so I can get to my next (and if I'm being honest, "more important") task. One of my favorite verses in the Bible that always makes me smile is:
Draw near to God, and he will draw near to you. (James 4:8)
It is that simple. I sit down at my kitchen table with the readings for the day and my journal and request His presence. Then, as soon as He sits down at the other end of the kitchen table to talk with me, I get up and leave.
Distractions Take Over
Distractions always come during prayer time. I don't allow time for conversation. I don't allow time for Him to answer my questions and calm my fears. I don't allow time for Him to know me and me to know Him. I don't allow time for the most important relationship in my life. No wonder I'm constantly going in circles and repeating the same sins! I'm not allowing Him to change me. I request His help but do not give Him enough time to offer me that help. I begin pouring out my heart to Him with tears streaming down my face, seeking His comfort. But as soon as He reaches His hand across the table to hold mine and offer words of comfort to my aching soul, I get up and leave. Because the dishes are more important. Social media is more important. The latest episode of "The Middle" is more important. That's what I'm communicating with my beloved Savior. My poor Savior. He deserves so much more from me!
A Perfect Love
He sweat blood out of fear of dying for me. He was tortured because He desperately wanted to open the gates of Heaven for me to be with Him. He carried the weight of my sins on His back and the burden was so great that my God fell three times because of it. But He did it anyway because He loves me. And this same Man ... this Man Who loves me more than I can ever imagine ... He sits right there at the kitchen table with me when I request His divine and loving presence. I have His undivided attention. Shouldn't I offer Him the same? I love Him so much it hurts at times. It hurts because I know I could love Him so much better than I do. When I think of Him, I think of the love I've been yearning for my whole life. The love we all yearn for our entire lives. A perfect love that He offers me daily. He deserves so much more love from me in return.
Making Jesus Lord of Our Life
How often do we leave Jesus alone at the kitchen table? Or in the car? Or even at church? How often do we start talking to Him, but then remember an event we need to check out on Facebook? Or an email we want to skim real quick? Or an update we want to post on Instagram? Or the latest TV series everyone is talking about? How much time do we put into those things? Does Jesus get MORE time? Or less? If He gets less time than these things, He is not Lord of your life! "Put Me first. Put My friendship before all else," our Lord requests from us. (In Sinu Jesu, p. 26) I encounter these distractions THE MOST when I sit down in the quiet to do my reading for the day and then talk to God afterwards in my journal. I have to confess that writing this post has even been difficult. My mind keeps going everywhere else but here and it's making it very difficult to finish this! It is always a spiritual battle. The devil is so hard at work in each of us to keep us away and distracted from Love Himself. He doesn't want us experiencing that! Because of his envy. Satan's jealousy of man is exactly what made sin enter the world in the first place.
Sitting with Jesus in the Garden of Gethsemane
We need to try so very hard to sit and be with God. We need to remember when we sit and talk to Him and simply be with Him, we are comforting Him in the Garden of Gethsemane. We are with Him reminding Him He is NOT alone! We are holding His hand as He sweats blood and shakes from the absolute fear that was overtaking Him. We are holding His hand like He holds ours every day. We are reminding Him we are walking with Him while He is carrying His Cross. While He carries our cross. We cannot leave Him alone anymore! Because He never left us. Will you allow your actions to prove to Him your love for Him?
---
Copyright 2020 Elaine Sinnott
About the Author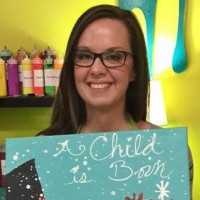 Elaine Sinnott is a mother of soon-to-be-six, a new homeschooler, and a wife to her teenage sweetheart. She lives for big family gatherings and conversion stories, especially Something Other Than God and Rome Sweet Home. She is the owner of MilitaryWifeAfterGod.com and is in the process of writing a book about her own reversion back to the Church.