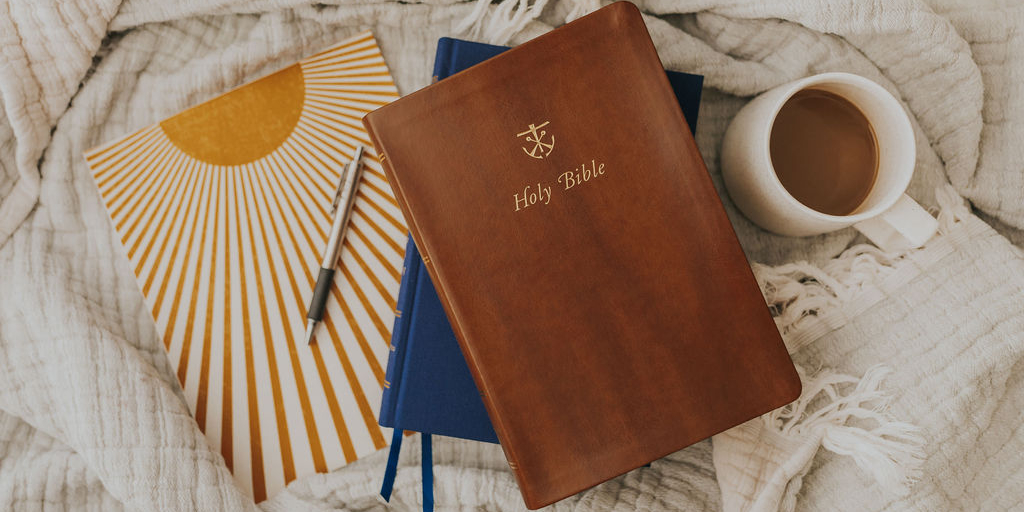 As we prepare for our Bible Study Book Club, we've done a pen test with this beautiful new Bible from Ave Maria Press. We're also giving away copies to two Catholic Mom readers!
When we announced our Bible Study Book Club, which will begin May 12, 2021, we introduced the brand-new Ave Notetaking Bible. It's available in two binding styles: clothbound hardcover, which is navy blue with gold embossing, and premium imitation leather, brown with gold embossing. The Bibles are completely identical on the inside, and each version comes packaged in a pretty slipcase to keep the edges from becoming shelf-worn. The cases are beautiful gift packaging -- even if the gift is for yourself.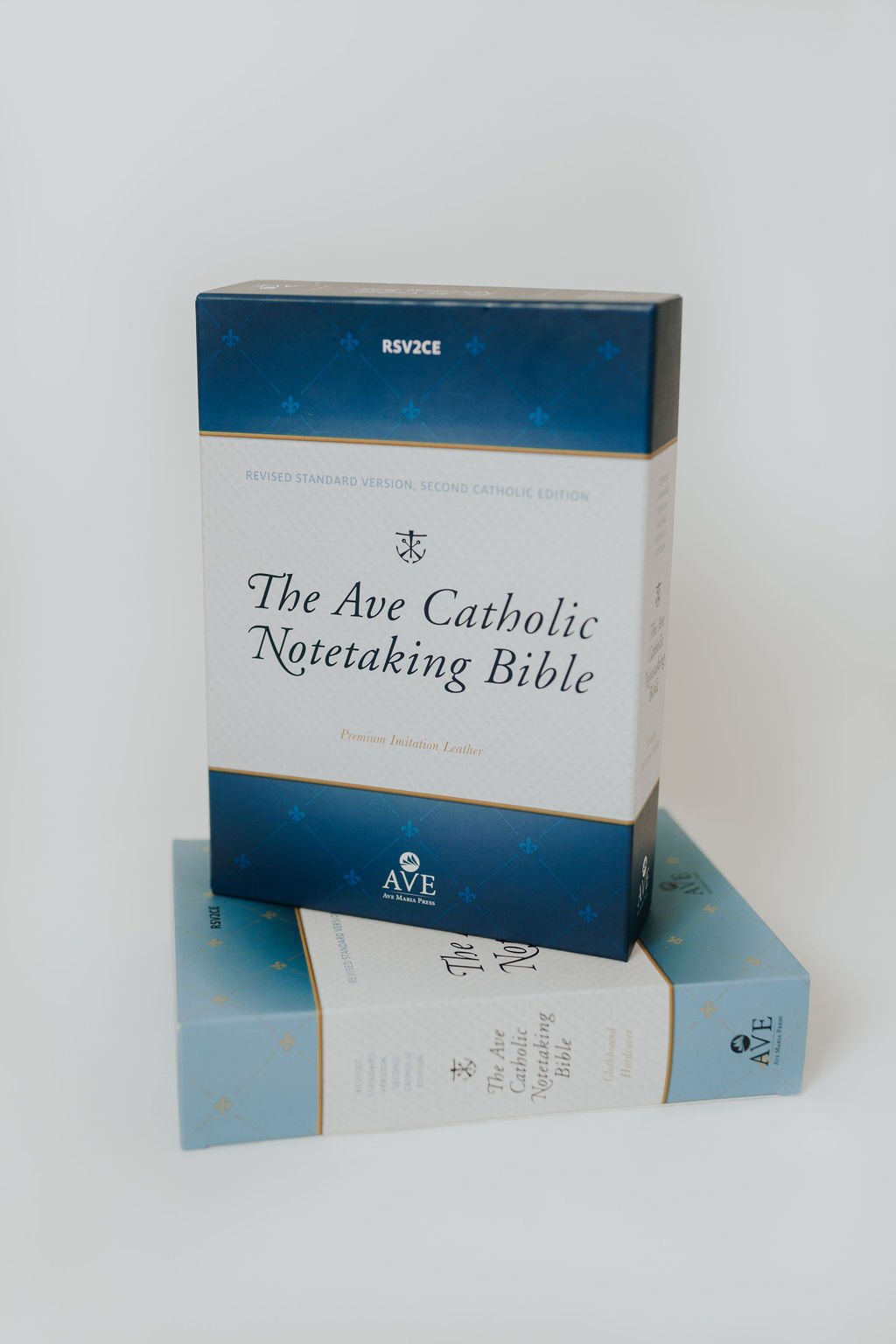 Some striking features of this Bible include essays at the front and back of the Bible that help introduce the Old and New Testaments, offer insight on the Bible's message of covenant and unity in salvation history, and provide practical tools to help you build the habit of regularly reading and engaging with the Bible. Two dark-blue ribbon bookmarks help you keep your place.
You'll also find helpful footnotes in the margins of each page, with correlations to the Catechism of the Catholic Church plus other study notes. I've been fangirling over the Milo font, which is not only pretty but easy on the eyes.
And because this is a notetaking Bible, the paper is thicker and more durable than most Bibles. You're supposed to be writing in it, so grab your favorite pen and start taking some notes.
Because people have asked what pens are best for writing in the Ave Notetaking Bible, I did a pen test on the very back page of my Bible. I have two mugs filled with pens on my desk, so I tried one of each.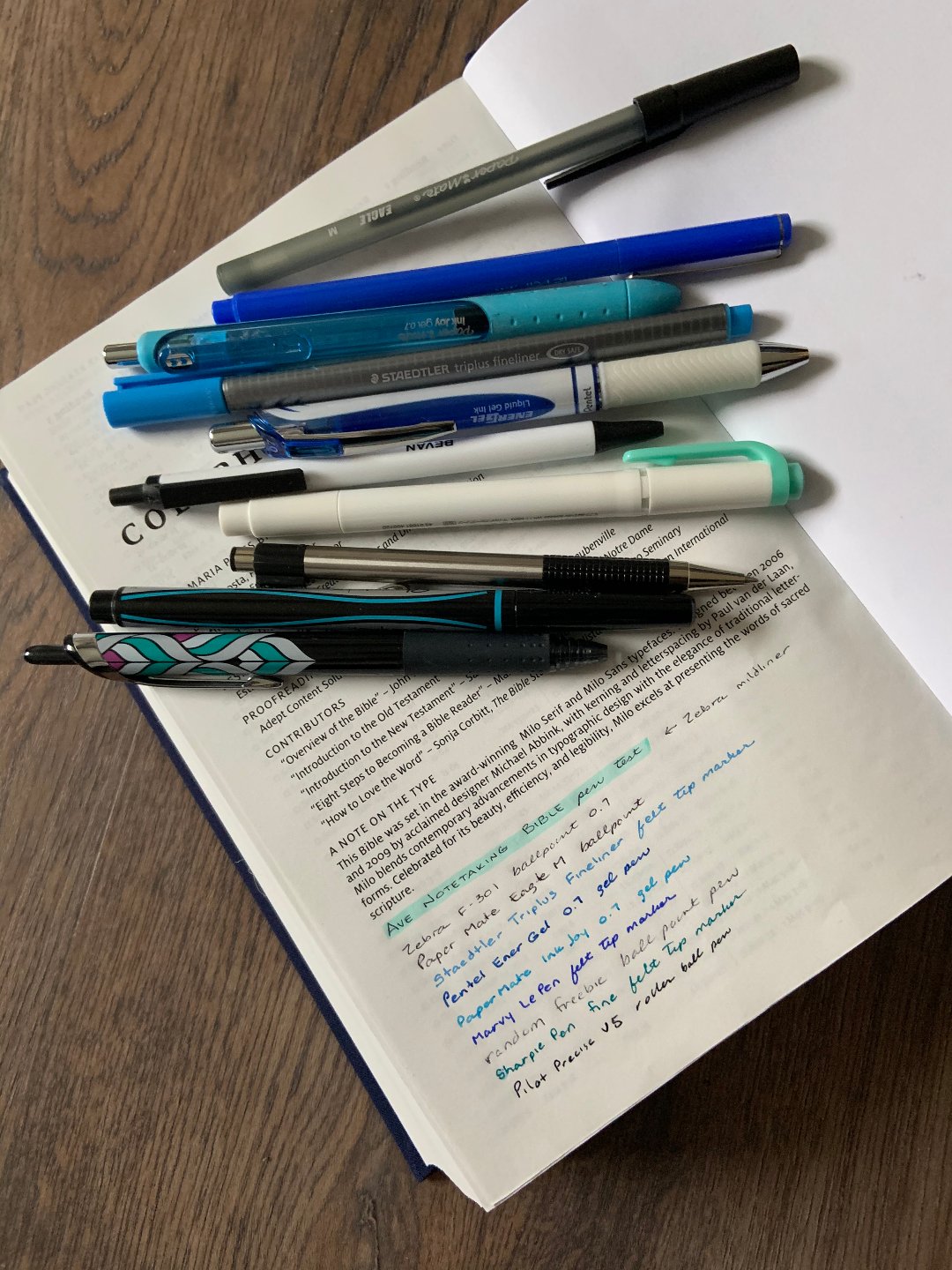 I had best results with the Pilot Precise V5 RT rollerball pen (this was the best by far!), Staedtler Triplus Fineliner felt-tip markers, Sharpie Pen fine-point felt-tip markers, PaperMate InkJoy 0.7 gel pens, and Zebra mildliner highlighters. Ballpoint pens leave more of an imprint on the paper, which to me is more annoying than ink ghosting through.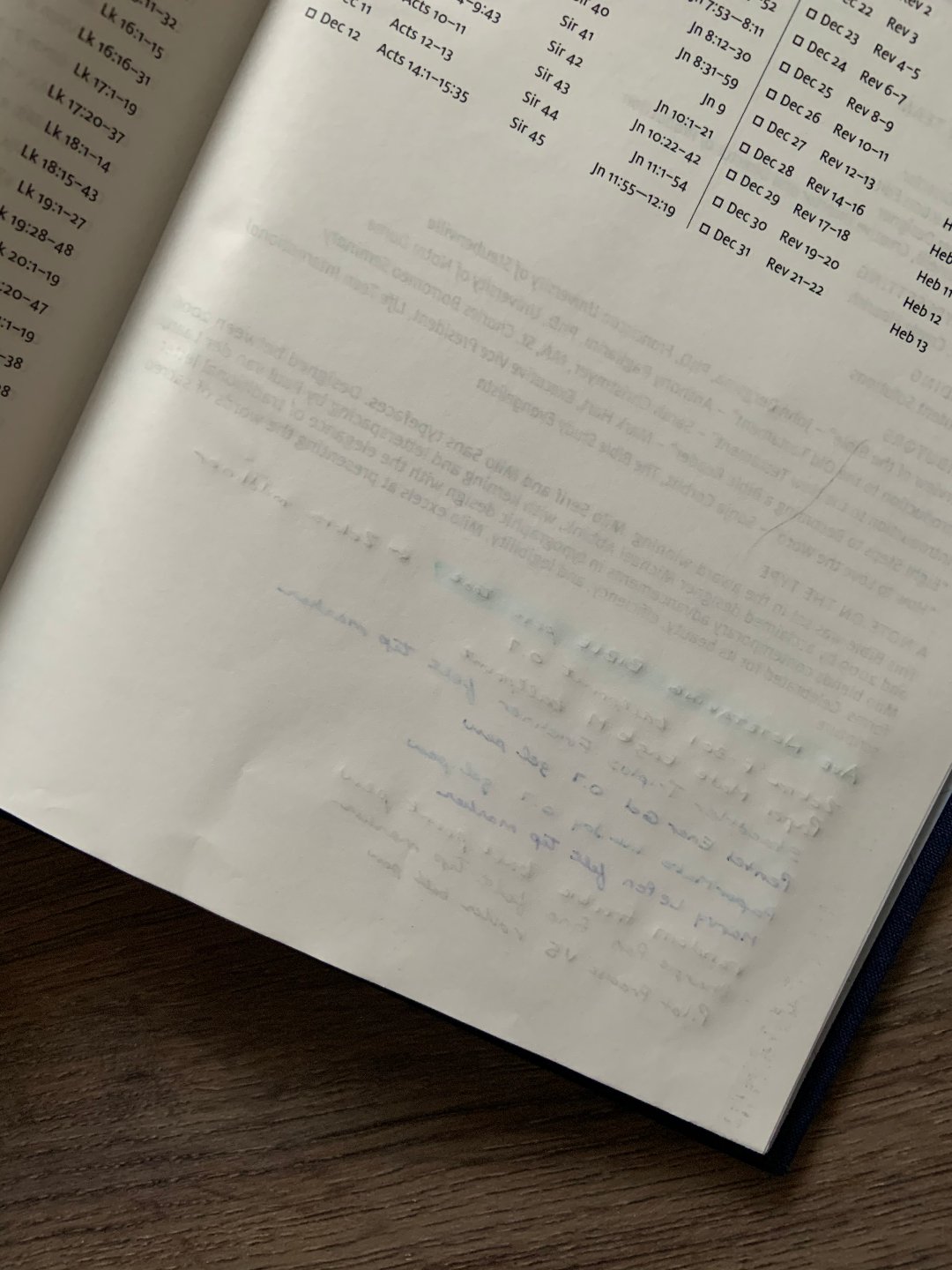 I definitely recommend that you take a moment to try out each of your favorite pens in a hidden spot (like that back page) and find out what works for you! Ave Maria Press has put together a page of Bible notetaking resources, including a list of pens that work well on this paper.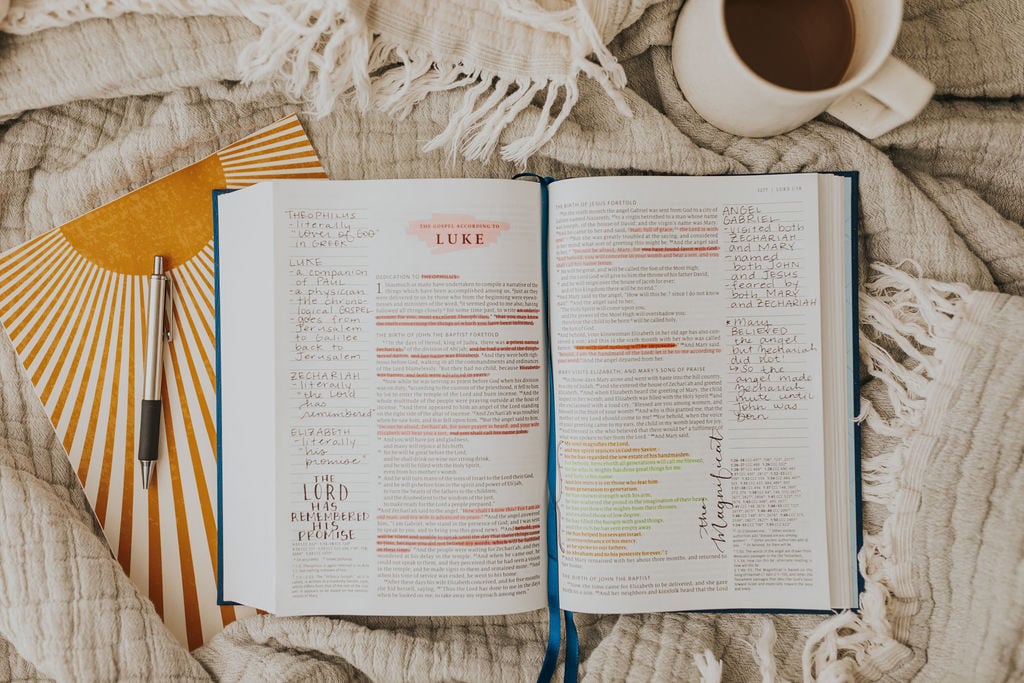 Would you like to win your own copy of the Ave Notetaking Bible?
We have two to give away!
Two winners in the USA will win a copy of the Ave Notetaking Bible. The First Prize winner will receive the brown imitation-leather-bound edition ($59.95 value); the Second Prize winner will receive the navy blue hardcover clothbound edition ($49.95 value).
Enter to win by leaving a comment on this post.
Tell us your favorite way to take notes in your Bible!
Do you:
write down your thoughts about what you read in Scripture
write prayers or prayer intentions
draw or doodle
decorate your Bible with stickers and more
use colored pencils, markers, or highlighters
include the date with your notes
Tell us what's worked for you!
This contest is open only to readers in the USA. Contest closes at 11:59 PM Wednesday, April 28, 2021. Two winners will be selected at random from comments on this article on CatholicMom.com. Social media comments are not valid entries for this giveaway. Winners will be notified by email and will have until 7 AM Eastern on Monday, May 3, to claim their prizes. Unclaimed prizes will be awarded to alternate winners.
More about this Bible on this week's Catholic Momcast
Be sure to listen to this week's episode of the Catholic Momcast: Danielle is chatting with Sarah Christmyer about Bible study and how to use the notetaking Bible!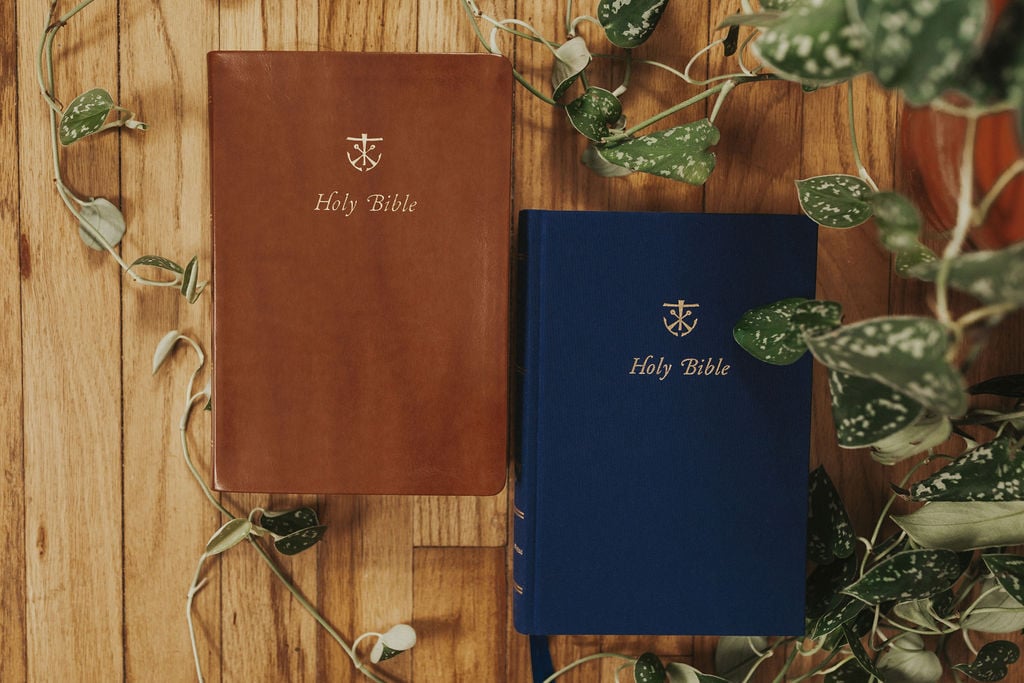 Win a copy of the new Ave Notetaking Bible and join the Bible Study Book Club. #catholicmom
Purchase your copy of The Ave Catholic Notetaking Bible from Ave Maria Press and save:
Use promo code AVEBIBLECM to save 20% off the cover price of this Bible and get free shipping too! This promo code expires June 30, 2021.
Stay connected!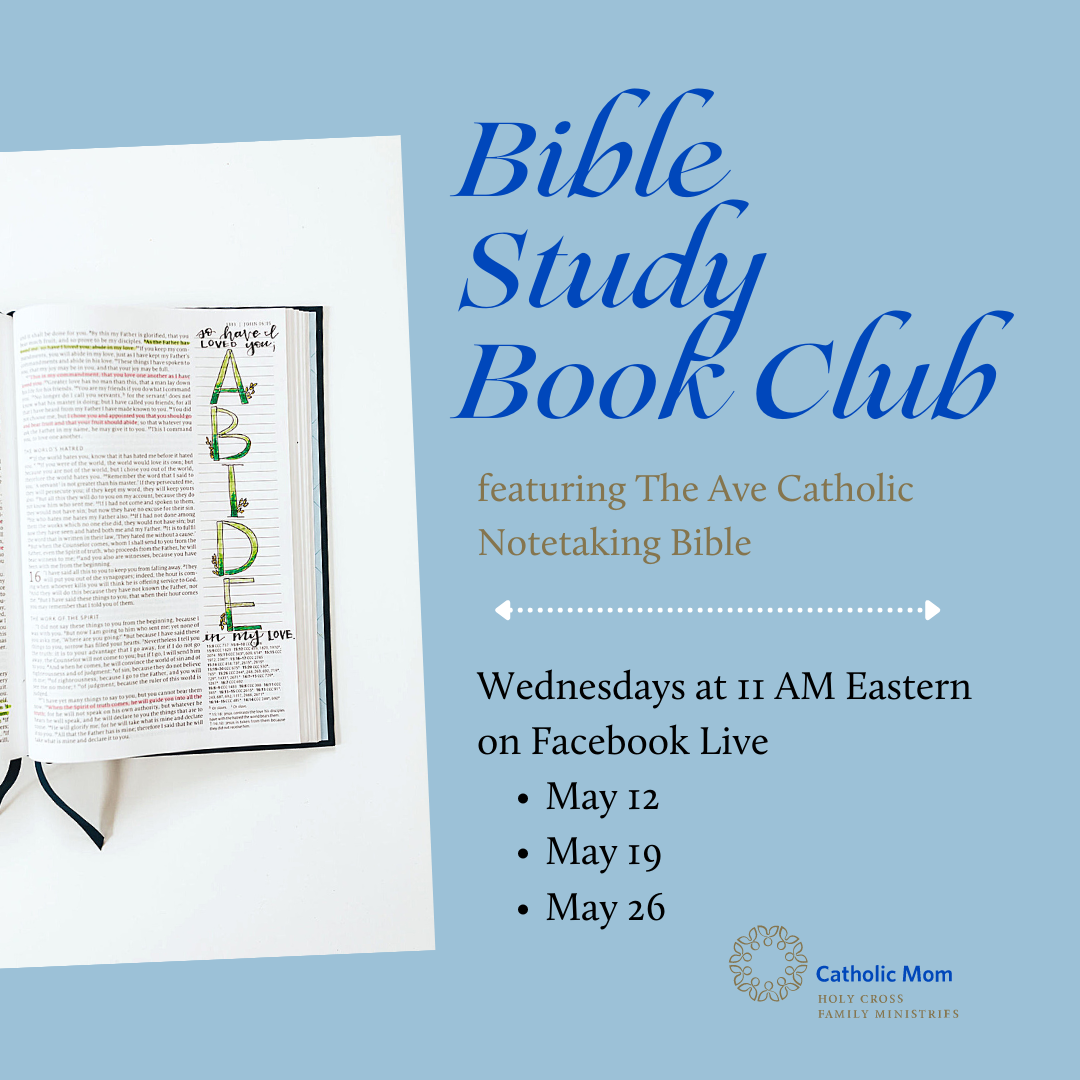 ---
Copyright 2021 Barb Szyszkiewicz
Pen test photos copyright 2021 Barb Szyszkiewicz. All rights reserved. All other photos copyright 2021 Ave Maria Press. Used with permission. All rights reserved.
This article contains Amazon affiliate links; your purchases through these links benefit the author.
About the Author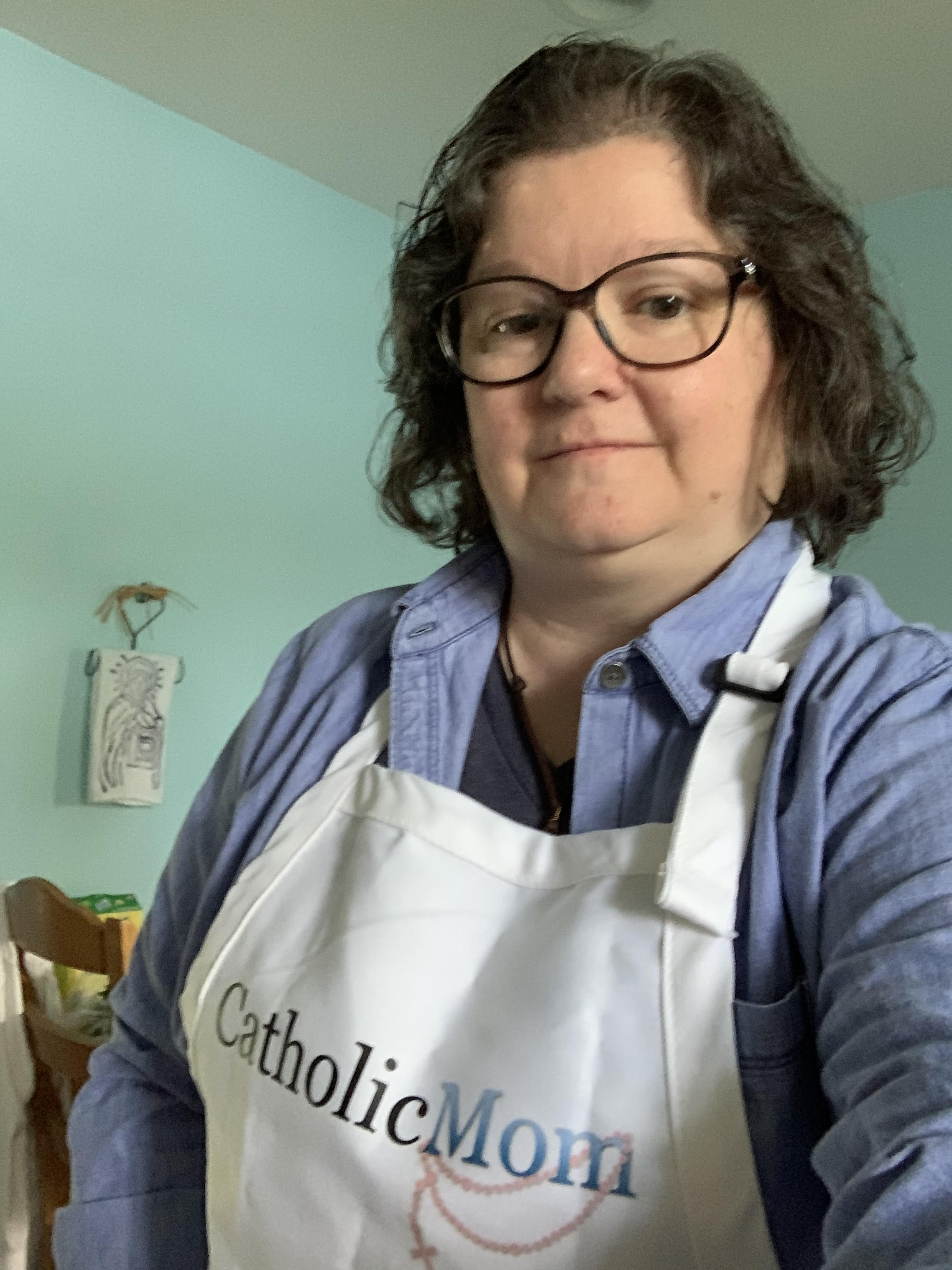 Barb Szyszkiewicz is a wife, mom of 3 young adults, and a Secular Franciscan. She is editor at CatholicMom.com. Barb enjoys writing, cooking, and reading, and is a music minister at her parish and an avid Notre Dame football and basketball fan. Find her blog at FranciscanMom and her family's favorite recipes with nutrition information for diabetics at Cook and Count. Her booklet, The Handy Little Guide to Prayer, is available now from Our Sunday Visitor.