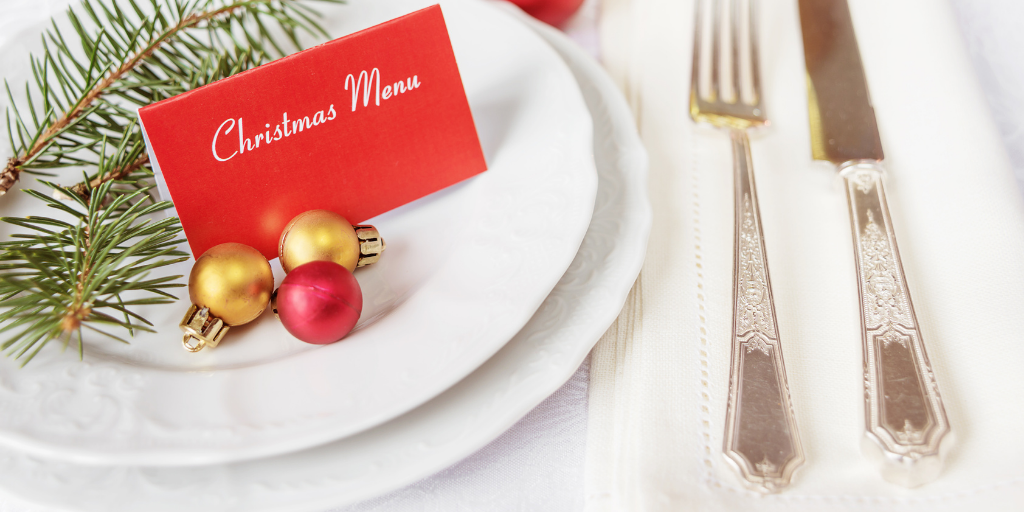 Christmas is not a meatless Friday, so Karen Ullo pulls out all the stops for a celebratory steak-and-seafood meal.
Merry Christmas! Today is not a Meatless Friday. It's a day to rejoice that our Savior is born, the Word is made Flesh and dwells among us. So here's to some high-end merrymaking with New York strip and seafood sausage while the land and the seas rejoice!
I highly recommend potatoes as a side. There's plenty of sauce in this recipe to cover those, too.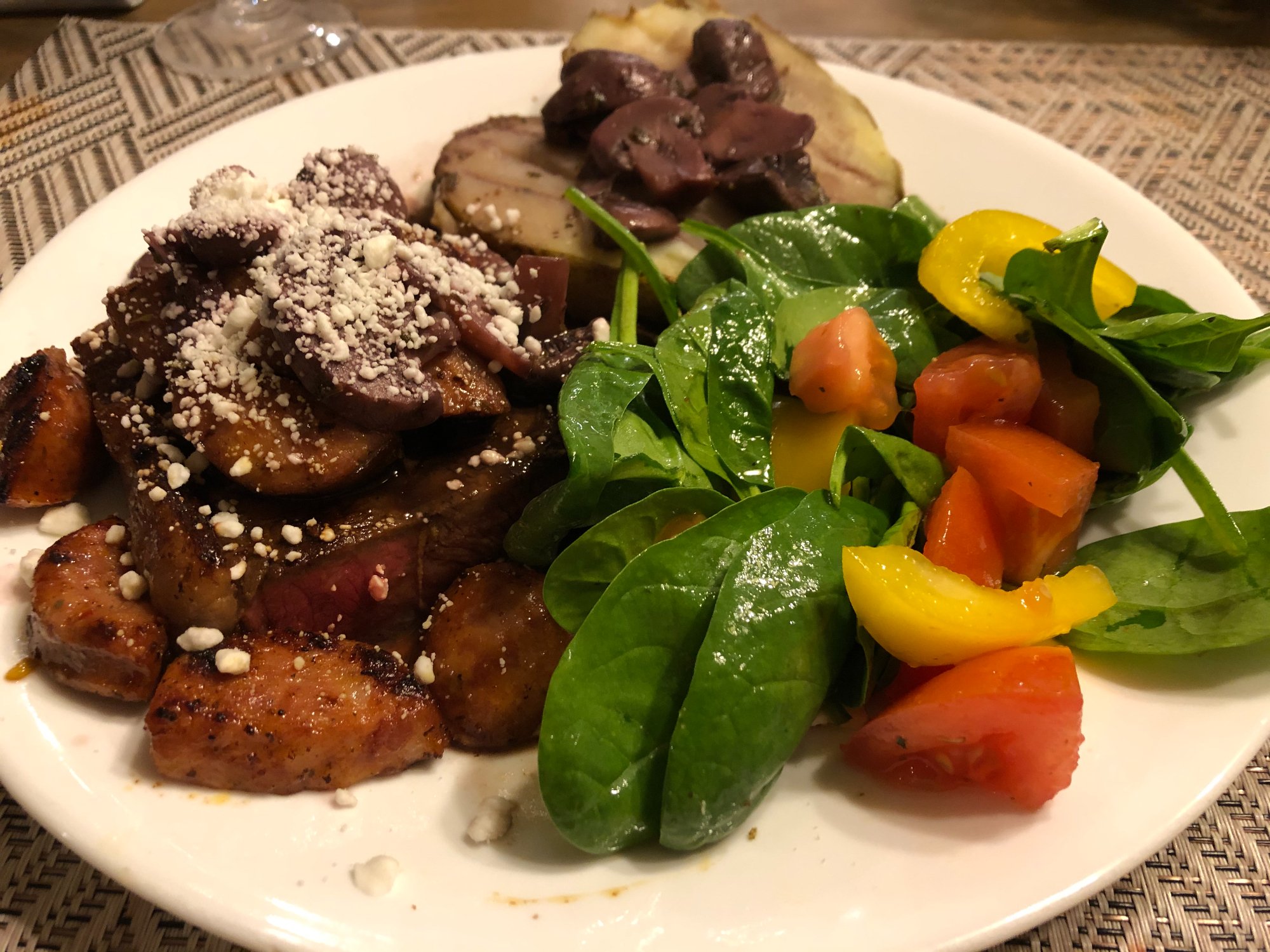 Christmas Dinner: Surf and Turf
For the sauce:
3 T butter
8 oz. sliced white mushrooms
1 clove garlic, chopped
1.5 cups red wine
½ t salt
2 t Italian seasoning
In a saucepan, melt the butter, then lightly sauté the mushrooms until they absorb it. Add the other ingredients and simmer while you prepare the steak and sausage. If it doesn't reduce to your liking, you can add a tablespoon of corn starch dissolved in a tablespoon of water.
For the sausage:
Any spicy seafood sausage … or really any spicy sausage you like. I used one made with shrimp and pork. I'm also a big fan of alligator sausage, but if you don't live in Louisiana, you probably can't find that at your regular grocer.
Slice the sausage lengthwise, then chop into bite-size pieces. Brown in a large sauté pan over medium-high heat, then set aside while you make the steak.
For the steak:
I divided 2 New York strips between four people. Adding the sausage allows you to stretch the steak so you don't have to stretch your budget quite as far.
2 fresh cuts of New York strip
Salt
Pepper
Red wine
Preheat a flat griddle or frying pan. Season both sides of the steak with salt and pepper to taste. Sear about 4-5 minutes per side, depending how done you like your steak. Before you turn it, add a splash of red wine and rub the steak over the griddle to absorb the nice combination of browned juices and wine. Rest about 5 minutes after removing from the heat to let the juices reabsorb.
For the garnish:
Crumbled goat cheese, as much as you want. It blends into the sauce and makes it creamy.
To plate, simply lay down the steak, then the sausage, then cover with sauce and cheese.
Merry Christmas! Enjoy!
CLICK TO TWEET
Christmas is not a #MeatlessFriday: pull out all the stops for a celebratory meal. #catholicmom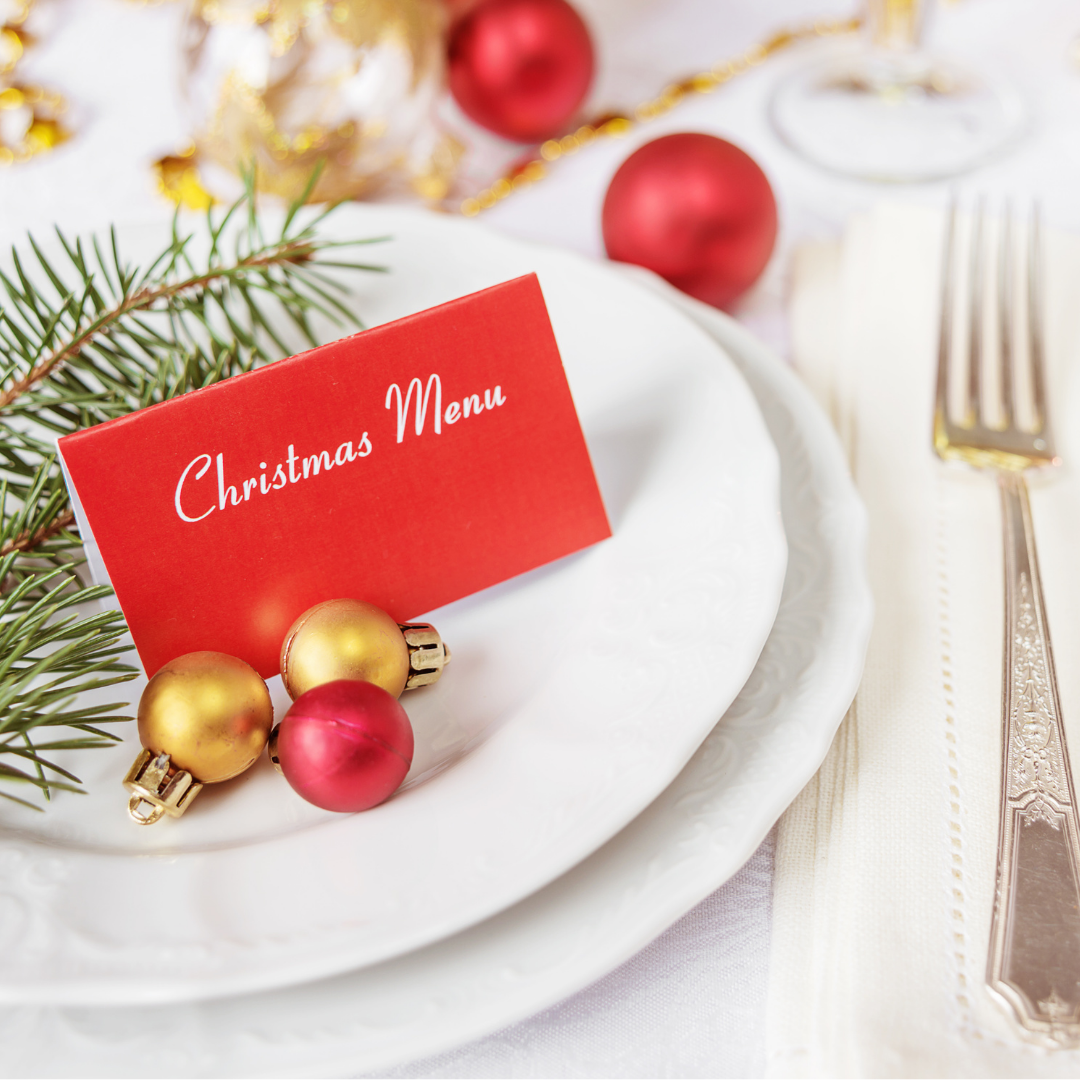 ---
Copyright 2020 Karen Ullo
Image
About the Author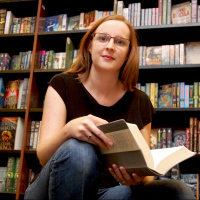 Karen Ullo is the author of two award-winning novels, Jennifer the Damned and Cinder Allia. She is one of the founding editors of Chrism Press, which is dedicated to publishing Catholic and Orthodox fiction, as well as the managing editor of the Catholic literary journal Dappled Things. She's also a wife and mother of two. Find out more at KarenUllo.com.