Receive Daily Gospel Reflections in your inbox
Today's Gospel: Matthew 18:21–19:1 There is something wonderful and devastating contained in the word "again." G. K. Chesterton spoke about a child's delight, "Again Daddy! Again!" as he tosses her up in the air. Perhaps, by Chesterton's logic, we have so many different flowers, animals, fish, etc. because of God's delight in His creation – "Again! Again!" And yet the same word can bring about feelings of dread, despair and sorrow. "Again? You did ____ again?" "The cancer is back, again?" "Why did the _______ have to break again?" Peter and the other disciples are trying to see how many times they must forgive. "Again? I have to forgive you again?" Jesus's response "seventy-seven times" implies limitless forgiveness. There is always room for again. Parenthood and marriage provide excellent training in this kind of attitude toward forgiveness. Children (and spouses) often make the same mistakes. The laundry is not put away again, the dishes are in the sink again, your spouse forgot to call to say he would be late again, you shot a sarcastic remark across the table again. Our nature is broken. We often fall into the same sins, the same weaknesses. Jesus' teaching gives us all hope. There is always again, there is always the next moment, the next hour to begin anew. Forgiveness is always waiting for us. Again we pull ourselves up by holding onto the hand Jesus extends to us from the cross, full of His mercy and compassion. Just as Christ never withholds forgiveness from us, we in turn must always be ready to forgive in return. Forgiveness does not mean there will not be hurts, there will not be trials or that everything will be peachy. But it does mean that in the center of the chaos is a heart willing to love, willing to forgive again.
Ponder:
Where in your life do you need to extend forgiveness with greater willingness, even if it is again and again?
Pray:
Dear Jesus, teach me to forgive as You forgive. Help me to be free with my forgiveness as I desire You to forgive me.
---
Copyright 2018 Kate Taliaferro Receive CatholicMom.com newsletters in your inbox, including the Daily Gospel Reflection each morning!

*

indicates required
About the Author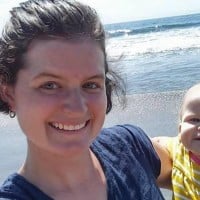 Kate Taliaferro is an Air Force wife and mom of 4. She has a Masters in Religious Education and tries to find God's presence in all parts of her day, be it cooking, cleaning or just the everyday ordinary. She enjoys homeschooling, stitching crafts and finding cheerios between the couch cushions. She blogs at Daily Graces.