Receive Daily Gospel Reflections in your inbox
Today's Gospel: Mark 8:27-33 In today's Gospel, Jesus highlights that there is always more to learn. He poses this challenging question to His apostles, "Who do you say I am?" The apostles answer the best way they can, drawing from their experience of Jesus. They say He is one of the prophets, for He had taught them many things. Peter, however, is given a deeper insight. Peter boldly professes, "You are the Christ." For the Jewish people, "Christ" means Anointed One and is a title of the Messiah. The Messiah was God's chosen one, the new David. Peter is correct when he says this. However, Peter's understanding is only halfway there. We see this when Jesus begins to explain that the Messiah is not going to act or be treated as the anticipated anointed one. Rather, the Messiah is going to suffer, even suffer death. Upon hearing this, Peter decides to rebuke Jesus, since clearly Peter knows more than Him. Jesus very quickly put him in his place. Jesus also admonished His apostles not to tell anyone that He was the Messiah. This wasn't because He wanted His identity to be a secret, but because His apostles did not fully understand what it meant. We see this clearly in Peter's concern. Peter thought he knew it all, but he didn't. The same is true of our faith. We may think that we have a good understanding of what it means to receive the Eucharist, practice justice, or live in love. It is easy to breeze through Mass without recognizing the miraculous event happening around us. Let us not become complacent or take our faith for granted. Our faith has been revealed to us just as Jesus' identity was revealed to Peter. Just like Peter, we still have much more to learn.
Ponder:
What truth of our faith do you wish to learn more about?
Pray:
Dear Lord, please give us the words to boldly proclaim Your presence in our lives. Give us the wisdom to speak the truth You have revealed to us.
---
Copyright 2020 Kate Taliaferro Receive CatholicMom.com newsletters in your inbox, including the Daily Gospel Reflection each morning!

*

indicates required
About the Author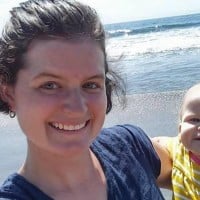 Kate Taliaferro is an Air Force wife and mom of 4. She has a Masters in Religious Education and tries to find God's presence in all parts of her day, be it cooking, cleaning or just the everyday ordinary. She enjoys homeschooling, stitching crafts and finding cheerios between the couch cushions. She blogs at Daily Graces.