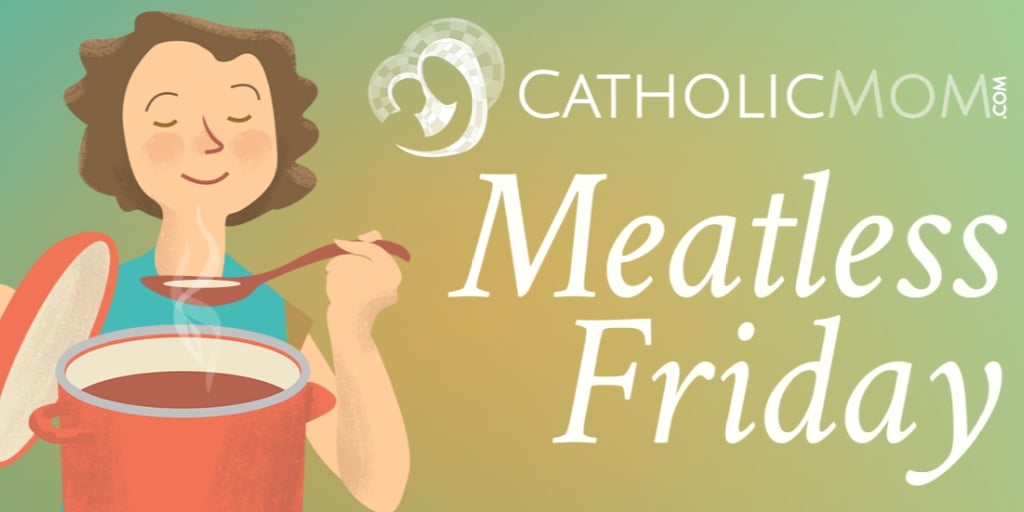 Here at CatholicMom.com, we feature Meatless Friday recipes all year 'round: everything from simple sandwiches to fancy fish dinners. As Lent approaches, we polled our readers on Facebook and Instagram to ask about their family favorite meatless meals and matched them up, where we can, to recipes in our archives. Bon appétit!
Big plans
We got enough ideas from Jennifer Gray on Facebook to cover the whole season! "Soups, fish, potato pancakes, breakfasts, fancy salads, baked potato bar, bean and cheese burritos."
Brenda Ramirez on Facebook also shared multiple ideas: "Majadra, tacos de papa, enchiladas de queso, Greek salad, and of course fish dishes."
Here's another long list from Jennifer O'Neill on Facebook: "Cheese or pizza quesadillas, tuna casserole, McAllister's deli has great combos (baked potatoes, veggie chili, loaded nachos, salads, etc.), spaghetti and marinara, tortellini and marinara, crockpot bean soup."
Facebook friend Jennifer Chiarizio plans to serve "bean and rice burritos, tuna or black bean burgers, cheese pizza, salmon and broccoli, spaghetti."
"Our local grocery store has fish sandwiches available daily, year-round, and they are delicious," noted Dana Crano on Facebook. "We also love grilled cheese and tomato soup ... Lent is supposed to be about sacrifice and suffering, but we actually look forward to it."
More multiple ideas came from Amanda Johnson on Facebook: "I don't like most fish, so meatless Fridays involve cheese or veggie pizza, macaroni and cheese, lentil soup or chili, NomNomPaleo has a great spicy tuna cakes recipe that even I like. Eggs, pancakes, French toast also make a regular appearance for dinner."
"Tuna fish casserole, grilled cheese and tomato soup, Bean burritos, cheese pizza, spaghetti squash and a meatless sauce, fettuccine Alfredo, Taco salad with black beans instead of meat, and vegetable, potato, or broccoli and cheese soup with Italian bread" are all favorites in Facebook friend Audra Williams' household.
Shelly McCann shared a list of ideas on Facebook: "Holuski, pierogi, tuna salad, egg salad, mac-and-cheese."
More big ideas from Elizabeth N Carlos Espinoza: "Bean tostadas, tuna sandwiches, cheese enchiladas and chili rellenos ... yummmm!"
Comfort food
Tuna casserole with French fried onions was mentioned by Instagrammer @thrashjudy. Christine Johnson shares a recipe for a healthy twist on this comfort-food standby.
Mary Steele, on Facebook, mentioned pierogi with onions and sour cream.
Tuna chili was a Meatless Friday staple in Facebook friend Donna Urton's house.
Janine Priestly's Meatless Friday comfort meals include pancakes and mac & cheese. We have many mac & cheese options for you to try!
Fried noodles and tuna patties are a family favorite of Molly McConnell Harris, who shared the recipe after Carrie Banet Davis asked: "Cook the egg noodles and fry in lard until crispy. Salt and pepper."
For a crowd
On Facebook, Dineen Dwyer Constantin noted, "I bake a couple dozen scrambled eggs with vegetables in a black iron skillet."
Fresh fish
On Instagram, @brittbee77 shared a plan for a whole meal: "Air fried walleye with tomatillo salsa, side of sauteed green beans and onions! My specialty!"
@e_m_henson on Instagram likes to make shrimp butter foil packets with veggies, in the oven or on the grill.
On Facebook, Christina Chapman Domsic shared her recipe for salmon: "I brush the salmon with melted butter, (put all the seasonings in the butter) Old Bay, dill, and a bit of salt. Tastes great!"
Facebook friend Jen N Al Schmiderer commented, "We live in Louisiana so it's all kinds of seafood for us!"
Caroline Hernandez told us on Facebook that her family works at the parish fish fry, then enjoys a nice fish sandwich with French fries.
Another fish fry fan: Facebook friend Patrice Critchley-Menor. "Our family loves going to the fish fries sponsored by the KCs in a different parish every weekend to see our friends that we rarely see. We've been doing this for years. There was a time when four generations of us would be together eating fish. Now we keep up the tradition with just two."
Grilled cheese
Facebook friend Kelli Ryan recommended grilled cheese sandwiches and tater tots. Amelia Falcsik Steele goes with grilled cheese as well: "Grilled cheese and tomato soup. We do it every Friday all year long." Make it a party with a DIY grilled-cheese bar.
Indian food
"Curried lentils are our personal favorite," @happyholloway told us on Instagram. "So filling and crazy easy. Even my meat-obsessed husband gets full and is happy." Try our version with roasted sweet potato. On Facebook, Jennie Womack recommends veggie curry. "It's made with coconut milk and contains no animal products, but is so yummy. I like cauliflower and chickpeas in mine." Our contributor Erin McCole Cupp has a recipe for Veggie Curry with Suddenly Naan.
Italian food
Instagrammer @stange_samantha comments, "We love to have cheese ravioli!" Try it with Magnificent Marinara Sauce: it's easy to make in only 30 minutes.
Ricotta and spinach stuffed shells are a family favorite for Instagrammer @martinfamilymoments. Here's a simple slow-cooker option for stuffed shells.
@noisewithdirtmom on Instagram serves pesto gnocchi and steamed veggies. Try our Fresh Basil Creamy Pesto.
Facebook friend Gina LeDonne Nemeth comments, "Our family tradition passed down from my grandparents is pasta fagioli with tuna patties. The kids request it throughout the year too." Spaghetti and broccoli is a favorite in Ruth Ferreri's home.
Junior chefs
On Instagram, @sarasmiles07 told us what her middle-schooler can cook! "My 11-year-old son makes macaroni and cheese in the instant pot and warms up frozen peas and fish sticks for him and his 4 younger siblings. My husband and I usually pair his specialty with a fresh salad."
Mexican food
Enchiladas with just cheese, lettuce, sour cream, along with beans and rice, is a favorite of Instagrammer @meli_vargas2009. Here's a recipe for cheese enchiladas to make and freeze.
On Instagram, @noisewithdirtmom recommends fish tacos with homemade pico de gallo, Spanish rice, and pinto beans.
@blessed_mommaofboys on Instagram serves potato taquitos, as well as bean tostadas with all the fixings.
Pizza, pizza, pizza
@marlieanastase on Instagram voted for white pizza; @maryedwardsmk prefers pizza with mushrooms. @lindatherese188 does "make your own veggie pizza night" with either premade homemade pizza dough or big rounds of naan. She comments, "This year we're going to try it with cauliflower crust at least once."
Nicole Richter on Facebook keeps it simple and the kids are happy: "Aldi take and bake cheese pizza every Friday, kids won't let it be anything else!"
Cheese pizza is also a favorite for Allison Wirtz.
Kellie Fuss makes low-carb veggie pizza at home. Pizza is an easy meatless meal, and there are endless topping combinations even without pepperoni as an option.
Soups
Black bean soup is a favorite of @chelsea_tedjeske on Instagram. Try our version with your favorite salsa. CatholicMom contributor Tina Zaunbrecher Mayeux recommends "bean soup or white beans with rice." Allison Hsu serves Vietnamese canh with noodles and frozen pre-chopped veggies and seafood. Facebook friend Cassandra Marquardt's familiy attends the Lenten soup suppers at their church.
Special diets
When our Facebook friend Jenny Gray mentioned that it's hard to find Meatless Friday meal ideas for people who are lactose intolerant and don't like fish, several other readers jumped right in to help. Stephanie Finley wrote, "Beans, veggies, tofu, pasta ... Just a few off the top of my head. We're dairy, egg, peanut, tree nut & shellfish free 24/7, 365. There are plenty of cheese & other dairy substitutes out there now, too. Just look under vegan recipes. Plenty of workarounds." And Catherine Barras replied with a link to a useful archive of plant-based recipes.
Veggie favorites
Cauliflower fritters with tomato sauce and rice are a favorite of Instagrammer @blessed_mommaofboys.
Church cookbooks can be a treasury of memories and Meatless Friday recipes! Are your favorites on our list? Leave a comment to share what your family enjoys on Meatless Fridays.
---
Copyright 2020 Barb Szyszkiewicz
Photo copyright 2020 Barb Szyszkiewicz. All rights reserved.
About the Author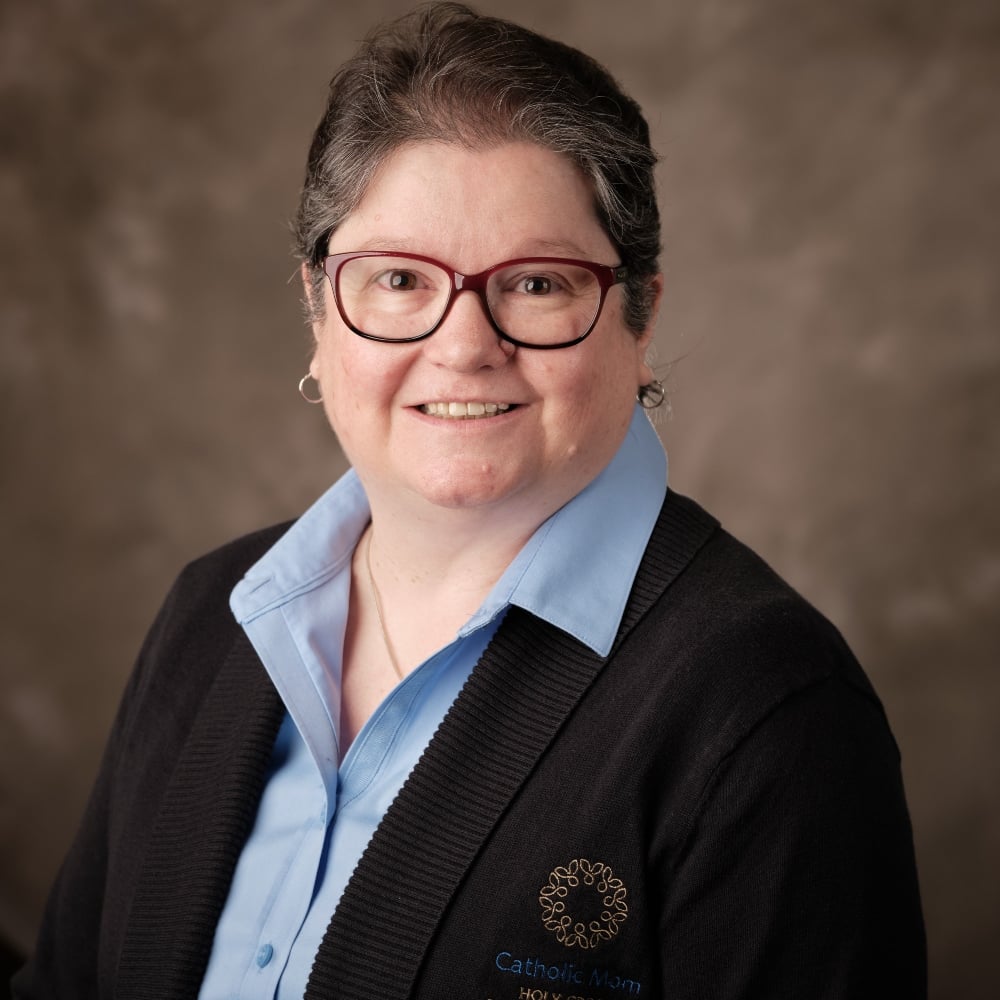 Barb Szyszkiewicz is a wife, mom of 3 young adults, and a Secular Franciscan. She is editor at CatholicMom.com. Barb enjoys writing, cooking, and reading, and is a music minister at her parish and an avid Notre Dame football and basketball fan. Find her blog at FranciscanMom and her family's favorite recipes with nutrition information for diabetics at Cook and Count. Her booklet, The Handy Little Guide to Prayer, is available now from Our Sunday Visitor.